Veniibot N1 Max Robot Vacuum Cleaner
As a relatively fast-growing category in the field of home robots, the technology has become relatively mature, and the market volume is growing rapidly, and is gradually entering millions of households with a more intelligent and convenient image. The Veniibot sweeping robot definitely has a place in the market for sweeping robots.
The structural design of Veniibot N1 Max ensures that it can achieve functions that cannot be achieved by ordinary sweeping and mopping robots, and the product consists of two parts, the main unit + the base.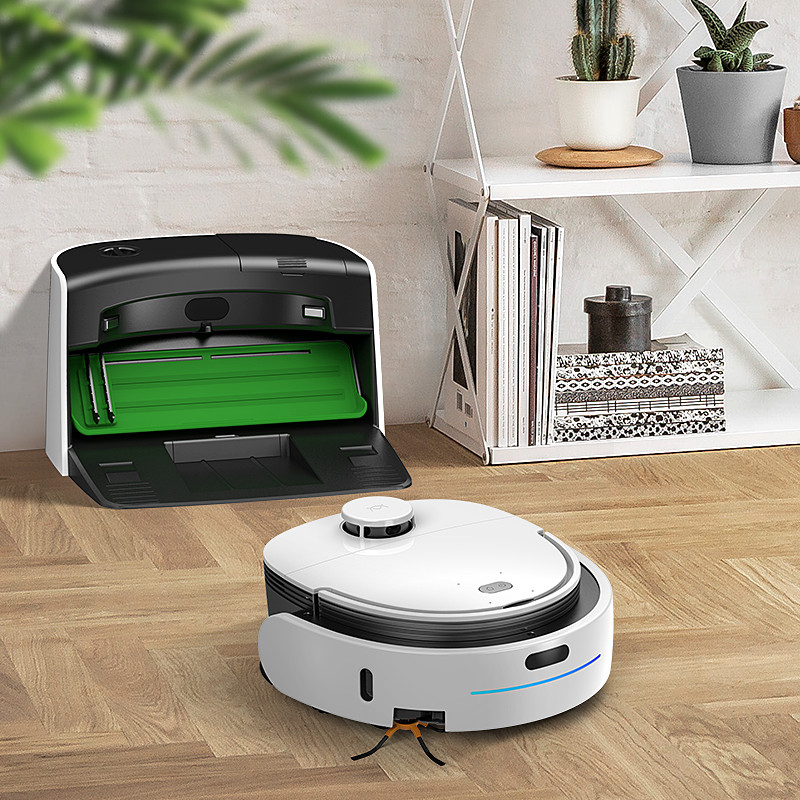 The bottom of the main unit consists of a mid-sweep system and a rear mop component that can be lifted or pressed tightly against the ground, allowing it to sweep and mop at the same time, sweeping and mopping separately. The machine's backwash logic is, by default, every 12 square meters of mopping automatically back to the pedestal cleaning mop, you can also customize the backwash area in the cell phone App, back to the break point to continue working after the completion of backwash, a charge to clean about 120 square meters of family without pressure, intelligent memory cleaning area and cleaning frequency, to avoid repeated cleaning and omissions. Multi-functional base can be realized to charge the host, cleaning mop, there are two 800ML or so large water tank, water tank to mop scraping to provide water, sewage tank to recycle the dirty water generated by washing mop, the base bottom has a filter box, will filter the residue of cleaning mop dregs, etc., so as not to block the sewage tank pipe. This design is really a solution to the concerns of ordinary users, it is worth reminding that the base scraper and filter box is recommended to be removed regularly for cleaning.
Like most smart home appliances, Veniibot N1 Max can be intelligently controlled by APP, and most of the functions can be completed through APP, among which there are several functions worth mentioning. For example, the living room and bedroom are set to sweep and drag mode, the carpet area set to sweep only not drag (the product has a carpet recognition function, encounter carpet will automatically switch to sweep only not drag, so as not to wet the carpet), but only to identify some short hair shag carpet, if the horse hair class smooth carpet may not be able to successfully identify, so set the custom cleaning mode is more practical.
Veniibot N1 Max already has most of the daily functions of the mainstream sweeping and mopping robots on the market, including LIDAR navigation, automatic map building, intelligent obstacle crossing (within 2cm), intelligent recognition of carpets, cleaning area settings, etc., timing and spotting, etc.