VISUO K1 Pro 4K Servo HD Camera RC Drone
We have written something about Visuo drones in the past. These were mainly basic models. This time we will introduce the K1 Pro RC drone, which has a 4K camera and its purchase will not ruin you.
Crossing physical boundaries and reaching difficult spaces will be possible with the VISUO K1 Pro drone. This sophisticated product can be managed remotely and intuitively. Its purposes are wide and diverse, as it is useful in activities such as games, events, delivery, logistics, ecological purposes, surveillance, among others.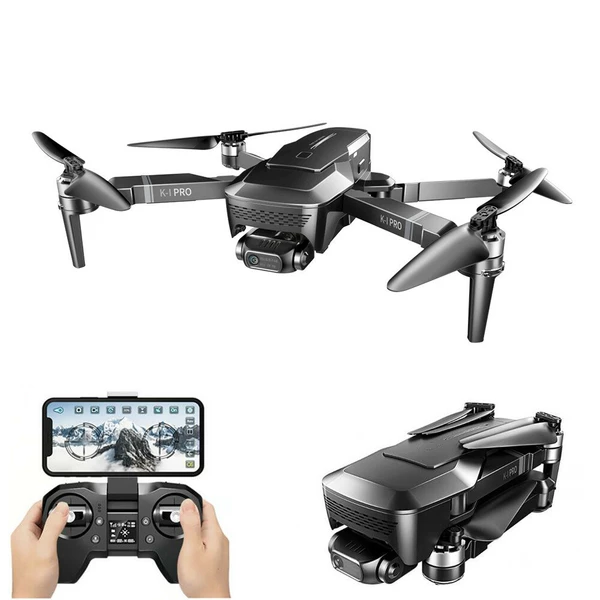 Through its 4K camera you will get high resolution and quality images, and you will be able to record all its journey with the perfect shot. Thanks to its GPS system you will be able to reach long flights and distances with independence.
It includes three batterys, which will supply the drone with enough energy to fly. At the end of the trip, you will be able to recharge it in an easy and comfortable way.
Your air drone will allow you to see absolutely everything from above. Make sure you find a flight platform that allows you to work comfortably and get ready to fly.
Get dream shots in the best catwalk style, just by activating the mechanism for your drone to follow you in sun and shade. Move forward, backward, turn and pose; let the camera love you and surprise your social network followers with high quality content.
The drone has a folding construction and is equipped with a 4K camera with an angle of view of 120°. The image is stabilized electronically. The maximum speed of the machine is up to 60 km/h and the range is then 500 meters. Battery life is then up to 30 minutes under optimal conditions.
The Visuo K1 Pro drone also handles gesture control, automatic flight according to pre-planned points and/or object tracking.