VORKE Notebook 15 PRO 15.6 Inch Laptop With Intel Core i5-8250U
The VORKE Notebook 15 PRO uses the same recipe as the brand's previous diagonals, a Intel Core i5-8250U as a processor for solid office and multimedia performance. 8GB of RAM and 256GB of SSD.
37.0 cm wide by 24.5 cm deep and 1.9 cm thick. The VORKE Notebook 15 PRO is not the most compact of the 15.6-inch thin-brimmed Laptop on the market, but it remains in the space of older generation 14″ size that rhymes with a weight also quite contained at 1.96 Kg.
The performances will therefore, a priori, be the same. We will find a machine capable of overcoming all classic office and multimedia tasks: Word processing, spreadsheet, local video playback or streaming. It will be able to manage web sessions with a lot of tabs, until exhausting the resources of 8 GB of on-board memory. But also a little more exotic jobs that will range from programming in Scratch to 3D design in Fusion 360 or Sketchup through the piloting of a 3D printer in Cura. The machine will also be able to control image editing software like Photoshop, execute video editing or launch old or light games.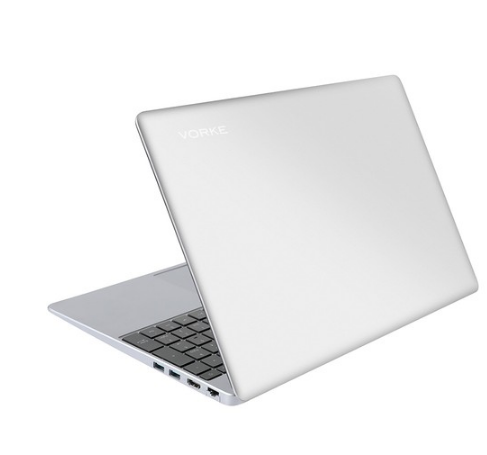 The downside of this VORKE Notebook 15 PRO is clearly as always in a professional approach to its use since the duo i5-8250U / 8GB of DDR4 pulls out a little bit of the tongue in case of intensive use. You can easily retouch a holiday photo to remove an unsightly element from the background with it, but doing it on 50 different images during the day is clearly more problematic. The machine will not have the comfort offered by a more muscular machine running Intel Core or AMD Ryzen with 16 GB of RAM. Same problem with 3D games, if it can display games in streaming, it will be unable to launch a modern 3D on its own in a convincing way.
And for this price, we still find a solid machine with a 15.6″ FullHD IPS display with wide 178° viewing angles and thin screen borders. The keyboard is a classic QWERTY with a numeric keypad and uses all the available space. A very large 4.7″ diagonal touchpad uses a large part of the front space of the machine. It manages the different gestures of Windows 10 which is delivered with the machine by taking into account up to 4 fingers on its surface.
The VORKE Notebook 15 PRO offers a basic 2.0 MP webcam for video conferencing and an integrated microphone. Stereo speakers are also available. Its connectivity is classic on this type of diagonal even if some choices are difficult to justify. There is a USB 3.0 Type-A port on each side of the machine, a 3.5 mm stereo audio jack port, a power jack port but also a MicroSDXC port and a MicroHDMI port. Why use these ports on a device of this calibre? We are on a 15.6″ solution with 2 cm thickness, the manufacturer instead of sliding a full HDMI port and a classic SDXC card reader. It's probably an economy of scale. I'm not sure there's a big difference in motherboard between all VORKE laptops.
There could also have been an Ethernet port, but the cheapest solution is to adapt only the solution used for the other models. Also, it will be necessary to be satisfied with a Wifi5 and Bluetooth 5.0 to communicate with other machines. This is the price to pay to enjoy a 15.6-inch of this type at $533.99.