XGIMI XJ03W MOGO DLP 3D Projector
With an admittedly quite cool video, the Chinese projector manufacturer XGIMI introduces the portable Projector XJ03W MOGO. It comes in two different versions – the most interesting one is probably the Mogo Pro, which promises a real Full HD video picture for just 399 dollars. This in combination with Android TV sounds like an interesting deal!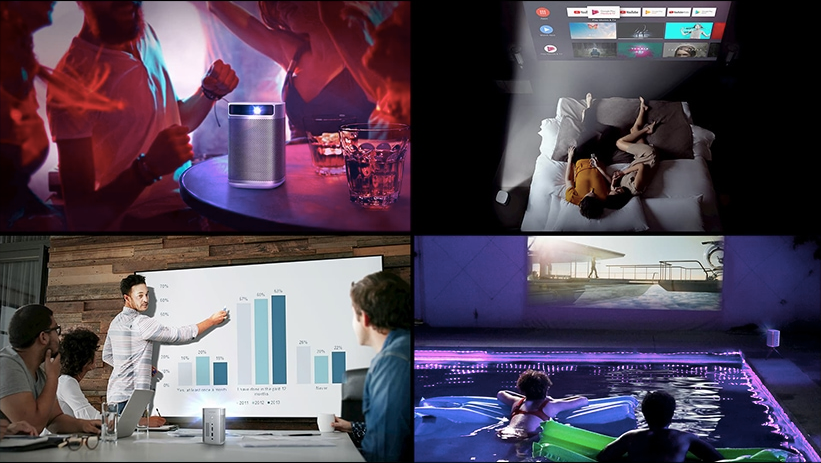 The XGIMI XJ03W MOGO is a portable Projector that can be operated both by means of the integrated battery and a power source. The form factor is less reminiscent of a Projector than of a Bluetooth loudspeaker. And indeed – the audio technology is supplied by harman/ kardon (which doesn't sound so special anymore, if you simply mention the name of the new parent company: Samsung).
So the XGIMI XJ03W MOGO is completely designed for use on the road. Simply switch on the beamer somewhere outside, set up a WLAN hotspot with your mobile phone and then start a movie via the Android TV system. In theory, it's pretty cool – we'll see how it works in practice.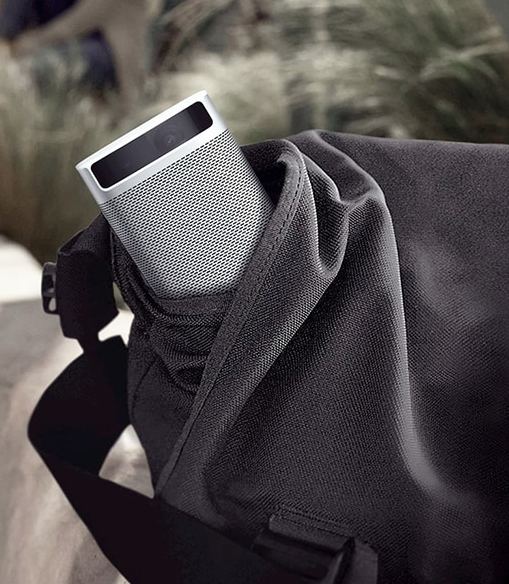 We already know Android TV as operating system from the Xiaomi TV Box S or comparable boxes. It has developed well over time and is also used on Smart TVs from various manufacturers. Together with the huge selection of apps and games that can be started directly via the router, the Google Assistant is also on board. We also get to see it in the trailer on Indiegogo. Netflix series or YouTube videos can be started and controlled by voice command. Of course, the Android system also includes a Chromecast, so photos from the smartphone gallery can be displayed with a click on the Projector.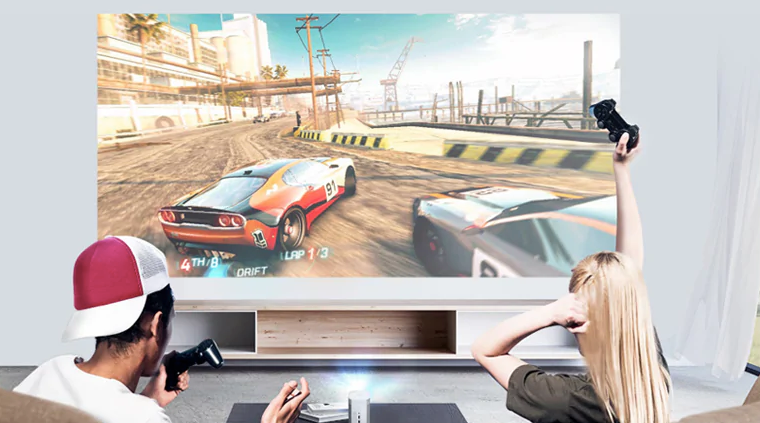 The differences between the two models are actually quickly explained: resolution and brightness. Especially the latter could be a deal-breaker for the "little" Mogo: Since most people don't want to use their Projector only in complete darkness, the additional brightness of the Mogo Pro could be decisive for whether you can see something or not. All in all, the video trailer stands out: Most shots are shot in complete darkness and there is always a huge area on which you can project – I personally usually don't take an additional white transporter with me on dates to watch a film "spontaneously". But no matter, back to the facts: The Xgimi Mogo Pro has a resolution of 1920 x 1080 pixels and a brightness of 250 ANSI, the normal Mogo has a resolution of 960 x 540 pixels and a brightness of 210 ANSI.