Xiaomi Mi 8 Lite 4G Phablet
Xiaomi Mi 8 Lite, nothing from Xiaomi Mi 8 Youth Edition. Finally today, September 19, 2018, the economic version of the Xiaomi Mi 8 has been officially presented and some other surprise, and some other variant of the Mi 8 . Keep reading that we tell you everything in detail.
It seems that the ambassadors of this Xiaomi Mi 8 Lite will be the Awaken-F group, and they leave us up here with this promotional video.
A few days ago we told you about the Xiaomi Mi 8 Youth Edition, which was announced by Xiaomi the same day that Apple presented its new iPhones, as a mockery of Asians against Californians. There has been announced exactly the name, which in the end happens to be Xiaomi Mi 8 Lite (And the Xiaomi Mi 8 Youth Edition? Is the Mi 8 improved -Mi 8 EE degraded? What a mess of names you take us Xiaomi ) and all its specifications, colors, prices, etc.
First of all, an advanced version of the Mi 8 with characteristics of the Mi 8 EE has been presented, as well as the striking color "fire". It will come in the color degraded. 6GB + 128GB for 3199 ¥ ( 399 € ) and 8 + 128GB for 3599 ¥ ( 449 € ).
It will have a notch and smaller upper and lateral frames. In the same way, it is presented as an extremely thin device , with only 7.5mm of thickness. Here a comparison of thickness and frames with other brands: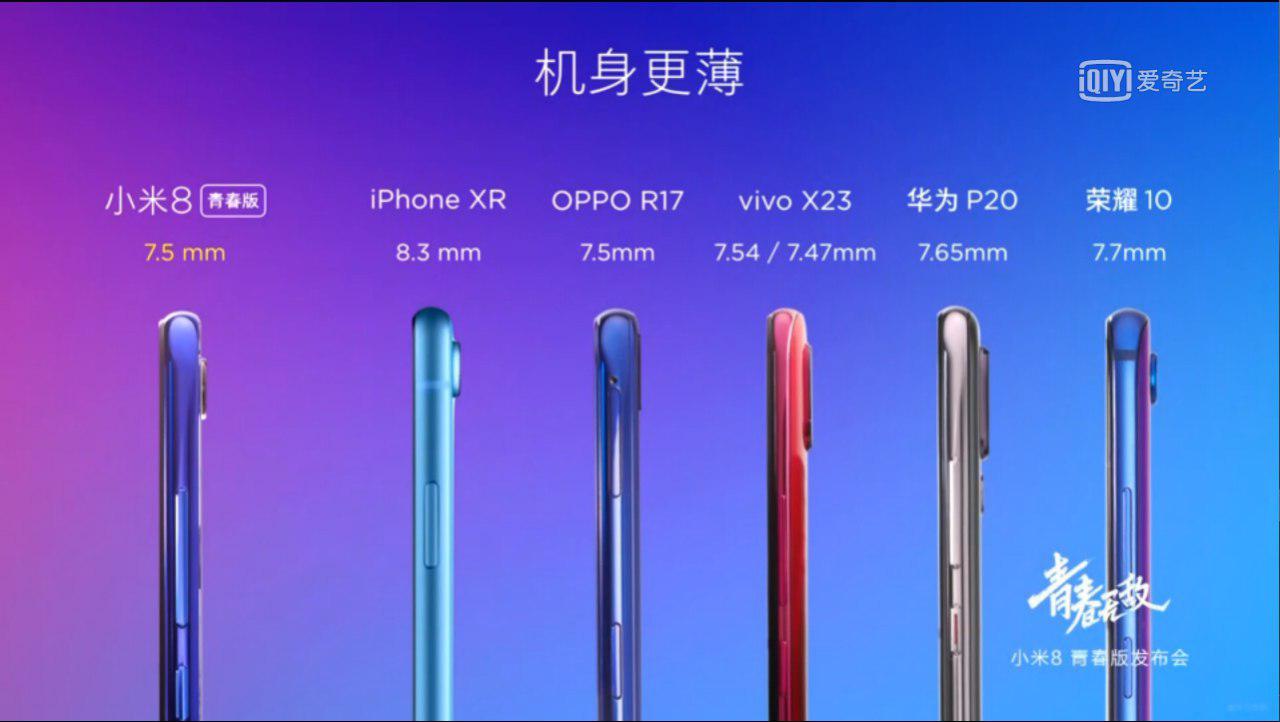 In the presentation they have made special emphasis on the new design of the rear of a kind of ultra reflective gradient that changes depending on how the light strikes. In addition to that reflection with the glass that is very premium.
Throughout the presentation they have explained how these colors come from different paintings of Monet to make sure they work correctly between them and offer the maximum possible harmony.
The front of this Xiaomi Mi 8 Lite has a 2.5D glass curvature to offer better grip and more comfort when holding it in your hand.
The whole body of the terminal has a high-end appearance but as we will see the price is not, how could it be otherwise in Xiaomi. What you can see is that this reflective back part in glass will be a magnet of fingerprints (nothing that can not be solved with a cloth or with a transparent silicone sleeve that we all use and wear in the end).
The front camera will have IA and mention how they have been evolving their technology to improve the rosto since its first iteration in 2013 with the Mi 3. It has multi-tone front flash for sharper and more natural selfies in low light situations.
There has been talk of beautify functions with AI of the front camera, which is very popular in Asia although we are not so supportive of these filters that in the end they differ from reality. The rear camera is a double 12MP + 5MP sensor with f/1.9 aperture, 1.4μm pixel size and full AI mode.
It will come with a Qualcomm Snapdragon 660 processor with a sub processor dedicated to artificial intelligence to improve its performance for these tasks.
And for a change this Xiaomi Mi 8 Lite will again have a groundbreaking price. It will start in its "basic" version for only € 1399 or € 175. It will be on sale from next September 25 and hopefully we will see it also by the resellers around that date in addition to the pre-sale.