Xiaomi MITU WiFi FPV 720P HD Camera Mini RC Drone
Xiaomi Company has released a compact quadrotor Mitu Mini RC Drone for outdoor games. For the performance of the device meets a Quad-core processor with a frequency of 1.2 GHz. In the presence of the device there is a 2.0 MP camera capable of writing HD-video, a 2-band WI-FI module, a transmitter with a range of 50 meters and a Bluetooth module. The gadget weighs only 88 grams. Announcement of the Xiaomi Mitu Mini RC Drone is expected on April 26.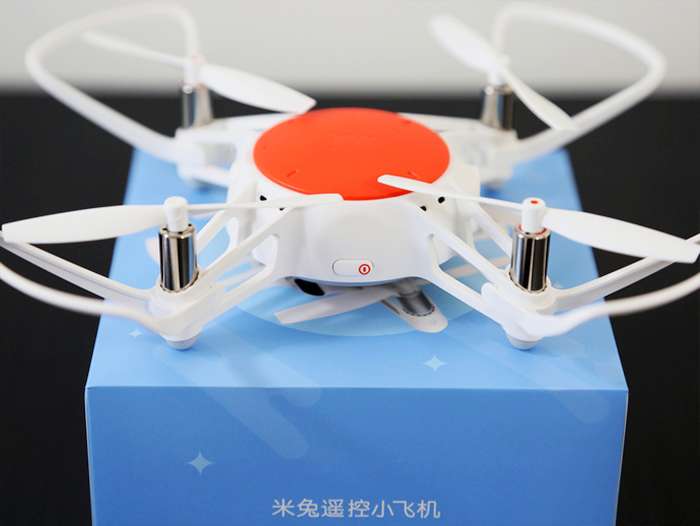 The dimensions of the drone without propellers are 91x91x38 mm, and the weight is only 88 grams. The case of modified PP-plastic is resistant to falling, and the blades are made of durable fiberglass. Inside there is a quad-core chipset with a frequency of 1.2 GHz. He is responsible, among other things, for processing data from sensors, thanks to which the device can hang in one position. There are several flight modes and a flip function.
Built-in 2-megapixel camera can record HD-video (720p) and take photos with a resolution of up to 1600×1200 pixels. There is a dual-band Wi-Fi module, everything is controlled using the application on the smartphone. The radius of action reaches 50 meters, the quadrocopter is able to rise to the air up to a height of 25 meters. Bluetooth support is also claimed, but there is no console included.
Under the top cover with the logo of the Xiaomi mascot rabbit, a removable 920 mAh battery is hidden. Full charge is enough for about 10 minutes flight. In the box, put a couple of spare propellers and protective shields.