Zhiyun Crane 3-axis Handheld Gimbal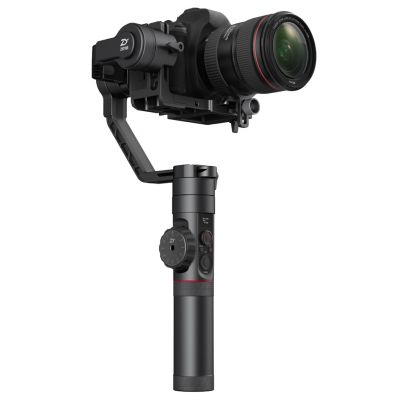 Some time ago we analyzed a stabilizer of the Zhiyun brand, which, unlike the model we have tested, was focused on GoPro-style cameras instead of the professional cameras that this Zhiyun Crane allows us.
We have had a first contact with this stabilizer and, the truth, has surprised its strength and precision, especially counting on that we can use cameras of between 300 grams and up to 1.5 kg., That is to say, that it is focused on a more proofical sector , although, it also serves for those who want to use their reflex camera and, want to get quality videos on the move.
We will start with this contact and, later, we will show you videos and our final opinion on this product, for that reason, we recommend that you follow us, especially on YouTube, where the videos that we record will be published initially. First of all, apologize for the hoarse voice of the video, took 1 week and still have not regained the voice
At first glance, starting with the packaging, we see that it is a product focused on the professional sector or, at least, those who want to substantially improve their recordings, if they are in motion, so as not to have to buy a new camera.
Undoubtedly the whole set is well presented and, in terms of the terminations, we can also speak of an outstanding quality in terms of joints and manufacture. To mount the device, we just have to put the two batteries in the tube that comes separately and, this one, inside the body of the stabilized and, immediately, we have the device working.
As it is a generic device, we will have to adjust the camera in the most centric point possible so that we can see how the stabilizer, when we are not using it, remains suspended in a correct position and, thus, achieve, that when the engines begin to work Do your work in an optimal way.
The Zhiyun Crane has a joystick with which we control the movements of the device as well as the different modes of operation so that it responds differently depending on the type of recording we want to do. In addition, it allows you to attach it to a tripod so that you can move the camera smoothly and mechanically without having to touch the tripod.
As it is a complex device we will test it thoroughly and we will even use it in our vlogs so that you do not need "biodramina" if you move the camera a lot and, in that way, show, in a real scenario, the functioning of it. that, in movement, is when we really see its stabilizing power.