ZHIYUN Official SMOOTH X Gimbal Selfie Stick Phone Handheld Stabilizer Palo Smartphones for iPhone Xiaomi Redmi Huawei Samsung OnePlus
If a week ago I was writing about the selfie stick produced by Yuemi, I found out that recently Zhiyun also released something similar. However, Zhiyun's experience speaks for itself, so it comes bundled with a few extra features. Smooth X is a compact, 2-axis gimbal that can be turned into a selfie stick, and can be used as a tripod if needed.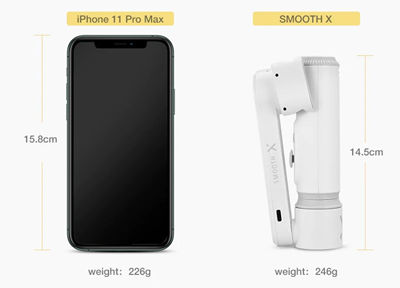 As you would expect from a Zhiyun product, it has a premium and elegant design. It is made of aluminum and is extremely compact – it measures 14.5 centimeters and weighs only 246 grams. It looks better than the Yuemi model. Plus it charges using a USB-C port. I appreciate the manufacturers who gave up MicroUSB. The telescopic arm can increase its length by another 26 centimeters, turning this gimbal into a real selfie stick.
Compared to the model from Yuemi, the handle has a small console that allows rotation (left-right and up-down for the phone), a button to change the mode (photo / video), the shutter button and another button on the side for zoom. It can be used by placing the phone both horizontally and vertically. The control panel is not removable.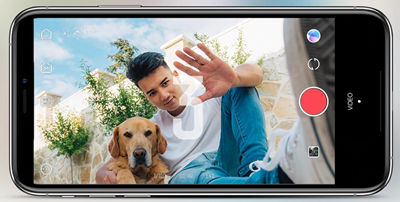 Another advantage is given by the dedicated mobile application, namely ZY Cami, which offers some extra functions to the user. To capture scenes when used as a tripod, all you have to do is gesture without touching the phone screen, and it will automatically start or stop recording. Also, a topic can be selected from the application to start tracking.
The battery has a capacity of 1000 mAh, fully charges in 2 hours and can provide up to 4-5 hours of use. It uses Bluetooth 5.0 to connect to the phone and is compatible with almost any smartphone model.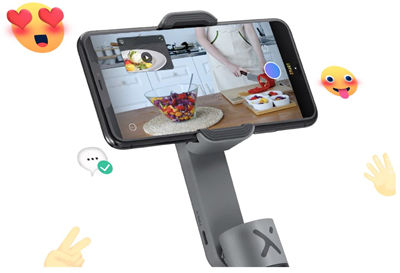 Zhiyun Smooth X is already present in the offer of Gearbest.com, with a price of $59.99. Orders placed in the next period will be shipped starting May 23, and those placed after that date will be shipped after June 5. As usual, for delivery by courier, without additional fees, I recommend choosing Priority Line.