The first Xiaomi bicycle pump with a sturdy metal casing is resistant to mechanical influences and temperature differences. The device correctly performs functions in various conditions – from -10 to +45 degrees Celsius. Developers have tried to make not only effective, but also the compact goods. The pump sizes are 124x71x45.3. Inside the device there is a 2000 mAh battery. Charging is carried out through the Micro USB interface, the corresponding cord is included in the basic equipment.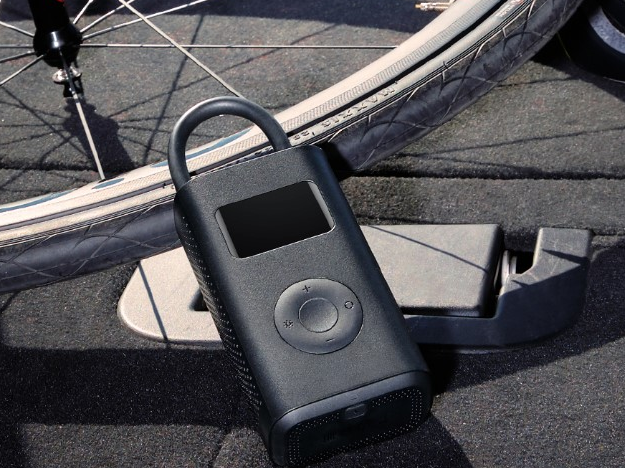 In the process of active work the minimum noise is 80 dB. With the new Xiaomi pump, you can not only inflate the wheels of your bicycle, but also inflate the balls. The tyres are pumped up rather quickly in comparison with the analogues presented in the market. The display shows the pressure on the device. The pump has a long battery life. 100% battery power is enough to pump up the tires on 11 bikes. Special LED backlighting allows you to easily inflate the tires even in the dark.
Specification:
Brand
Xiaomi
Model
MJCQB01QJ
Storage temperature
-10℃-45℃
Charging interface
USB
Inflation pressure range
0.2-10.3bar / 3-150psi
Charging parameter
5V 2A
Battery capacity
2000mAh
Working noise
Distance 1m noise is less than 80dB
Operating temperature
Charging: 0-45℃
Discharge: -10-45℃
Charging time
2000mAh
Tracheal size
Tracheal pull-out length: 180mm
Size
124 x 71 x 45.3mm
Net Weight
About 430g
Application scenario
Meet the needs of bicycles, motorcycles, cars and a variety of balls
The Xiaomi pump is not suitable for pumping car wheels. As it is unable to provide the right pressure level for this. However, the novelty becomes ideal acquisition for all admirers of riding bicycles. The approximate cost of the device is $53.59 at Aliexpress.com. And $44.99 at Banggood.com use coupon: af94c4
Compact dimensions allow to carry the pump in a pocket. The convenient design gives the chance to hook the device for a backpack, it is also possible to hang it on a steering wheel.