Are you interested in what the flagship design might look like in 2020? If so, I strongly recommend you to read the concept sketch, which may present one of Samsung's top smartphones. One thing is for sure – ancient Egyptians would be proud.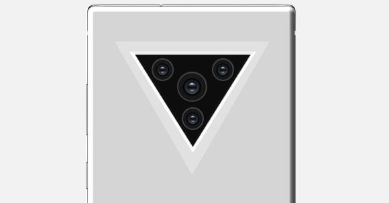 When the front of almost all smartphones approaches exactly the same design – the perfect minimalism of glass without a cut or a camera hole, only the back panel can determine the originality of the device. Since there is no speaker there anymore (in fact, hardly anyone remembers that they were once located there), and the fingerprint reader was moved to the front, only the cameras remain. What is new in the manufacturers' plans?
In times when there was only one lens, it was rather difficult to talk about special creativity. It could be placed centrally, it could be tempted to be close to one of the edges. Today, however, it is a completely different pair of wellingtons. Horizontally, or maybe vertically? On the side, or maybe in the middle?
So what do you do with a protruding island of cameras? For three lenses, I think a square, like the one from Huawei Mate 20 Pro, looked best. The Chinese themselves will give it up in favour of a circle that looks much better in the company of four "eyes". Or maybe now we will focus on… worshiping Egyptian gods? This is only my association and I would call it a pyramid – if someone else hasn't done it on the Internet (I searched for it, didn't notice it). It is also the final proof that the illuminationists rule the world, isn't it?
Given the fact that the leakster hidden under the pseudonym IceUniverse focuses essentially on smartphones from the Galaxy line (with a small exception for the series Mate from Huawei), it is not hard to guess that this could look like Samsung Galaxy S11, probably in the Plus variant (or Pro, 5G, Ultra – imagination can work to your heart's content).
If I had to assess the chances that such a smartphone will actually go on sale, I would say that it will be rather the most top variant, whose price I do not dare to even prophesy. I mean something like Samsung Galaxy S10 5G, which had a slightly different photographic background than the more "down-to-earth" models.
How would I rate ergonomics? I have to admit I have mixed feelings. On the one hand, this way a smartphone lying on a table without a case wouldn't wobble to the sides, but on the other hand, it looks quite…grotesque. Although it's only a subjective issue, I think I like the square the most – how to fit more than 4 lenses into it?
Of course, if you are interested, you can check out the review of Samsung Galaxy A70 made by our team.