At the end of last year, Gearbest took advantage of its Alfawise brand to offer 3D printers. These machines, purchased under a white label from Longer3D, displayed arguments that quickly won over users: good print quality, comfortable volume and very aggressive pricing.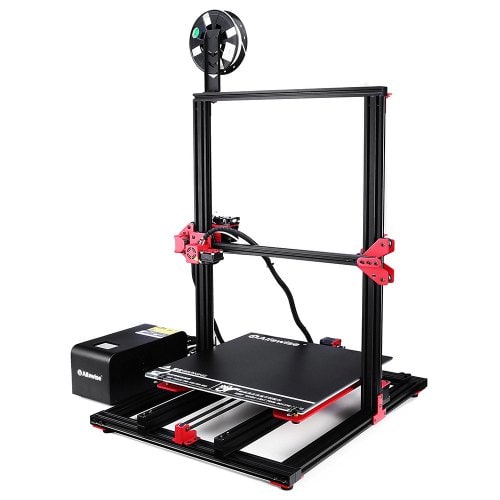 The Alfawise U20 will certainly have been the best-selling printer of the brand when it came out. It was a printer copying the very popular Creality CR10 that we tested with a 300x300x400mm printing surface and a remote control box. However, it was already gaining in functionality with the presence of a touch screen and some of the CR10S's advantages, in particular an end-of-filament detector and the resumption of printing in the event of a cut (but not double Z-axis guidance), for a very aggressive price of 270€ on average.
Today, Alfawise announces the U20 Plus, a rework of the Longer3D LK-1. This time it presents itself as a competitor of the CR10 S4 since the electronic base and equipment are the same, but its printing volume now increases to 400x400x500 mm.
As it passes, it finally reaches the double Z axis to better support the stem on which the print head moves. It always has a filament end detector and print resume in case of a cut. It is equipped with a 24v heating plate (up to 100 degrees), a 2.8 inch colour and touch screen.
It always carries an MK8 print head and a single drive extruder with screw tension adjustment. It can handle filaments such as PLA, ABS, Polycarbonate, HIPS, PETG, PVA and most loaded filaments. It proposes to print with a layer height varying from 0.1 to 0.32 mm with its 0.4 mm nozzle (which can be changed). It is one of the few Cartesian 3D printers on the market to offer a 32-bit motherboard, which allows faster data processing and better management of complex movements with greater accuracy.