ALFAS ES01 42V 350W 6Ah Folding Electric Scooter
Anyone who has already had the opportunity to drive an electric scooter will surely soon be infected by the enthusiasm that such a flexible vehicle brings with it. Thanks to the integrated Li-Ion battery pack (6Ah, 36V) the ALFAS ES01 can drive you up to 25km. Always depending on the weight of the rider and the condition of the ground. You can operate the scooter comfortably via the display on the handlebar grip and read current values. The scooter can be driven in 3 speed steps, whereby the 3rd step allows a speed of up to 25km/h with a maximum load of 120kg. The built-in engine offers a power of 350W whereby the engine certainly has more power, but at 350W can show its highest efficiency. The maximum torque is specified by the manufacturer as 13.3Nm and the engine reaches a speed of up to 700 rpm. The scooter can even handle slight gradients of up to 20°.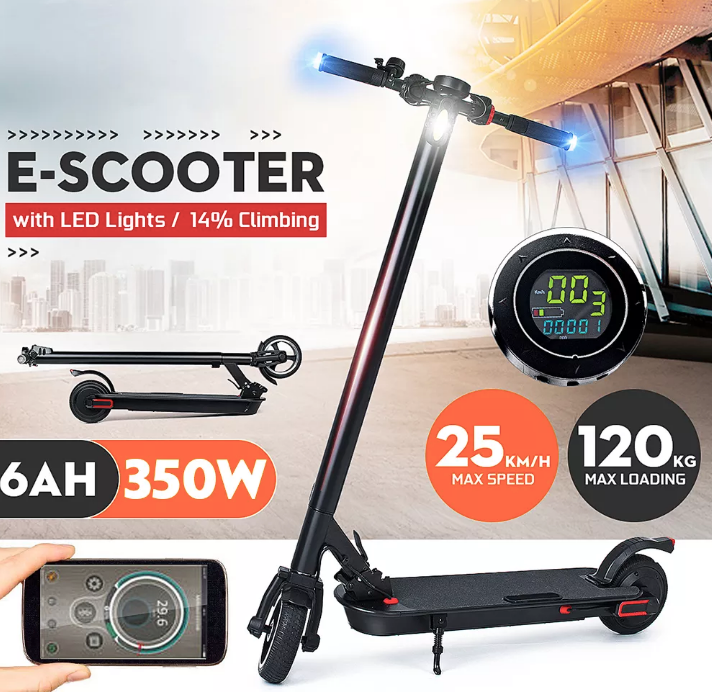 The charging time of the integrated battery is approx. 4 hours and therefore takes quite a long time. The scooter weighs about 11kg. Compared to the other available scooters this is rather light. The folding mechanism of the ALFAS ES01 also works like on the well-known models, whereby a lever arranges the handlebar and releases the handlebar after a pressure to fold it in and to let it snap into the back fender. The same serves at the same time as rear wheel brake if one steps with the foot on the sheet metal. The motor brake integrated in the front wheel works electrically and is operated by a lever on the right handlebar. The braking distance is given as 4 metres. For easier transport, the handlebar grips can be folded in at the side of the handlebar rod. In contrast to the Xiaomi Scooter, the handlebars can also be adjusted in height.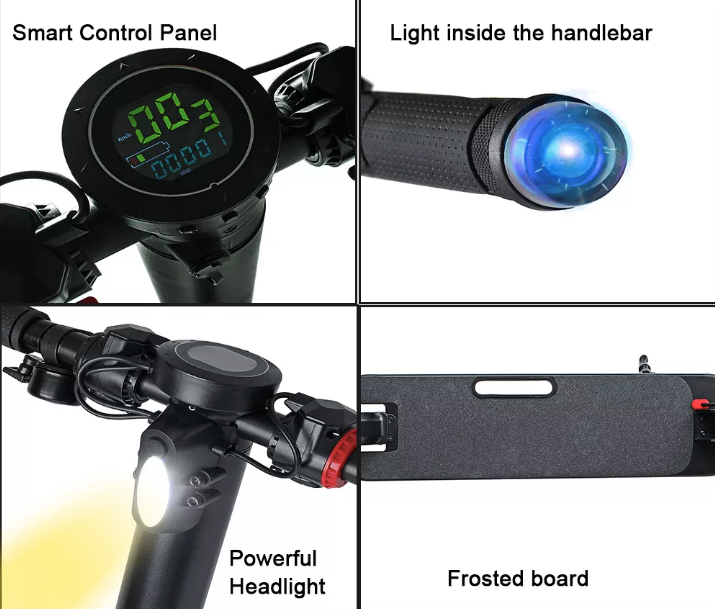 The ALFAS ES01 uses comparatively large 8.5″ solid rubber tires, which gives it a distinct advantage over the Xiaomi M365, which is equipped with air tubes. With the ALFAS ES01 you can't get a flat tire. The ride comfort, however, is not completely destroyed by the solid rubber tires by front and rear shock absorbers. On the illuminated LC display unit on the handlebar there is also a multi-part LED strip for the switchable lighting. On the mudguard of the rear wheel there is a brake & reverse light which flashes during braking. The scooter is available in several colours and can therefore be ordered in unobtrusive black or in more striking colours. The scooter is protected against dust and splash water according to IP54.