Alfawise X7 Folding Electric Scooter
The Alfawise X7 is an interesting alternative for personal transport, which will allow you to move around your city in a fun way. Apart from an attractive design, it is also an electric scooter that offers a good dose of speed and a great autonomy. Although a little heavy, the Alfawise X7 has a completely foldable system, making it the perfect companion for your travels, always with style and comfort. The folding system is quite fast and safe. This vehicle, which is made of a special aluminium alloy, has really interesting dimensions, especially when folded. This model is available in white, with some details in black.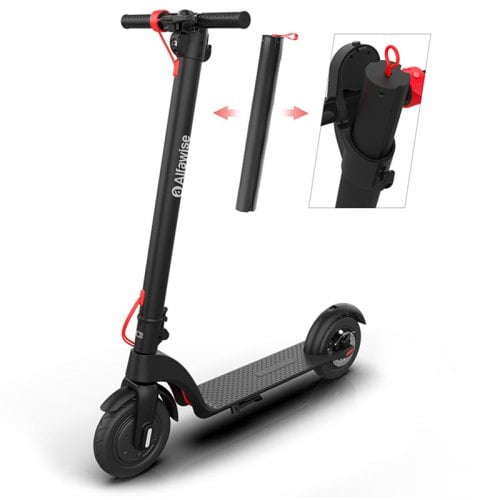 The handlebar of the Alfawise X7 is very generous so you can hold it comfortably. It is also adaptable in height, which is an advantage, as it can be used by taller people, and can be handled with complete ease. On the other hand, the platform where the feet are placed is wide and has an adequate surface to prevent the feet from slipping. There is also a goat's foot on the left side, so that you can leave the scooter standing when you are not using it. An LCD panel has been placed on the right handlebar from which we can control the kilometres travelled, the speed or the battery level.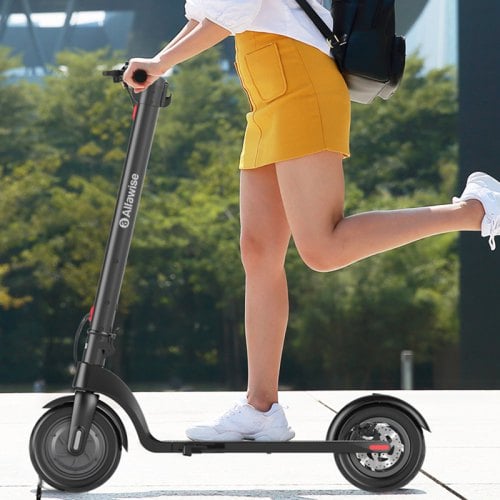 With this electric scooter Alfawise X7, you will be able to enjoy urban mobility like never before, thanks to a powerful 700W motor, which achieves a maximum speed of 25km/h. We are talking about a very high figure for a scooter. That's why you have to be very careful, especially on straight lines. There is always the possibility of a pedestrian crossing the road, so you have to drive responsibly at all times.
The Alfawise X7 has three driving modes. The first one is very useful when there are a lot of people and we can't run much. The third is the one that uses all the power of the scooter. You can go from one mode to another by clicking on the "Mode" button on the right handlebar, next to the button used for the ignition.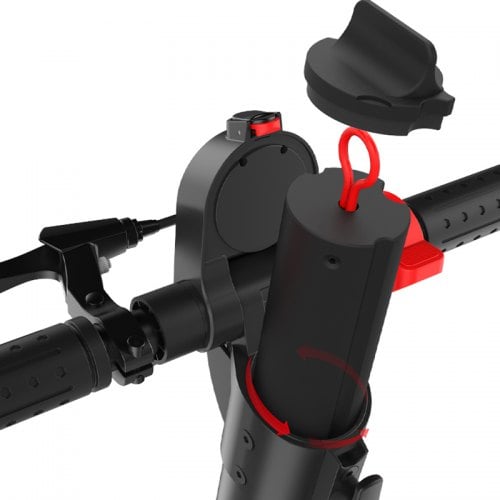 Going up the slopes also goes very well, and feels very stable, thanks mainly to the wheels that have a diameter of 10 inches. This type of thick wheels will give you the opportunity to move with agility in your daily displacements. The wheels of this electric scooter Alfawise X7 have tires and an anti-puncture system, which gives greater reliability when driving on surfaces that are not completely smooth. Each wheel is protected by a mudguard made of plastic.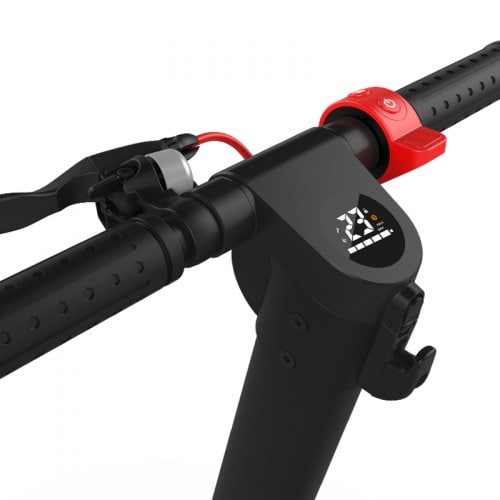 This scooter is able to hold up to 12.50 kg of weight. It also makes use of a dual braking system, front and rear, which allows you to brake immediately. It is a pity that this skate does not offer protection against splashes, in case at any time it gets a little wet if it rains.
This Alfawise X7 scooter is powered by a 48V battery with a capacity of 5.2Ah, which gives it an autonomy of around 20 km. So you will be able to move where you need with ease. The battery takes about 4 or 5 hours to charge. This gives you plenty to go from home to work or college. The charging connector (220V) is located on one side.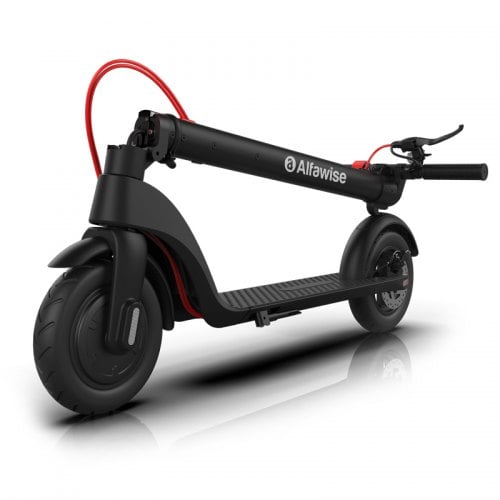 Alfawise adds several interesting details, such as front and rear LED lights, as well as the brake light and a powerful horn, so that when night falls they can see us from afar. On the manufacturer's official website it does not appear that we can control the functions of this electric scooter through a mobile application. And is that the Alfawise X7 does not have this option, which does not mean that it is a bad scooter.