ANGER 75X V2 5.8G Whoop 3-4S 75mm FPV Racing Drone 
According to its manufacturer,this new Tinywhoop is,particularly resistant to crashes. It rests on a light plastic structure with a motor-to-motor diagonal of 7.5 cm. The motors are GL1202 to 6900KV brushless for quadruple propellers. The flight controller is an SI-F4FC flashed under Betaflight with MatekF411 firmware, coupled to an ESC 4 in 1 of 12A BLheli_S DShot600.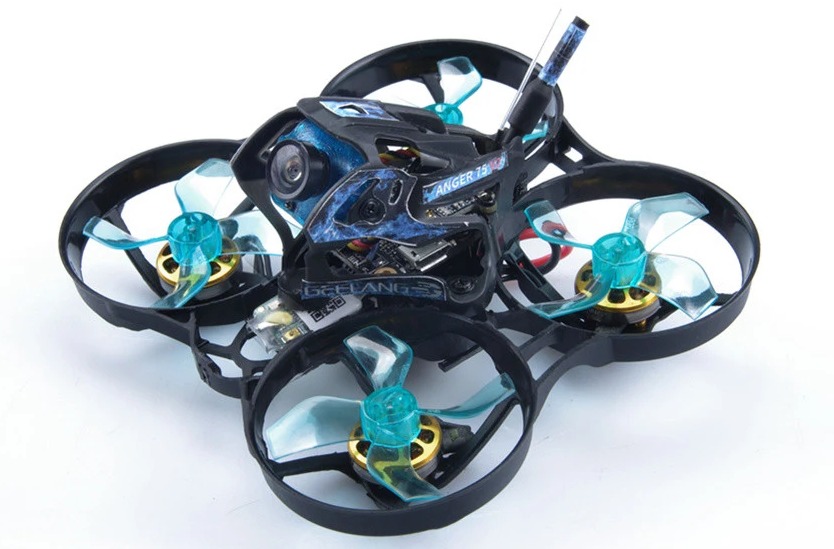 It is ensured by a GL950Pro camera whose angle is adjustable, an 800TVL associated with a 5.8 GHz video transmitter compatible with 40 channels, capable of transmitting at 25 mW (the maximum authorized in France), 100 mW and 200 mW , SmartAudio compatible for settings via the OSD, with a dipole antenna. The Anger 75X V2 can be delivered without receiver or, optionally, with an AC900, a Flysky, a DSM2 / DSMX, an XM + from FrSky or a Crossfire Nano from TBS. It is delivered in a pouch with 3 LiHV 4S batteries of 260 mAh with an XT30 connector.