BMAX Y14 Pro Notebook
The big gap continues among noname manufacturers, this BMax Y14 Pro is the proof. Without access to more modern components or by opportunism by coming across solutions at really interesting prices, they integrate old chips in machines with today's designs.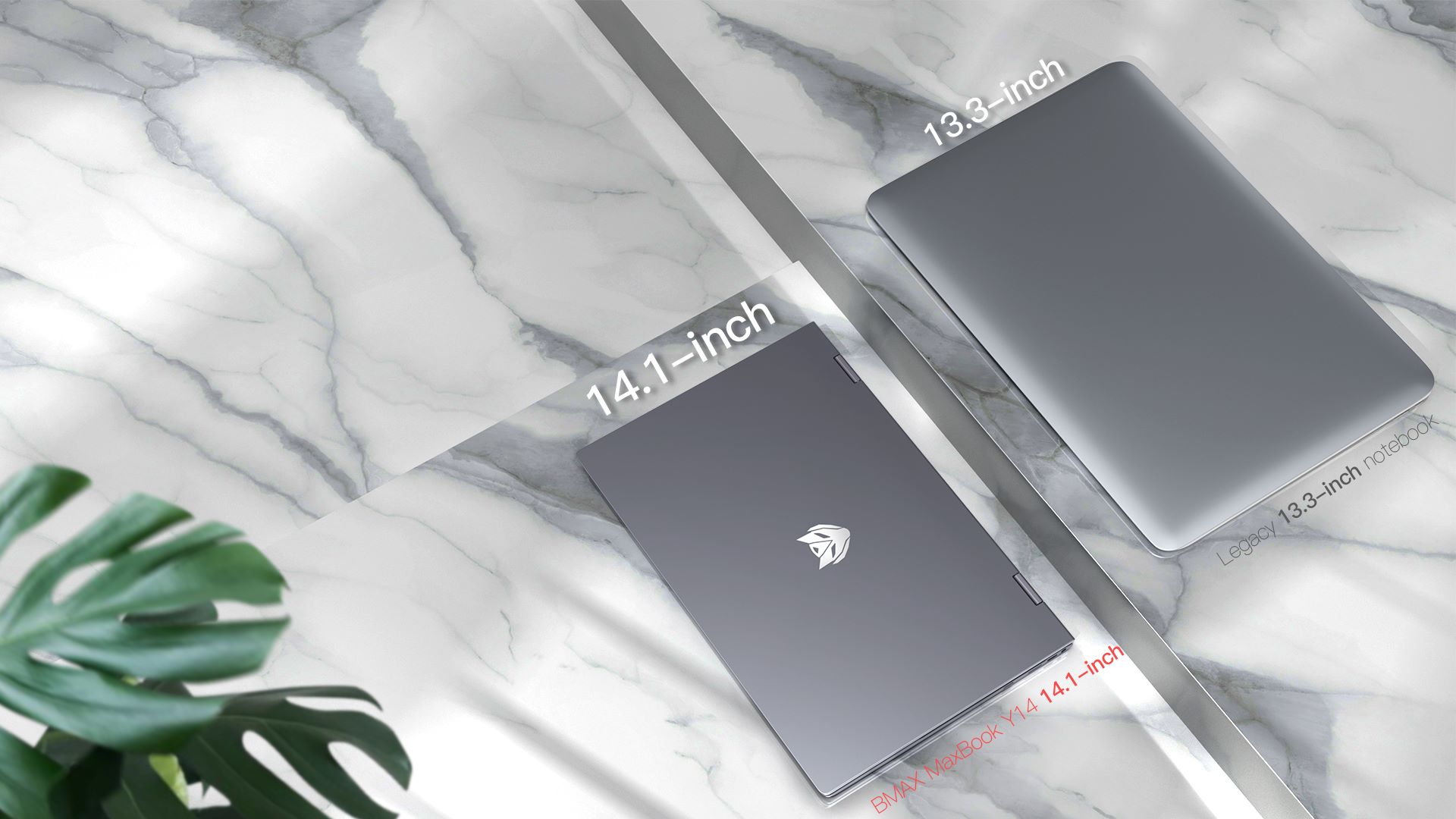 Because we don't necessarily remember it, but between 2015 and 2021, almost 2022, a lot has happened in terms of design. The machines have become thinner, the screen borders have almost disappeared, the connectivity has evolved and the majority of laptops have lost a lot of weight while doubling their autonomy. And this is true for all ranges of machines, even for the cheapest machines which, in 2015, did not look at all like the low-cost machines of today. These changes are shocking when you compare two machines in the same price range between the two eras.

The BMax Y14 Pro straddles the line between the two, its Intel Skylake Core M7-6Y75 processor is a dual-core, quad-threaded processor clocked at 1.2 to 3.1 GHz with 4 MB of cache that runs at 4.5 watts TDP. An excellent chip for its time, by the way, which we found in many ultraportables with other models in the same category. The Core M3-6Y30, for example, present in the Xiaomi Notebook Air 12.5″ released in 2017 and which still works well today. Obviously, when compared to a newer Core i3-10110Y, a chip that offers almost the same TDP of 5.5 watts, the 2015 processor is slower. It is almost three times less powerful in computing than a Core i3-1115G4 released at the end of 2020… But it is still able to drive an operating system properly and do many things correctly and without any noise since in this case, the ultraportable is without ventilation.
The concern seems to be to get more modern chips for the brand, it would have everything to gain by choosing a processor like a Celeron or a Pentium Jasper Lake for example. A Pentium Silver N6000 released at the beginning of the year with 4 cores and the same 4 MB of cache, clocked from 1.1 to 3.3 GHz for a TDP of 6 watts is about 50% more efficient than a Core M7-6Y75 of 2015 … Still it is necessary to have access to these processors.

Accompanied by 8GB of RAM and 256GB of storage on M.2 2280 SATA media accessible under the machine, the BMax Y14 Pro should offer convincing performance. The 14.1-inch screen proposed in FullHD IPS is touch-sensitive and offers a 360° folding hinge that will offer the possibility of a tablet use. The device offers a Wifi5 module, and four speakers for a wider and deeper sound.
It is obviously equipped with a QWERTY keyboard and its connectivity is minimalist: two USB Type-C ports, a MicroSDXC card reader and a 3.5 mm audio jack. A second jack, for power is visible, it will be used to recharge the 37 WH battery integrated. It's meager but it allows to propose a 14.1″ diagonal machine for 1.3 Kg. The overall thickness of the machine is 12mm… but you'll probably need to use accessories to take advantage of its USB Type-C connectors.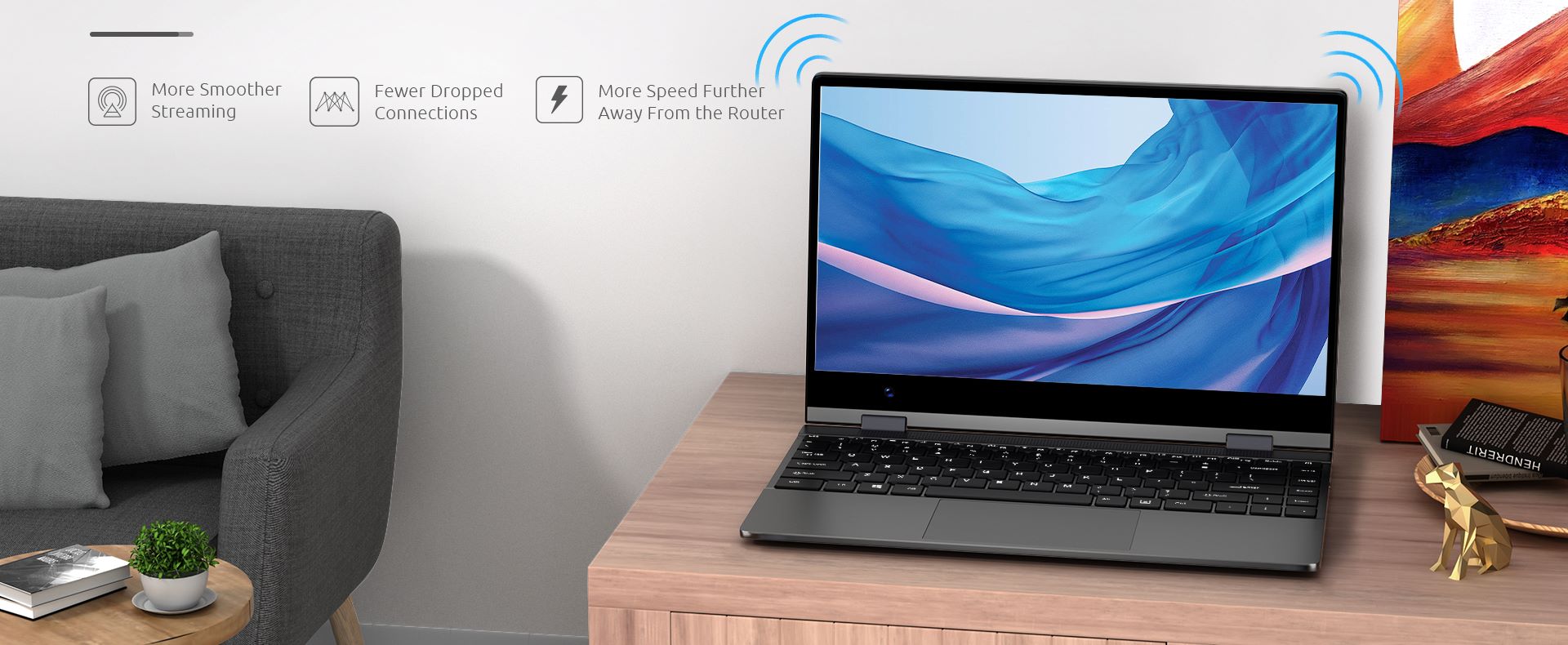 The device is announced, but not yet in stock, on the BMax store of AliExpress around 499 USD with different offers that can be combined. I'm not going to encourage you to go for this offer though. I'm not sure it's a good deal. Besides the QWERTY keyboard, the chip that has been largely replaced, there is the lack of connectivity that can be a problem. The device is interesting on paper but I'm afraid that once again we end up with a half-finished machine in practice. The drivers are missing, the autonomy is poor and the laptop is disappointing.