Chuwi Hi9 Air CWI546 4G Tablet PC
Chinese electronics maker Chuwi, which is rapidly gaining a reputation in the field of netbooks, notebooks and tablet computers, launched this year's Chuwi Hi9 Air tablet on the market. Initially, Chuwi Hi9 Air was introduced along with a variety of products that included convertible SurBook, Lapbook Air and a television box on IFA 2017. IFA is known for being the largest event for the consumer electronics show in Europe, something similar to the CES annually held in Los Angeles.
Exhibiting its products on this prestigious platform, the Chinese company described its ability to create excellent entry-level products. The Hi9 Air tablet comes with advanced features and some surprises, such as the Android operating system inside.
Design
The first thing that affects the Tablet PC Chuwi Hi9 Air, is one large tablet that is on the heavier side of the measuring scale, both in terms of size and weight. Available in one color version – black, Hi9 Air measures 239x167x8 mm and weighs 550 grams. Well, everything in life goes for the price, and the lack of ergonomic design is the price you pay for the huge battery that Hi9 Air is equipped with. If you are one of those people who do not like to charge their gadgets often, you will definitely be able to watch for its heavy build and weight for its long battery life.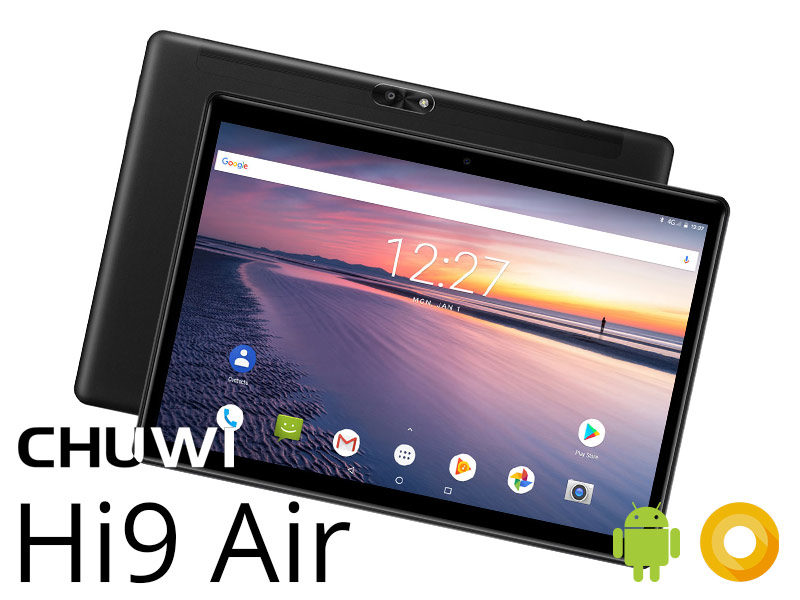 The tablet has a 10.1-inch screen that can be slightly smaller than some other models available on the market, but its 1920 × 1080 Full HD resolution more than compensates for it. It also offers 16:10 aspect ratio and 298 PPI pixel density, which makes it ideal for video playback, even with 2K resolution, which are displayed in widescreen mode and with great contrast.
Chuwi Hi9 Air also included OGS (One Glass Solution), which provides some protection against scratches and damage to the screen. LCD screen and touch screen were placed along with zero gaps, which significantly reduces the refraction of light, thereby improving the brightness and clarity of the display. The function also reduces the addition of extra weight to the Hi9 Air body, allowing you to handle this tablet with one hand.
Performance
Hi9 Air comes with 4 GB of DDR3L RAM and 64 GB of eMMC memory, capable of offering write and read speeds of up to 150 m / s. It is also equipped with an SD card slot, with which you can expand the internal capacity of the device to 256 GB. Expandable storage provides enough memory space in the tablet to support all your media needs, including games, music, images, movies and documents, in addition to hosting multiple applications.
Hi9 Air does not have SIM card support and only works on WiFi. It is powered by a non-removable lithium polymer battery with a capacity of 8000 mAh, which ensures the duration of operation for one day at full charge. The inclusion of the ARM Mali T830 graphics processor, the MediaTek MT8173 chipset and the Accelerometer makes it a powerful and stable machine that does not struggle with lags and is able to offer the user the opportunity to work with a laptop.
The functionality of this tablet can be improved by adding another Chuwi offer, the HiBook Pro keyboard, which provides a more familiar notebook structure for this tablet for greater performance.
The keyboard accessory is for those who want to use Hi9 Air for heavy tasks, because the tablet has specifications for its support. HiBook Keyboard can be connected to Hi9 Air via any of the USB ports or even paired with the tablet via Bluetooth.
OS and processor
Hi9 Air is powered by a Centric System tablet on a chip – MediaTek MT8173. The chipset, although old, has an excellent performance with four high-performance Cortex-A53 cores capable of operating at frequencies up to 2.0 GHz. However, the real surprise is the inclusion of the Android operating system in Hi9 Air. And Chuwi presents this surprise on a high note, including Hi9 Air with Android Nougat v7.0. These specifications in combination with 4 GB of RAM and 64 GB of expandable internal memory make this tablet a smooth device offering flawless multitasking.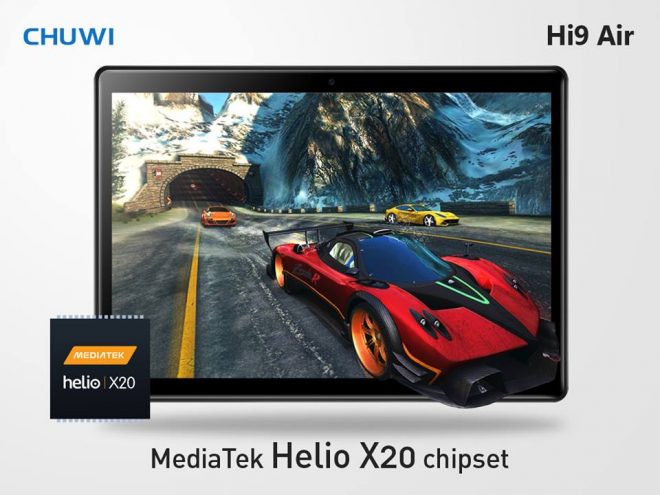 Cameras and Battery
The Chinese manufacturer did not make any major updates to the Hi9 Air optical devices. In fact, Hi9 Air stores the camera sensors used on the Hi9 predecessor. This Chuwi tablet is equipped with a 5-megapixel rear camera, which features features such as autofocus, digital exposure, geo-tagging and continuous shooting, but does not have LED backlighting. Hi9 Air is equipped with a stiff 2-megapixel front camera, which, like its analog behind, is not equipped with LED backlighting.
Although the characteristics of the camera on the Hi9 Air are quite average, the battery is definitely one of the strongest features of this device. A lithium-polymer battery with a capacity of 8000 mAh provides a good working time. On the other hand, skipping rapid charging, allows you to turn the charging of a battery with a capacity of 8000 mAh in a tedious process. Thanks to the chargers it takes about 3-4 hours to get a Hi9 Air battery near the 100 percent mark.
Summary
Chuwi Hi9 Air is a pretty device by many standards. It has a large display size, a backup battery, redundant memory and internal memory capacity, and also runs the Android Nougat OS. Despite the fact that these functions make the Hi9 Air tablet worthy of purchase, its price index of $350 may seem a little big, especially given that it lacks some memorable features, such as fast charging and a fingerprint scanner.
Nevertheless, it is more than worthy tablet with universal capabilities, which makes it ideal for playing, resting and using, connected with work.