Doogee S40 is a budget 4G Rugged Phone
While we are still reminiscing about the magic of the modular mobile phone DOOGEE S90, their company is preparing to release a low-end outdoor phone in the second quarter of 2019.
Doogee has announced the launch of the little brother of the outdoor king S60 under the name S40. The Doogee S40 offers a slimmed down hardware packaged in the identical, waterproof design of its big brother. And at a lower price. The robust design and the strong battery make it a companion for all outdoor activities.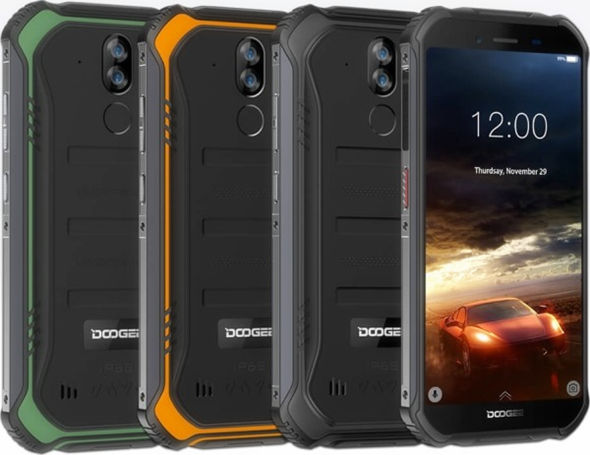 Doogee adds another member to its "S" family. The S40 is the little brother of the outdoor smartphone Doogee S60. The design of both models is identical. The housing is made of metal. It is not only robust and striking, but also waterproof for 30 minutes at a depth of up to 1.5 metres thanks to IP68 certification. The display is 5.2-inch and protected from scratches and breaks by gorilla glass 5. As in its big brother, the manufacturer uses a battery with a capacity of 4650 mAh in the Lite version. The battery supports USB-OTG and a quick charging function. Thus the slimmed down Lite version remains a strong companion for on the way.
There are some changes in the cameras compared to the sister model. The S40 has a rear camera with 21 megapixels. The little brother only gets 8 megapixel shots. The camera sensor is waterproof and makes it possible to take photos and videos under the water surface. Image stabilization is intended to improve video recording. Like its big brother, the front features an 8 megapixel camera. Inside is an eight-core processor with a clock rate of up to 1.5 GHz. This is supported by 2 GB RAM and 16 GB ROM. The S40 is a fully-fledged outdoor phone, but thanks to the built-in Mediatek 6739 it still has a good performance and Android 9.0 runs on the device.
The exact price of the Doogee S40 is not yet known. However, the smartphone should be cheaper than its big brother due to the weaker equipment.