Dragonfly KK13 GPS WiFi FPV with 4K HD Camera RC Drone
Some Chinese manufacturers are masters in the art of copy, cleverly worked to be difficult to attack. It's Parrot's turn to see the look of his Anafi used as a source of inspiration for a multirotor. As often, it's not an exact copy, but it's close enough to the original to fool an unsuspecting consumer. Its price, however, is a serious indication: this KK13 is offered between 149 and 179 USD depending on the version. At this price, no miracles, the device is an entry-level machine …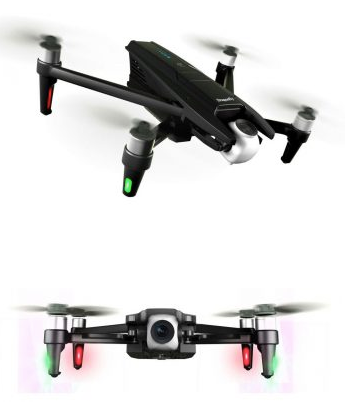 The KK13 has the same "insect" look as the Anafi, with a folding arm mechanism very similar. Even the principle of the camera that can be pointed up has been copied – not totally since the deflection is -85° to + 85°. The technical sheet goes as far as taking up the biomimetic arguments put forward by Parrot CEO Henri Seydoux at the exit of Anafi. They are illustrated by images similar to those of the marketing pack of Anafi, this time with a dragonfly (Dragonfly). There are two visuals of the Anafi in the presentation card of KK13!
The device is equipped with 1406 brushless motors for two-blade propellers with independent blades, controlled by a 4 ESC of 12A. The camera is mounted on a 2-axis nacelle, without digital stabilization. It relies on an IMX378 sensor and an aspherical lens to offer 4096×3072 pixels photos and 4K wide-angle videos or … 1920 x 720 pixels (an error, it is likely 1920 x 1080 pixels). As you can see, the technical sheet is farfetched and necessarily wrong. The range of the video transmitter is 700 meters, that of the radio remote control is 1200 meters.
The battery is a 2S 7.6V 3000 mAh which ensures according to the manufacturer up to 28 minutes of autonomy (or 25 according to another indication in the technical sheet). Positioning is provided by a GPS and a vertical camera. The smartphone software promises automatic flight tools with pattern recognition and Follow Me. A software module can detect gestures to trigger simple actions. The KK13 automatically returns to its starting point in case of loss of radio link.