DYU A1F 5Ah 250W 36V Folding Moped Electric Bike
With the arrival of summer, there will be no shortage of opportunities for a nice bike ride, even more so if it is a smart two-wheeler, which can be controlled and managed from a smartphone. DYU A1F is the new model of the folding electric bike, easy to carry, with dedicated iOS and Android app.
After the success of the first generation of the Dyu electric bike, the Chinese company launches the second model, DYU A1F, even more promising thanks to the presence of pedals. Not only will this allow for increased battery autonomy, but it will also make it compliant with the law, allowing users to circulate on the street, without running the risk of incurring penalties and fines. With an aluminum alloy frame, it offers a foldable design. It measures 130x 100 x 45 cm, which becomes 72 x 32 x 58 cm when folded. It weighs just over 17KG, has a 16-inch wheel and a pedal height of about 10cm from the ground.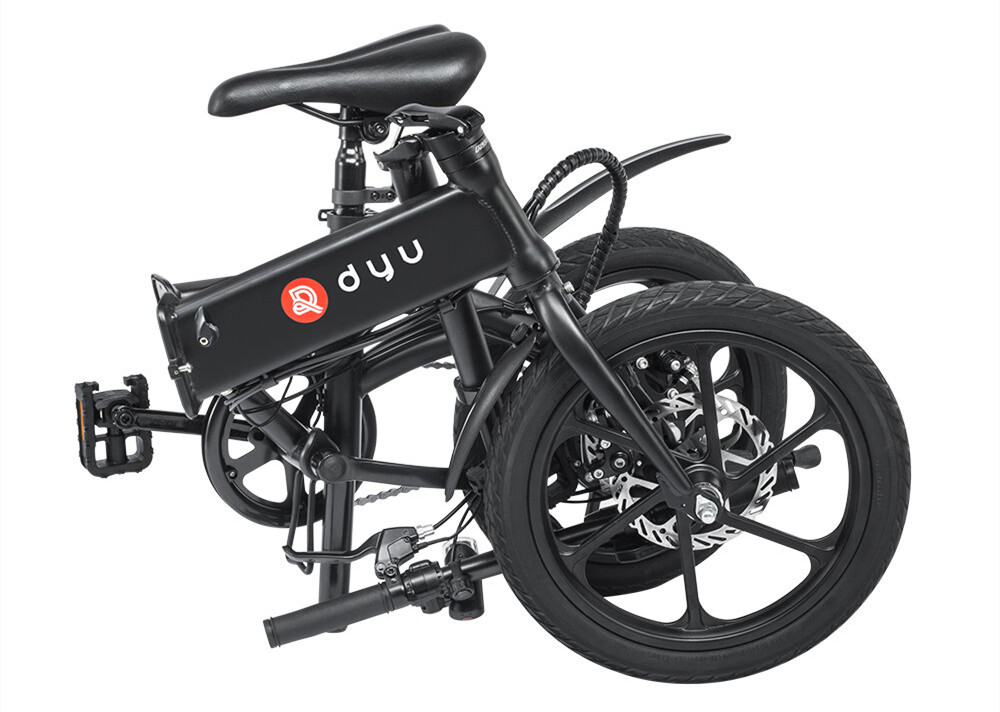 It bears the weight of 120 kilograms, and reaches a maximum speed of 25 kilometers per hour, which can go up to 30 km/h through special unlocking from the dedicated application. Its integrated 72W, 5.2AH lithium-ion battery offers an autonomy of about 20 km in pure electric mode, which can reach 45 km in pedal-assisted mode. It has a recharge time of about 3 hours, and offers three different riding modes, depending on whether you also rely on the pedals, or only on the electric scooter.
Through the app, you can adjust its speed, but also lock the start of the bike, thus keeping it safe. It offers a front light to make your way even in the absence of light, as well as mounting a rear stop sign for safe riding. It mounts double disc brakes on front and rear wheels, offers cruise control, and its motor releases a power of 250W.