Eachine Cinecan 85mm 4K Cinewhoop 3-4S FPV Racing Drone
You knew Eachine's Trashcan, tested here. It did not have an HD video recorder, simply equipped with an analog FPV camera. This is the 4K version, which Eachine called Cinecan 85mm 4K. At the heart of this device is Caddx's dual Tarsier camera (tested here), capable of providing analog feedback and 4K recording. To carry the excess weight, the Cinecan is based on a larger structure, 8.5 cm diagonal from motor to motor.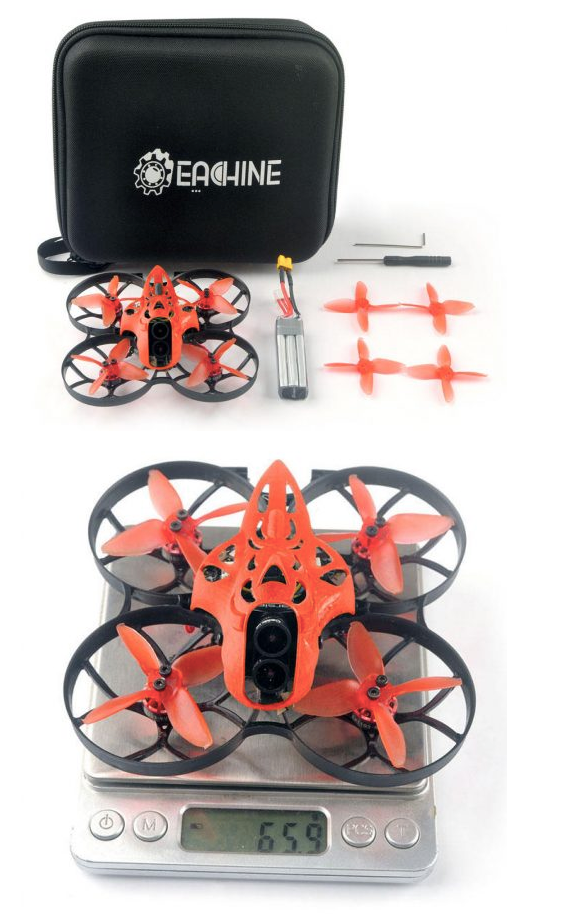 The motors are 1103 to 7000KV brushless motors for 2 inch propellers with a central hole of 1.5 mm diameter. The whole is powered by a 4 in 1 ESC of 10A BLheli_S and DShot600 and a Crazybee F4Pro V3 flight controller. The latter is flashed with Betaflight with an active OSD. The camera is associated with a 40-channel 5.8 GHz video transmitter capable of transmitting in 25 mW (the maximum allowed in France) and 200 mW to go further or better penetrate buildings. It is SmartAudio compatible to take advantage of the settings arec the remote control via the OSD.
With dimensions of 11.5 x 11.5 x 5.5 x 5.5 cm and a weight of 66 grams without its battery, the Cinecan 85mm 4K comes to tease the Beta85X HD (see test here) or its future version 4K and other devices based on a Caddx Tarsier camera. It is available without a radio receiver, with a Flysky compatible receiver, a FrSky compatible receiver or a Crossfire TBS receiver. The device is designed for 3S batteries, it is delivered with a 3S 300 mAh 60C with XT30 connector. But the data sheet suggests that the device would be compatible with the 4S! To see.