Eachine D-moni5 5.8Ghz 72CH 5 Inch 800*480 16:9 Mini FPV Monitor
Glasses and immersion masks are nice, but sometimes you need a very simple screen for adjustments, check the video feedback, watch another pilot's flight, scan the frequencies. This is the purpose of this 5-inch screen, with a resolution of 800 x 480 pixels, which is powered by an integrated battery, a Lipo 2S of 650 mAh.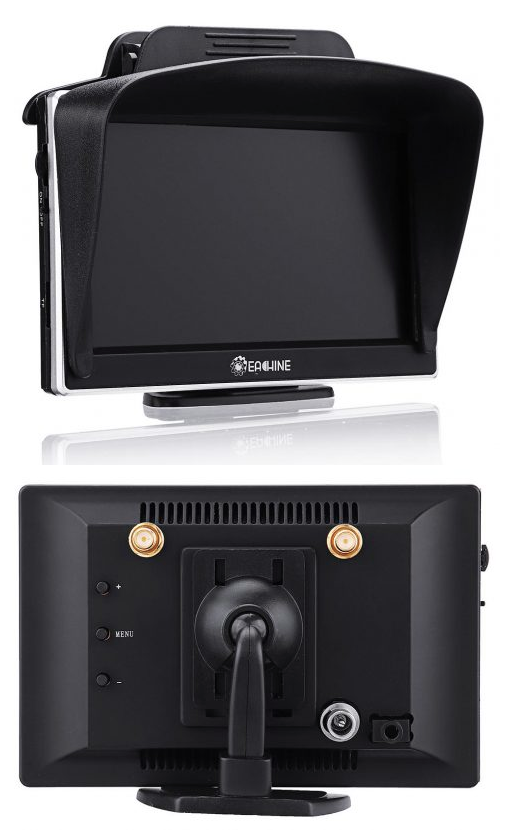 The display also has its own 5.8 GHz video receiver, in Diversity mode and a sensitivity of -90 dBm. It is compatible with 72 frequencies in the 5.8 GHz band, much more than the range 5725 to 5875 MHz at which we are allowed in France – it is perfect for flights abroad. It supports PAL and NTSC flows, and can be powered with 12V (for use and recharge). The 5.8 GHz receiver is accompanied by a video recorder on a microSD card – let's hope it works correctly without "forgetting" the frames it receives badly.
Too bad there is no AV input to view an external source or AV output to enjoy the 5.8 GHz receiver on another viewing device. The screen comes with a sun visor, a base, a video cable and a charger. There do not seem to be antennas in the pack. The price of Eachine D-moni5? $48.99 at Banggood.