Geeetech A20T Mix-color 3D Printer
The new Geeetech A20T 3D printer delivers mix-color objects and greatly enriches your 3D printing life. Keep the good performance of Geeetech 3D printers, it aims to provide users with quality printout and satisfactory printing experience. A20T makes the best of the building platform and enables you to view the printing details in 360-degree printing at the accuracy of 0.1mm, it delivers objects with smooth surface finish, clear angles and strong structure. Besides, it comes with filament detector and break-resuming capability, greatly enhancing your 3D printing experience.
A20T extruder motor uses a gear train of 3:1 speed ratio, amplifying input torque and improving your printing experience. Adopting the modularized design for extruder wiring, A20T makes it easy to exchange the wire.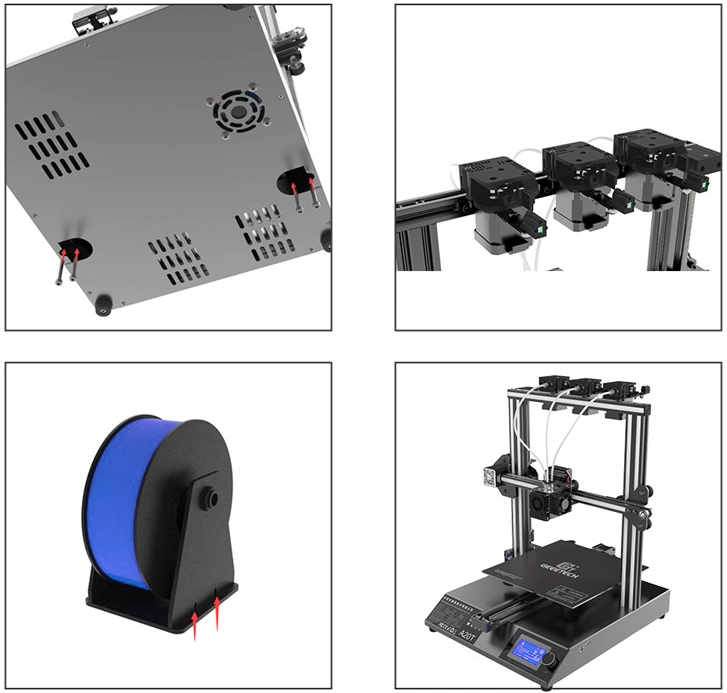 The V-shaped wheels and rails on each axis, made from wear-resistant aluminum profile, could, in a large measure, reduce the printing noise and offer you a quiet 3D printing environment. In addition, A20T control board supports auto-leveling, an optional add-on. Just connect the auto-leveling sensor and adjust the related parameters. Saving the efforts of manual leveling.
Geeetech EasyPrint 3D host software provides a straight-forward platform for you to control the printer and complete the slicing process. Easy and convenient for both beginner and pros. Combined with 3D Wi-Fi module, A20T invites you to enjoy the convenience of cloud 3D printing solution, via which you could enjoy 50,000+ free 3D models, cloud slicer and remote control over your printer on EasyPrint 3D App. This self-developed App is responsive and user-friendly.