Hawkeye Firefly Micro 1080P Mini Action Camera
We all dream of piloting our aerial drone and recording the beautiful views generated by a perspective so far from the surface. Record aerial sequences, sweep or generate cinematic trackings with Hawkeye Firefly Micro 160º, a small compact and light camera capable of recording in 1080P resolution at 30fps with a large lens aperture.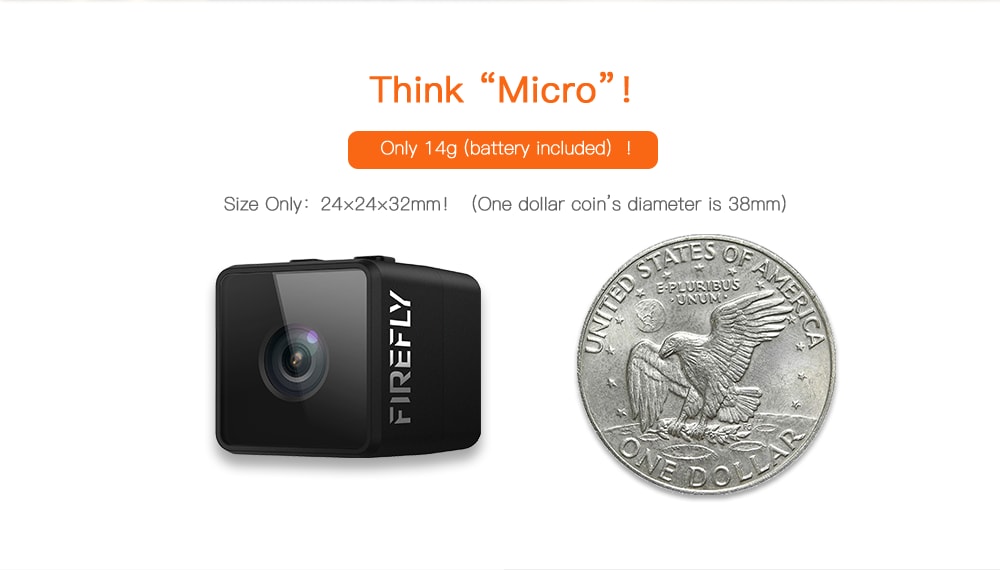 Its reduced weight of only 14 grams and its structure with support facilitates the attachment and adherence to all types of drones, drones and vehicle nooks and crannies. It is an ideal camera to record any action from different points of view, either on remote-controlled devices or sports anchors in any frenetic activity. Your lens will capture at 160º, with a 2.0MP sensor.
One of its strengths is the remarkable image stabilization thanks to the General plus chip that it implements, so it will be difficult to capture in a fuzzy or little detailed way. Supports SD memory card up to 32 GB. Important to note that, despite its very small dimensions, it has a built-in microphone that captures in AAC format.
Finally, your battery has a 230mAh capacity via USB charging. This translates into an approximate autonomy of 60 minutes. Remember that it is amazing that a camera with dimensions of 3.2 x 2.4 x 2.4cm, consistent with a 10mm lens, get to reach a FullHD resolution at 30fps (it's perfect for hidden camera jokes, we have not said anything).
The Hawkeye Firefly Micro is not a usual action cam, but is aimed primarily at hobbyists who are less on a variety of functions, as much more on a light weight and a compact housing. According to first reports, the Hawkeye Mini-Camera has appeared in direct competition with the SQ11 Mini-Camera and delivers a slightly better recording quality in direct comparison. Nevertheless, Hawkeye's 1080p resolution is most likely a mere interpolated resolution . It is also widely criticized that even at 720p a maximum frame rate of 30 frames per second is supported, which leaves a bitter aftertaste regarding FPV. If a test copy of the camera reaches us, the detailed test report follows at this point!