HGLRC Parrot120 120mm F4 2.5 Inch Toothpick FPV Racing Drone
Toothpicks are in fashion! This small nano racer based on a minimalist frame 2 mm thick, reinforced by double arms, is based on Gemfan bipal propellers 6.5 cm in diameter. The heart of the aircraft is a HGLRC FD411 flight controller based on an F4 processor, flashed with Betaflight, with an active OSD. It is associated with a 4 in 1 ESC of 13A DShot600. All of them drive the brushless motors FD1103 at 8000KV.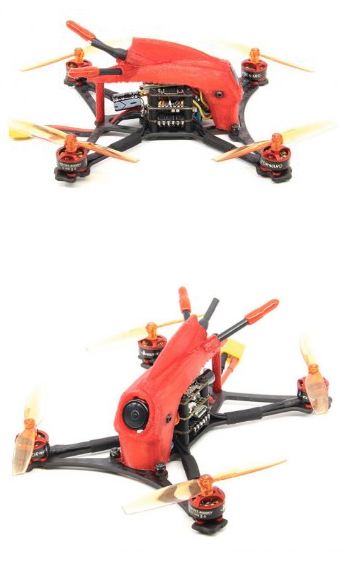 The onboard camera is a Caddx Turbo EOS2 1200TVL, whose images are broadcast by a 5.8 GHz HGLRC FD transmitter capable of transmitting at 0 mW (pitmode), 25 mW (the maximum allowed in France), 100 mW, 200 mW and 400 mW, with a dipole antenna with IPEX connector. This allows large flights without worrying about range. The device is optionally delivered without a radio receiver, with a Flysky A8S V2 or FrSky XM+ receiver. Weight? 57.6 grams without the battery. HGLRC recommends 300 mAh 3S batteries. The price? The HGLRC Parrot120 will be available from $103.00 at Banggood (without shipping, without taxes). Note that a Pro version has the same characteristics as the device, but replaces the motors with 1106 to 6000KV brushless motors. It is also offered by Banggood, starting at $124.00 (still excluding port and taxes).