HOTWAV CYBER 9 Pro Global Version IP68 IP69K Waterproof Smartphone
Hotwav Cyber 9 Pro is a new low-cost phone with 8 GB RAM, NFC, Android 11, 7500 mAh battery and fast UFS 2.1 memory and you can buy it for just over 500 zloty in pre-order.
Hotwav Cyber 9 Pro is a cheap phone with strong specifications.
For just over 500 zloty it offers 8 GB RAM, UFS 2.1 and NFC.
The smartphone is now available for pre-order at a discounted price.
Do you want to buy a cheap phone, but you are not going to give up a good specification? There is a new model on the market that charms with equipment in the budget price range. Hotwav Cyber 9 Pro sounds exotic, but the specifications will envy any competitor.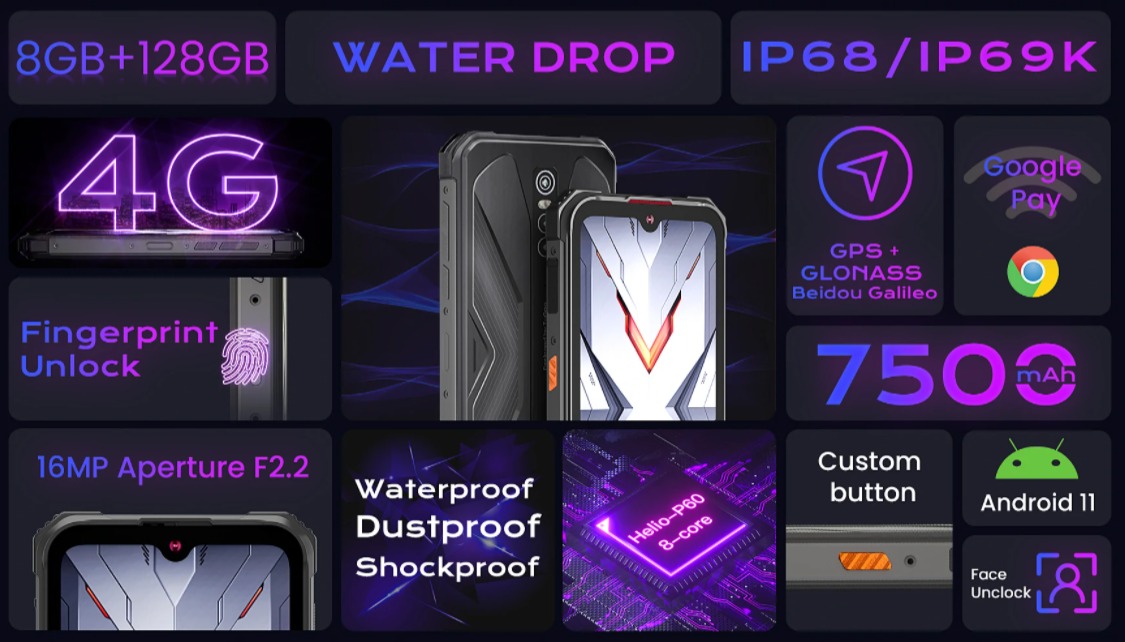 For 500 zloty in 2022 it is really not easy to buy a well-equipped smartphone. Usually you have to make big compromises. The exception here are some rugged phones and Hotwav Cyber 9 Pro is one of them. In the water- and dust-protected case (IP68 / IP69K standard) there is room for a 6.3-inch screen and a solid 7500 mAh battery.
HOTWAV CYBER 9 is a cheap phone at a great price / photo of the manufacturer
As for the specifications, it is above average. The processor is the well-known MediaTek Helio P60, and on the plus side 8 GB RAM stands out. The biggest surprise is 128 GB of memory in the fast UFS 2.1 standard. In this price shelf it is a real rarity. Everything runs under the control of Android 11.
The smartphone is also equipped with a triple camera with a main sensor of 48 MP. You can pay with it in the store – there is Google Pay and NFC. For this kind of cash, it's a really solidly equipped device. I'll even go so far as to say that it's hard to find anything better at a similar price.