HUAWEI Honor ES Smartwatch
Honor Watch ES is the new wearable device from the Chinese brand. It looks like the twin brother of Huawei Watch Fit, which we told you about in our review, except for the lack of GPS, which thus helps to lower the selling price. It arrives in Italy at 99 euros, but the Asian company already offers it at 79 euros. A figure that makes Watch ES an almost perfect hybrid.
Hybrid because it is halfway between a smartwatch and a fitness tracker thanks to the choice of Honor to adopt a rectangular display larger than the usual smartband, which gives it that touch of originality that seems to be missing in the market. To the elegant style typical of most smartwatches are added the many functions for sports and health monitoring that make Honor Watch ES one of the best solutions currently on the market under 100 euros.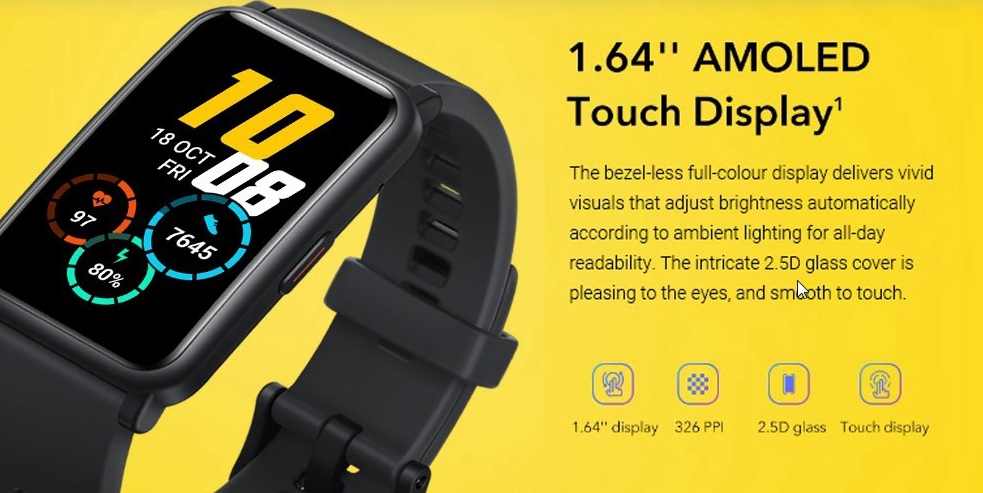 Almost perfect because it is not without flaws. It lacks GPS, there's no app store, you can't interact with notifications and there's no ability to manage calls. On the other hand, however, with the competitive price makes up for some of these shortcomings.
Honor Watch ES comes with a sleek style that makes it look really good. It's lightweight, it's comfortable and it's not bulky unlike other smartwatches. With a case thickness of 10.7 mm, a width of 30 mm and a weight of 21 grams, it's a real pleasure to keep it on your wrist. You'll forget you're wearing it even if you have a small wrist like mine. An important aspect if we consider how these devices are designed to be worn for a long time and even overnight.
The body is made of polycarbonate and the strap is rubber. The feeling, however, and of absolute solidity, while the strap does not create particular problems even during exercise. It is available for purchase in two colors: Black and Pink, both very nice.
In my opinion, the form factor chosen by the Chinese company is the best you can choose. There is convenience but without sacrificing having a display large enough to read notifications or information that interests us. The 1.64-inch AMOLED panel with 456 x 280 pixel resolution is stunning. The blacks are deep, the contrast perfect, the colors vibrant and it is perfectly visible even in direct sunlight. Automatic brightness is also handled quite well.
High-level also the response of the touch screen, which allows you to move easily in the system interface. A huge step forward compared to the Honor Band 5 of last year on which I had highlighted just a poor responsiveness. The usable dials are different: some already pre-installed, many others downloadable from the Huawei Health application. To access the various menus, we can also use the physical button located on the right edge.
There's the Always-On feature, which is useful if you want to keep track of key information at all times. Personally, I don't use it much because – as we all know – it contributes to battery drain. I try to avoid it especially when, as in this case, the smartwatch's response to rotating the wrist to activate the screen is quick.
The Honor Watch ES has a distinctly sporty feel, just like its sibling Honor Watch GS Pro, whose review you can read at this link. The smartwatch is capable of monitoring over 95 workout modes including swimming as it can withstand immersion up to 5 ATM. All the data and statistics of the physical activity performed (as well as many other details) can be consulted directly from the watch as well as from the Huawei Health app, through which it connects to the smartphone. However, the data is indicative and satisfactory if you want to keep track of your physical activities at an amateur level.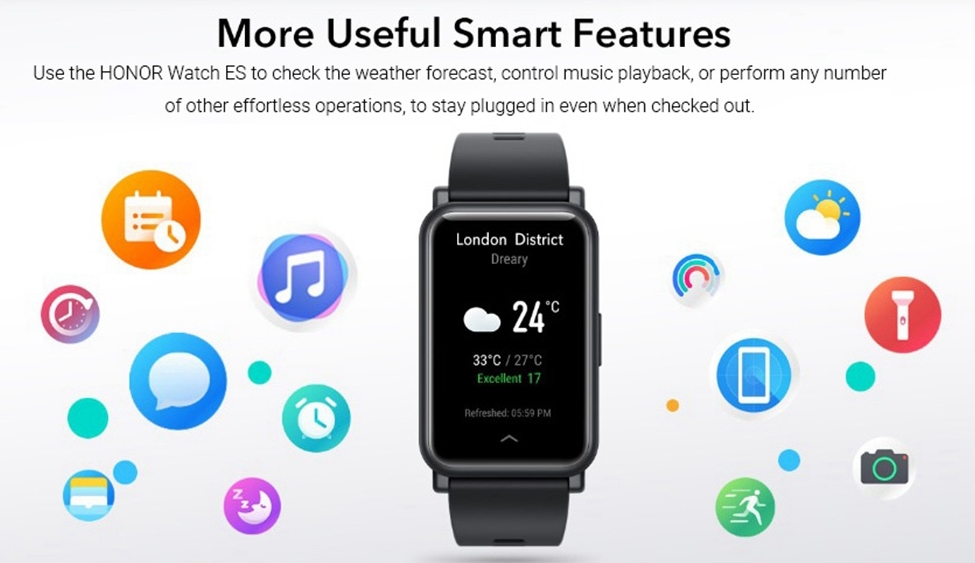 Especially interesting are the guided activities. There are as many as 12 animated workout classes, which are very useful for those who do not have time to go to the gym. Basically, you can start exercise sessions that show standard animations for body movement. There are also neck and shoulder relaxation and office exercises, which help us in a few minutes to stretch our muscles a bit.
Personally, I have found them to be very helpful indeed. My writing job requires me to sit for a long time and – partly out of curiosity – I often found myself doing the guided exercises to relax. It would have been much more helpful if there had been a speaker that verbally indicated the movements to do. Too bad. GPS is sadly missing, which doesn't make the Honor Watch ES a suitable device for those who like to do outdoor sports.
There is also no shortage of all the classic features such as heart rate monitoring, sleep tracking, analysis of the user's stress level and there is also the ability to measure the oxygen level in the blood. I didn't find any particular anomalies regarding the data reported (in line with those of other devices).
Satisfactory sleep monitoring. I don't usually sleep with bracelets or watches on my wrist. In most cases, I find them annoying. Honor Watch ES, on the other hand, doesn't make itself felt during the night, thanks in part to its slim size. The data is very comprehensive and is also scored on the quality of breathing during the night.
We now come to the reception of calls and notifications. Let's start with the latter. As mentioned for Watch GS Pro, this is something that most smartwatch manufacturers definitely need to improve. We can receive notifications from as many apps as we want but we can't interact with them in any way. As inconvenient as it is to reply to a message on such a small display, it might be useful to be able to respond at least with predefined and/or short replies. In addition, emoticons are not displayed and the message stops if too long, thus forcing us to pick up the smartphone.
Finally, Honor Watch ES notifies us of the arrival of a call but from the watch we can only reject it. We also can't manage the call from the device due to the absence of a microphone. Here, these are some of the compromises we have to accept.
The operating system is Huawei's proprietary one (LiteOS) which, if on the one hand has the advantage of managing better the energy consumption compared to Google's wearOS and Apple's watchOS; on the other hand, it poses some objective limits such as – for example – the impossibility to install third-party applications due to the lack of a store. It also lacks a system for mobile payments.
However, navigation within the system is fluid and intuitive with all the gestures we know by now. With an upward swipe, instead, you access the notifications panel. Swiping up returns you to the Home screen, while tapping from left to right takes you back to the previous screen or toggles between functions. By swiping down, finally, you access the quick menu from which you can activate – for example – the Do Not Disturb function.
Satisfactory also the autonomy that Honor claims to be 10 days. In a scenario of daily use with heart rate detection always active you can manage to conclude even the seventh day without having to recharge it. Obviously, the results vary depending on the use that is made: number of physical exercises performed, heart rate always active, sleep monitoring, etc..
Honor Watch ES is the perfect solution for those looking for a device that is both stylish and has a sporty soul. The particular rectangular shape of the display makes it perfect in any situation, as well as very practical to wear. The strengths are undoubtedly its light weight, autonomy and the many sports activities that can be monitored. Extremely useful guided activities to indulge in a moment of relaxation in the office.
If you are interested, please click on our purchase link to buy it!