HUAWEI MediaPad M5 ( SHT – AL09 ) 4G Phablet 4GB + 64GB
This year Huawei has not presented its latest high-end smartphones at the Mobile World Congress. But this does not mean at all that the Chinese brand has not taken advantage of the Barcelona event to publicize any of its new proposals. In fact, he has put before our eyes his new MediaPad M5 tablet, equipped with a 10.8-inch screen. And we have already had the opportunity to try it.
As you will see throughout this article, which gathers our first impressions about this proposal, this tablet has an ambitious configuration designed, without a doubt, to allow it to rub shoulders with the high-end tablets of other companies, but its price is very reasonable. This is precisely its greatest virtue: its attractive price / performance ratio. Scratch a little beyond the surface to see what this new MediaPad M5 offers us.
The screen is, as we all know, a component that has a huge importance in both tablets and smartphones. In fact, if its quality is not up to par, the user experience may suffer a lot. Fortunately, Huawei has not taken any risk when choosing the panel of this tablet, so it has opted for an IPS-type LCD that, globally, offers us a high image quality.
As you would expect from an IPS panel, the viewing angles that this MediaPad M5 incorporates are wide. In fact, they exceed 170 degrees. Good up here. In addition, their blacks are deep, and its ability to extract information in dark regions is evident, especially when we use it to see night pictures and videos or movies, a scenario of use in which this tablet feels comfortable.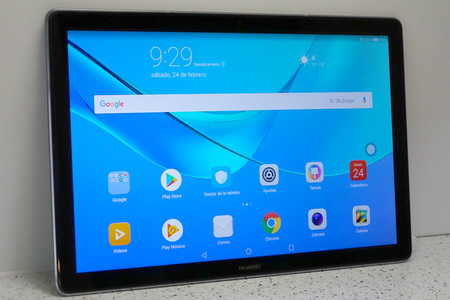 On the other hand, the resolution of the panel (2,560 x 1,600 points) ensures a high level of detail, so in this area I can not add anything to it. The colorimetry, on the other hand, is reliable, something that is important if we intend to use it to enjoy our photographs on your screen. And the brightness is more than enough to be able to use it without difficulty outdoors with a lot of ambient light, so I have nothing to reproach him in this area.
One final note: users often overlook the touch sensitivity of the panels of our smartphones and tablets, and it is a parameter of crucial importance because it can seriously condition our experience if it does not measure up. But the capacitive panel of this MediaPad M5 is up to par, so, again, I can not put inconveniences in this matter either.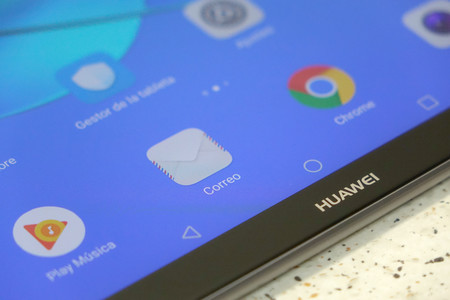 We now enter a delicate section. From a global point of view, I like the design of this tablet. It is thin, light, and, as we will see below, it is made with good quality materials. However, there is a section in which I find improvable: the thickness of their frames . As you can see in the photographs, they are not excessive, but they could be a little thinner. In fact, I think that users would appreciate it because, in this way, its size could have been reduced slightly, and its portability would have increased a bit.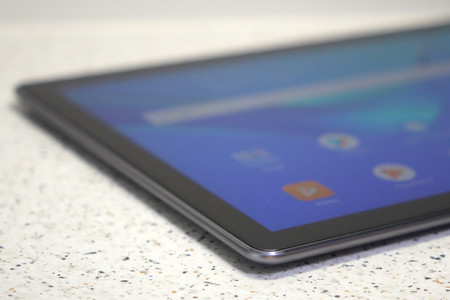 With regard to its finish, it is noted that Huawei has been careful, and also wants to position it face to face with the high-end tablets of its competitors. The back panel is made of matt brushed aluminum , which not only makes it beautiful; It also offers a solid grip that transmits the feeling of security in the hand, and not that annoying intuition that encourages us to think that at any moment it can slip from our fingers and hit the ground.
In addition, the machining of aluminum is impeccable , so we can pass our fingers along its edges, even making a bit of force, without fear of ending up cutting us. It is clear that this is a feature that should be respected by all tablets, but it is not always the case. In fact, on several occasions I have found machining that left a lot to be desired. In any case, the one of this tablet does measure up. And he does it with good note.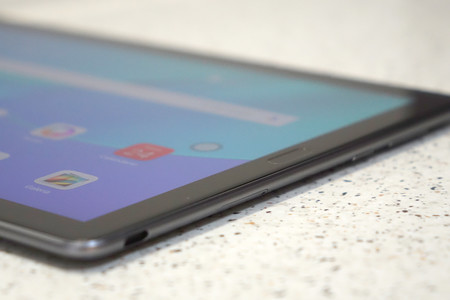 As you can see in the image that you have below these lines, the optics of the rear camera of this tablet protrudes a couple of millimeters from the chassis , so, in the absence of Huawei confirm us if it is protected by some Gorilla glass version Glass, the ideal is to be careful when placing the device on rough surfaces or with potential to scratch it.
This camera uses a 13-megapixel sensor that feels very comfortable in bright environments, but, as we will see, not so much in spaces with little ambient light.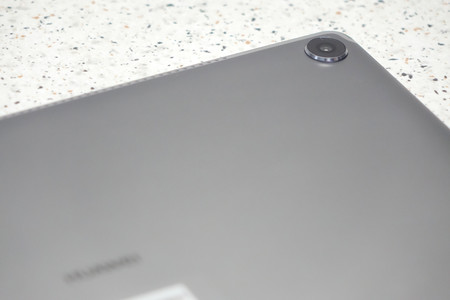 When the light accompanies, the rear camera of the MediaPad M5 gives the size. In the image that you have below these lines you can see that the definition is high, the colorimetry, convincing , and the sharpness is comparable to what we can expect from a mid-range smartphone.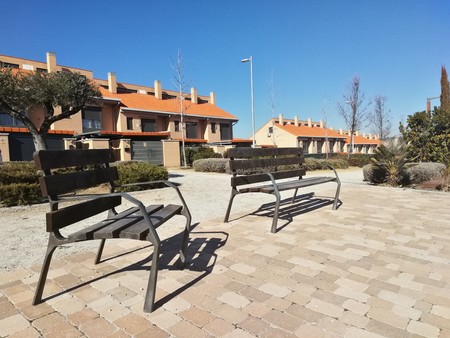 The audio of this tablet has surprised me pleasantly. Huawei has confirmed that it has been developed by Harman Kardon , a company that has a lot of experience in the design and manufacture of high fidelity sound equipment. I do not know to what extent the merit belongs to Huawei or Harman Kardon, but it does not matter either. The really important thing is that the MediaPad M5 sounds good.
If I have to highlight some of its sound, I prefer its mid-range . And it is that the voices through the speakers of this tablet sound convincing thanks, above all, to its realistic timbre. Even so, if you want to get the best possible sound results I advise you to do with quality headphones, or, failing that, with a couple of speakers of a certain level, although, obviously, in this last scenario of use portability the tablet goes to hell.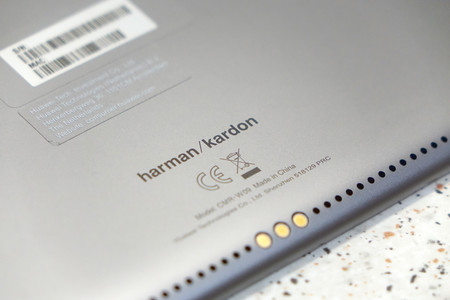 Interestingly, the sound of this device reminds me a lot of the Mate 10 of the same Huawei, a high-end smartphone that was very well positioned in the comparison of audio in mobile phones that I elaborated several weeks ago, and that I invite you to read if you are interested in audio.
My initial feelings after this first contact with the new Huawei tablet are clear: the MediaPad M5 is a good product . And it is because it is well built, has an attractive design (although the frames, as I have confessed, seem a little thick), and its configuration rivals that of other high-end tablets.
This tablet has left us with a good taste, so it is an option that deserves to be taken into account
In addition, your fingerprint reader is very fast , as well as in the most advanced smartphones of this brand, so using it is a delight. As far as photographic capabilities are concerned, it performs well in illuminated environments, but suffers from an excessive noise level when the sensitivity value exceeds 500 ISO.
I can not conclude this article without mentioning the good sound quality of this tablet, so using it to enjoy our favorite songs and movies is a good idea. For all that I have said, I firmly believe that the MediaPad M5 deserves to be taken into account if we want to get an Android tablet with good global benefits and a careful finish. It is one of those products that leave a very pleasant "taste in the mouth".