Huion GT-190 19 Inch LCD Drawing Tablet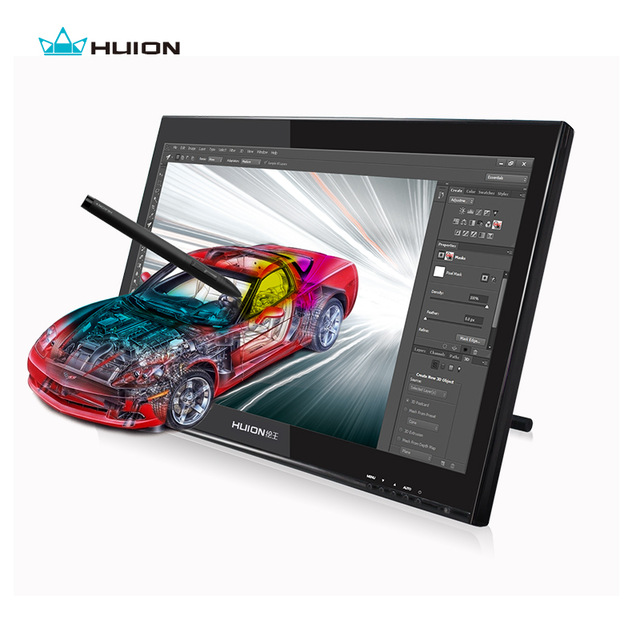 As you know, Wacom has the best graphics cards in the market, with devices of almost insuperable quality. But there are also other brands, which little by little have been making a dent in this sector. One of the most striking lately, is the Chinese manufacturer HUION, which this time, brings us a model with excellent value for money: the HUION GT-190S.
Unlike standard graphic tablets, which allow you to enter drawings by hand using a digital pen (just as you would with pencil and paper), which are then displayed on your computer screen, this device is a monitor with the integrated tablet East. What it means is that when you draw you are doing it directly on the monitor.
The new HUION GT-190S offers a screen of 18.95 inches, with a resolution of 1440 x 900 pixels. On the other hand, the aspect ratio is 16:10 and it has a response time of 5ms. To this we must add a viewing angle of 178 degrees, which is not exactly the most convenient, especially when working very close to the monitor.
Of course, the tablet rests on a support that allows us to adjust the degree of inclination to our liking. In this way we can find the most comfortable position to work. A contrast ratio of 1000: 1, brightness of 250 cd / m2 and 16.7 million view able colors complete the specifications of this screen.
If we talk about color, we do have to do some nuances. Being a TN panel and not IPS, the color spectrum is approximately 88% coverage of sRGB and only 68% of Adobe RGB. Quite far from what a professional tablet would be. That's why it would be quite daring on our part, to say that the HUION GT-190S is one of the best graphic tablets that there is currently.
As for the Stylus, it recognizes 2048 pressure levels and a capture resolution of 5,080 LPI. This assures us an excellent precision and a unique experience when it comes to drawing on it. It's almost as if we were doing it on paper. According to the pressure with which we press the pencil, we will see how the lines change in thickness or the color becomes more intense.
One point in favor in this tablet is that it comes with two different pencils to use. The series is very light and incorporates a small battery, which provides a range of 180 days. In addition, we can easily load it by USB. The second pencil works with a battery (AAA) and is very useful especially when the main pencil runs out of battery and we have to put it to recharge.
What we do miss on the HUION GT-190S graphics tablet are some shortcut buttons, which are very useful when working with certain applications. Since they can be configured and thus access more quickly to the main functions. On the contrary, it does come from the factory with the classic USB, VGA and DVI connectors.
But if there is a feature that highlights this tablet, it is for its high compatibility with major graphics software , such as Adobe Photoshop, Corel Painter, 3D MAX, Pixologic ZBrush, Comic Studio, EFS and Autodesk Maya, among many others. And also has support to work with both Windows (from 2000 onwards), as with Mac OS (from the Mac OS X version 10.8.0).
If you are one of those who spend hours retouching photographs, but you do not have the budget to get a graphic tablet, do not worry. A good alternative is to get a high precision mouse, like the Mionix Avior 8200. Which also comes very well accompanied by a carpet Sargas XXL. Surely you will not regret it.