KingWear KW88 Pro 3G Smartwatch Phone
That's really like our friends from the Middle Kingdom confuse inexperienced buyers with various incomprehensible names of gadgets. With the KingWear KW88, many are familiar, and now they have released a version of the watch with the same name, only with the prefix of the PRO – KingWear KW88 Pro. We compare these two models of smart watches, and try to figure out what these two models differ, and what the new version is better than the previous one.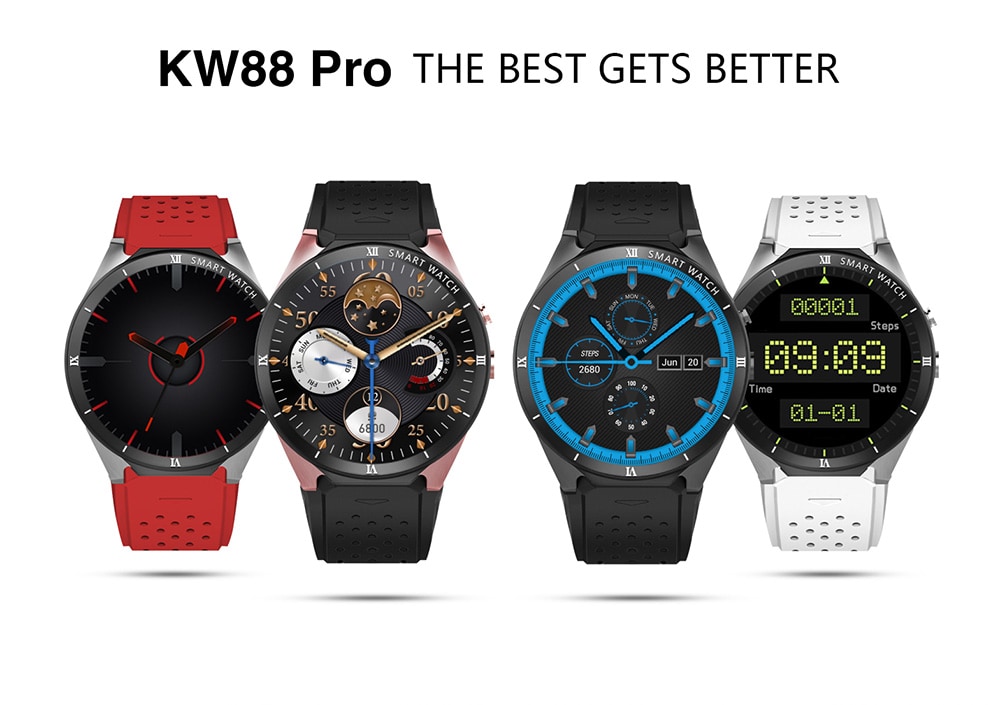 Design and Materials KingWear KW88 and KingWear KW88 Pro
As can be seen in the image above, the design of these two models is practically no different. Unless the Pro version instead of the Arabic numerals on the hour markers around the screen is now Roman numerals. Overall dimensions also remained almost unchanged. KW88 Pro became thinner by 0.5 mm and less by 1 mm on the sides. As for the materials, it was: an aluminum case, a silicone strap and a buckle in stainless steel.
Features of KingWear KW88 and KW88 Pro
A better screen than the one that KW88 had not yet invented, so the KW88 Pro is equipped with the same 1.39-inch AMOLED screen with a resolution of 400 * 400 pixels, with a density of 286 pixels per inch. The processor is also left unchanged, and it's the same MTK6580 Quad Core 1.39GHz. But the memory was added, instead of 512 MB of RAM and 4 GB of internal memory from the KW88, the Pro version received 1 GB of RAM and 16 GB of internal storage.
This is a tangible improvement, given that neither model nor the second model has a microSD card slot, and 4 GB of ROM is still not enough. 1 GB of RAM, of course, will be enough for a fairly fast and smooth operation, but the same Ckyrin S10 or AllCall W2 already have 2 GB of RAM, and KingWear was greedy.
The increase in memory is probably the most important improvement in this watch, not counting the use of the newer Android 7.0 operating system instead of Android 5.1 for the regular clock version. It is unclear why, but instead of increasing the capacity of the battery, the Pro version received a battery of less than 50 mAh: 350 mAh vs. 400 mAh. Therefore autonomy as was at the level of 6 hours of normal use from one battery charge, so, probably, remains.
Also, the SIM card slot with 3G, Wi-Fi, GPS and a 2.0 MP camera is not lost. We will not dwell on features and functions, you can learn about them by reading the review of KingWear KW88 or the article devoted to KingWear KW88 Pro.