LANGFEITE L8S - Coupon
Banggood Coupon:  BGL8SLZ21  Price: $765.99  Time: 2021-05-31 CZ
LANGFEITE L8S 2019 Version 48.1V 20.8Ah 800W*2 Dual Motor Folding Electric Scooter
Nowadays, the pace of people's life and work is getting faster and faster. Driving is definitely not a good idea if it's a short trip out of the house. Time is wasted in traffic jams. If you feel tired from cycling, an electric car is a good choice, but parking when you get to your destination is a big problem. Given this, isn't it curious to invent a compact scooter, the LANGFEITE L8S, primarily powered by electricity?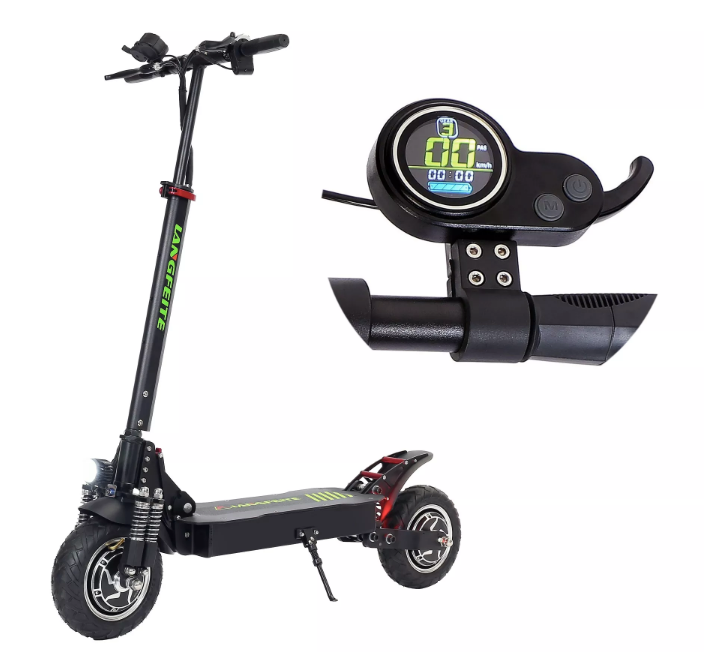 The LANGFEITE L8S has a smaller frame, upright handlebars only 920mm high and can be folded up to a size of 1260*300*1210 mm. And in order to improve the fuselage sturdiness and reduce the weight of the fuselage as much as possible, the design team chose lightweight aluminum alloy as the fuselage material of the electric skateboard, so the fuselage weight is only 27kg, it is very convenient to carry, and the maximum weight can be 150kg.
Its fuselage is anodized in all black and looks pretty good when paired with the green and black of the car. The front and rear tyres are explosion-proof and the hub size is 10 inches. To improve braking capability, the rear wheels are equipped with disc brakes, which greatly improve the safety performance of the scooter.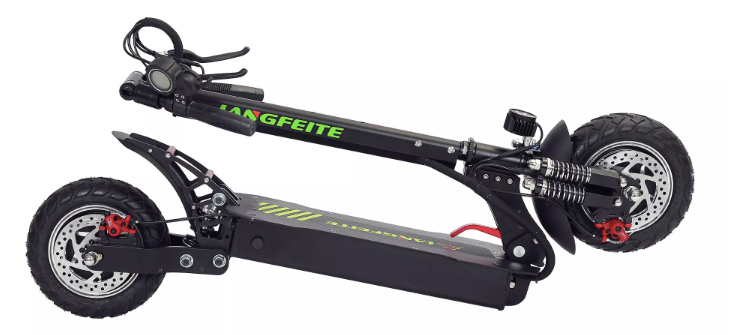 For the power source of the L8S Electric Scooter, A motor with a power of 800W*2 is installed in the front tyre, And the fuselage with a 20Ah capacity lithium battery, can travel 55km, to deal with short-haul travel is no problem, and it is worth mentioning that the L8S unexpectedly has an energy recovery system, can extend the endurance of 15%, which is equivalent to the vehicle's auxiliary fuel tank, after all, no one can guarantee that there is no electricity, and this function ensures that users have no worries. After only 2-3 hours of charging can gallop here, charging speed is relatively good.