LANGFEITE L3 36V 350W 20.8Ah Folding Electric Scooter
My experience with electric scooters started somewhere in 2017, when I bought the first model from Xiaomi, namely the M365. The LANGFEITE L3 electric scooter is clearly a direct competitor of the Xiaomi M365 Pro. Foldable and lightweight with its aluminium frame, it weighs 15 kg, which makes it easy to transport, even with one hand. It also has a stand for easy parking.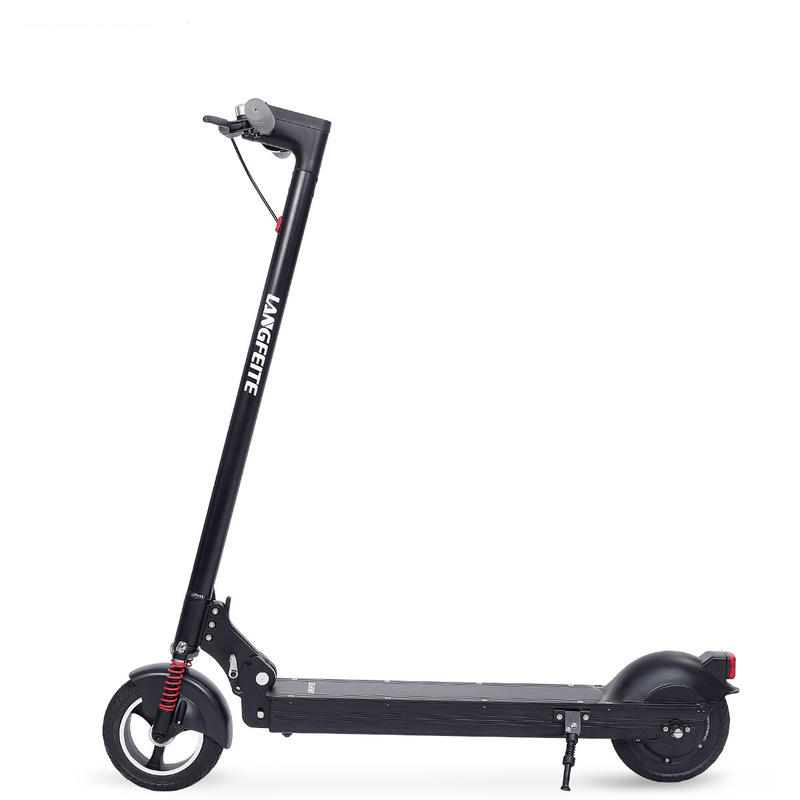 It can support a weight of up to 120 kg, and is equipped with a 350 W motor and a 20.8 Ah battery (full charge in 4 hours) allowing it to reach a maximum speed of 30 km/h and a range of 30 km (up to 40 km depending on your weight). It can climb slopes of up to 15°. You can also adjust the speed in 3 different modes (15 km/h, 25 km/h and 30 km/h) to adjust your driving style, ideal when used by children. It is also height adjustable (1050*430*1120 mm) to suit the user's size. Finally, it has a magnetic energy recovery brake at the front and a foot brake at the rear.
During the use I managed to go through it with a ditch made of asphalt from which I said that it does not come out whole. To my surprise, the scooter went out unscathed and unharmed, I don't know if I could have said the same thing about the M365 (at least the folding system sure would have suffered).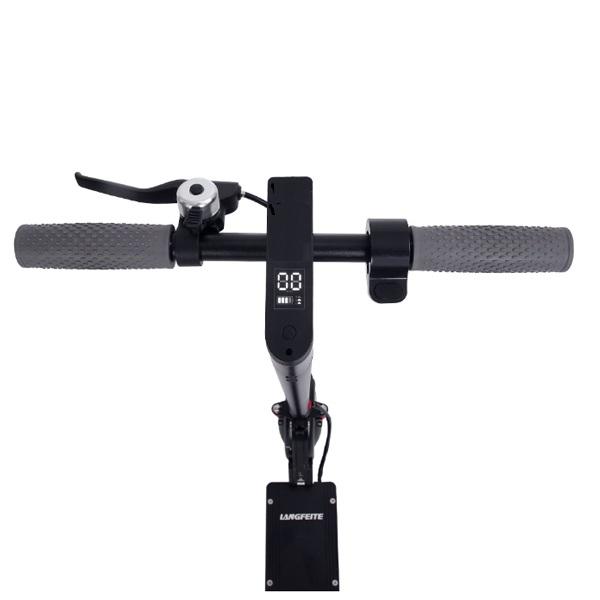 The foot support is wide enough and half of its surface is covered by an abrasive layer, for a better grip. It gets dirty quickly and is a little hard to erase. I would have liked to use a non-stick rubber, as most scooters have, for easier maintenance. However, there is the possibility that it can be removed and replaced with something else.
The LANGFEITE L3 has 8-inch wheels with solid tires (which prevents punctures) with non-slip coating and also 2 shock absorbers to improve comfort of use. It has a mudguard and LED lighting and is RoHS and CE certified.
Compared to the Kugoo S1 Pro, the LANGFEITE L3 offers some improvements, including the support in the form of a skateboard for greater comfort and traction. It also has improved, non-slip front and rear puncture-proof honeycomb tires that allow it to be driven on any type of terrain.
The LANGFEITE L3 also features a complete lighting system for safe night driving. On each handlebar, you will find a red traffic light, and the back is equipped with a red safety light. There are also four reflective strips on the sides.