LAOTIE ES18 Lite 52V 28.8Ah 2400W Foldable Electric Scooter
The ES18 seems to be one of the more popular series of LAOTIE scooters as we can see that there are already three products in the series: the ES18, ES18P and ES18 Lite. There is no difference in the design of these three products, the difference is in the wattage size of the motor and the battery life.
This ES18 Lite model is equipped with Dual motor for 2400W and a battery capacity of 28.8Ah. The maximum speed can up to 75km/h. The wheels are inflatable, their size is 10 inches. Disk brakes at the front and rear. The softness of the ride has been greatly improved, as well as the shock absorption. The shock absorbers are now adjustable. There is also a seat and you can remove it from the platform if you want.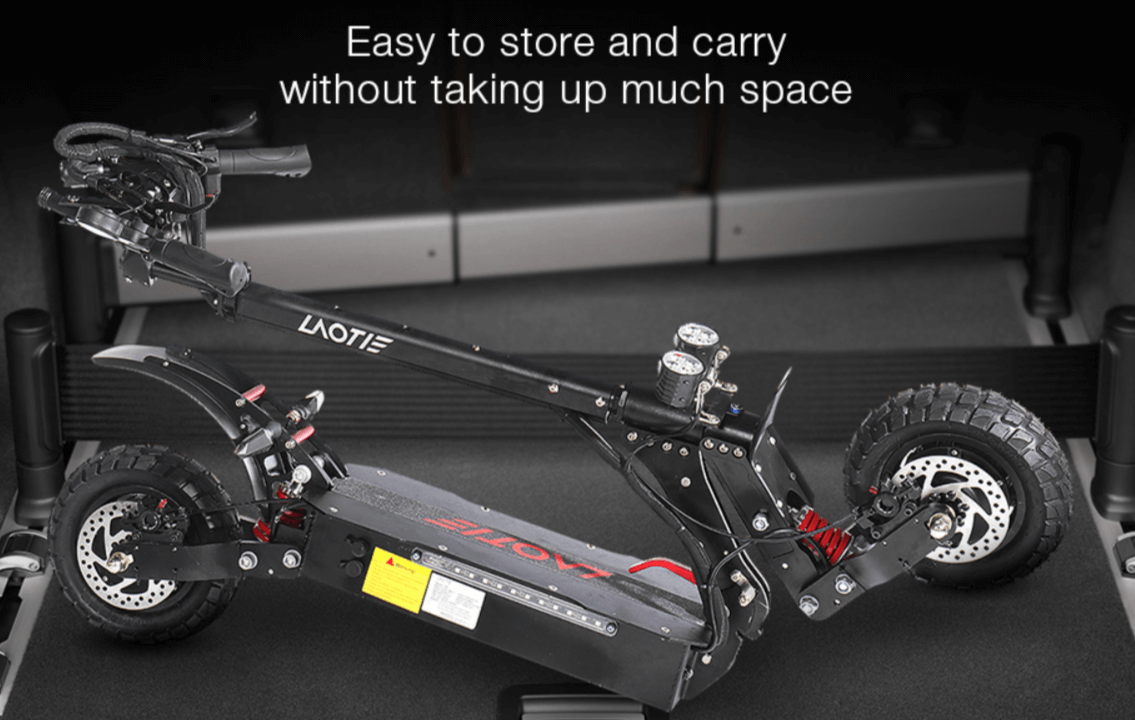 The developers have installed an adjustable steering wheel, which allows you to choose the optimal height for any person, a comfortable seat, bright headlight, wide non-slip foot platform and a double damping system all to make your ride on this scooter as comfortable, comfortable and safe as possible. Since it can easily handle up to 200kg, adults of any age and physical shape can ride it.
Powerful front light, lighting on the sides of the platform, as well as the presence of a sound signal on the steering wheel make the ride safer. The LAOTIE ES18 Lite has a large informative display, which shows the current speed, battery charge level, as well as the ability to switch speeds.
In terms of portability, it is obvious that the LAOTIE ES18 Lite is also excellent. We can fold it up and it's like it's instantly smaller and can be easily put in the trunk of the car. I think it would be safer for adults to use it, after all, it can reach speeds of up to 75 km/h, so much so that we must wear a helmet to be safe. However, it's worth mentioning that it has a very advanced braking system, with Dual Oil brake and electronic brake.