LAOTIE® ES8 48V 15.6Ah 500W Motor Electric Scooter
Electric scooters have become a perfect option for urban mobility. And that is why more and more manufacturers are trying to jump on the bandwagon, offering economic or higher performance models. In this second section we find precisely this ES8 from LAOTIE. It is a very interesting model for those looking for an all-rounder, with a lot of power and high autonomy. Do you want us to tell you the best and worst of this LAOTIE® ES8 to decide if it is a good buy for you? Keep reading!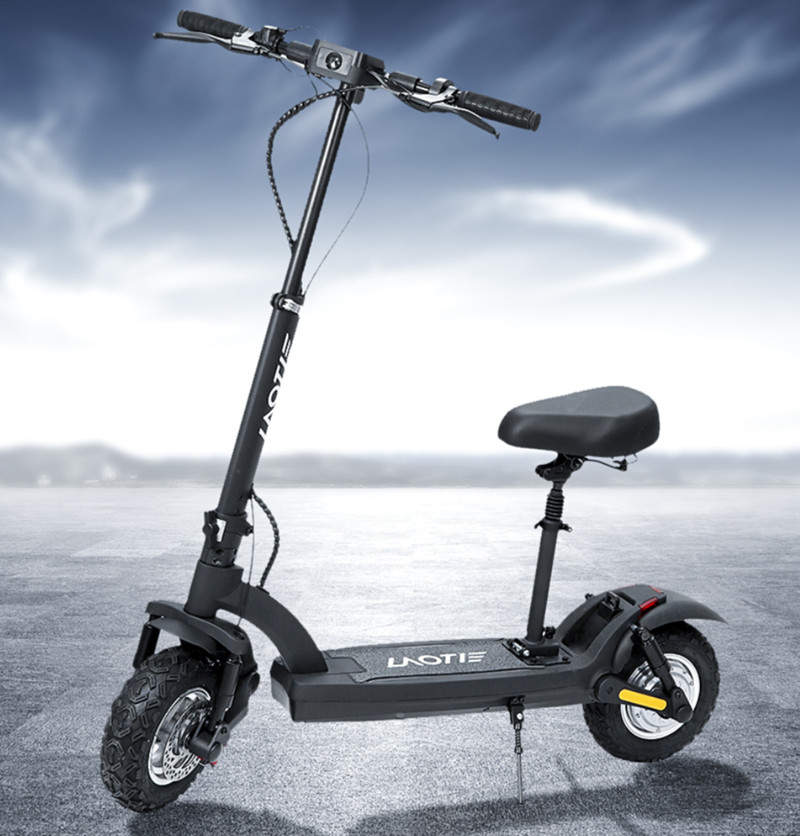 It seems difficult to innovate in the design of an electric scooter and in this case LAOTIE has not wanted to risk much. We are faced with the typical L-shaped scooter, which can be folded to transport more easily and to store it at home taking up less space or to make it easier for you to climb home if you have stairs.
The dimensions are 1180*550*1125 mm (open) or 1125*485*235 mm (folded) and its weight, possibly one of its best handicaps, 27 kg, somewhat higher than other models that also have good features and are around 15 kg. As for the amount of weight it supports, it can carry people up to 120 kg, but remember that, by law, only one person can go, you can not take companions.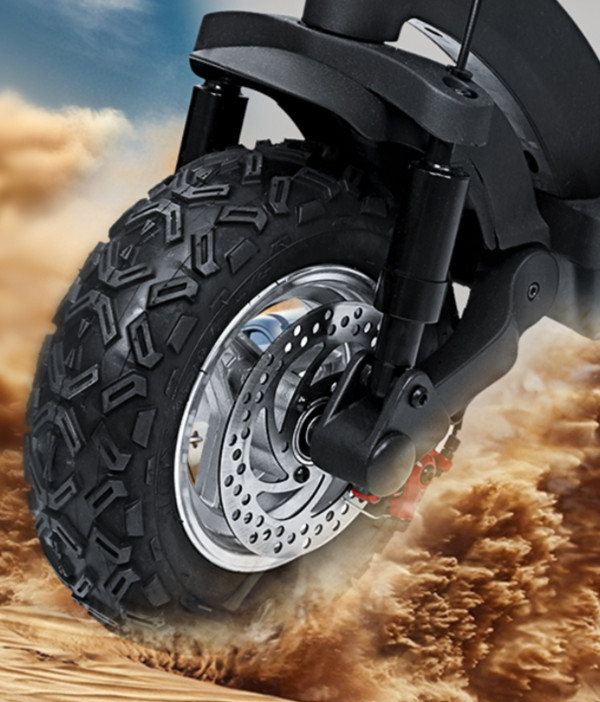 If you prefer to store it standing you can do so, as it includes a kickstand that will be super comfortable for those moments when you have the scooter stopped. Note, too, that the handlebar height can be adjusted, something super practical so that, regardless of your height, you feel comfortable on it.
In addition, it includes turn signals, horn and buzzer, and of course a display where you can see the distance traveled, battery life, the speed at which you are riding, among others. As for its resistance, it is IPX4 certified, that is, it has protection against splashes. You can use it on days with light rain, but avoid getting into puddles with it.
Don't be fooled: the most important thing to consider in a scooter is that it should be safe. And in terms of safety, issues such as wheels, lighting, indicators come into play… Let's take a closer look at them.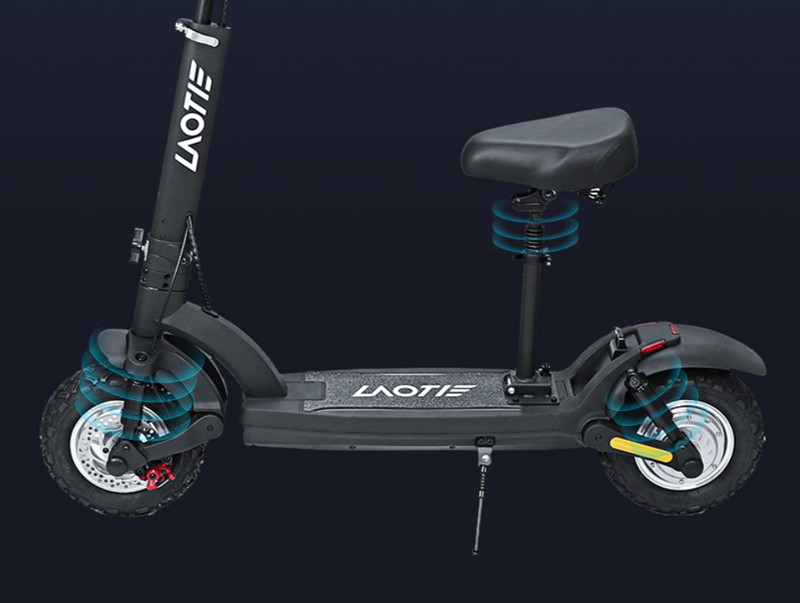 We start talking about the lighting and it has a rear brake light so that vehicles coming from behind can see you better and a front LED spotlight so that you can light your way. In addition, you also have a series of LED lights on the sides, which you can choose to keep on or off as you see fit. Our advice? Keep as many lights on as you can when the exterior lighting starts to fail. A scooter, the more you can see, the better.
We really liked the fact that it has two rear turn signals that you can select from the control knob, which is a feature that not all vehicles of this type have. And it is something that seems crucial to us, because just as cars and motorcycles have them, bikes and scooters should always have them to indicate where you are going.
One issue that we find very curious in this LAOTIE ES8 is that its power is above the limits of the law. It has a motor with a rated power of 500W that can reach a peak of 800W. This translates into a maximum speed of 45 km/h. However, in compliance with the law, the speed is limited to 25 km/h, which is the maximum allowed under current legislation.
It also offers 10-inch pneumatic wheels, which are very large and stable, as well as front and rear suspension and disc brakes.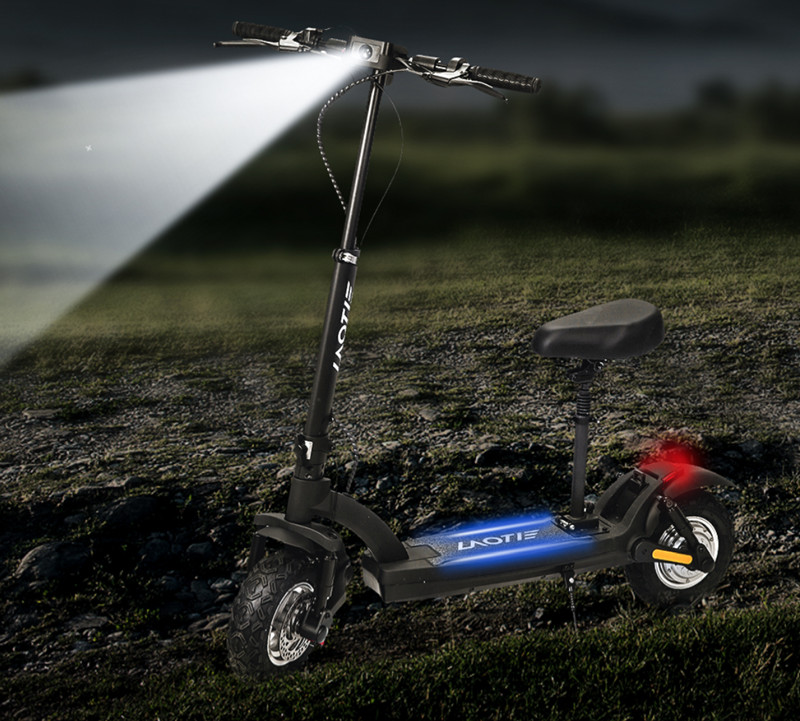 Finally, we would like to mention its battery. It includes 15.6Ah and can reach 45 km, a great autonomy, although remember that the charging times of such devices are somewhat high, in this case, the Laotie ES8 takes up to 7-8 hours to charge.
Who is this model suitable for? The ES8 shows that it is a model for demanding users. We really like that safety is very present and that it is a model that does not lack good wheels, good suspension, good lighting and even a horn. It has such a powerful engine that it is very good for acceleration and responds better to certain circumstances that may be a little more complicated, such as climbing slopes.
If you only want it as a "toy" or for very short and uncomplicated trips, maybe this model is too big for you. The same as if you have to carry it up to a floor without elevator, you will love other lighter models.