LAOTIE ES19 Steering Damper 60V 38.4Ah Battery Electric Scooter With 100Km/h Top Speed
LAOTIE ES19 is probably the best scooter up to $1500 on the market. And why? It will offer you enormous performance, an improved battery with a range of up to 135 km (under certain conditions) and a perfect driving experience regardless of the terrain.
In each wheel there is a motor with a maximum power of up to 6000W(2*3000W). Thanks to such power, the maximum speed of this scooter can be more than 100 km/h.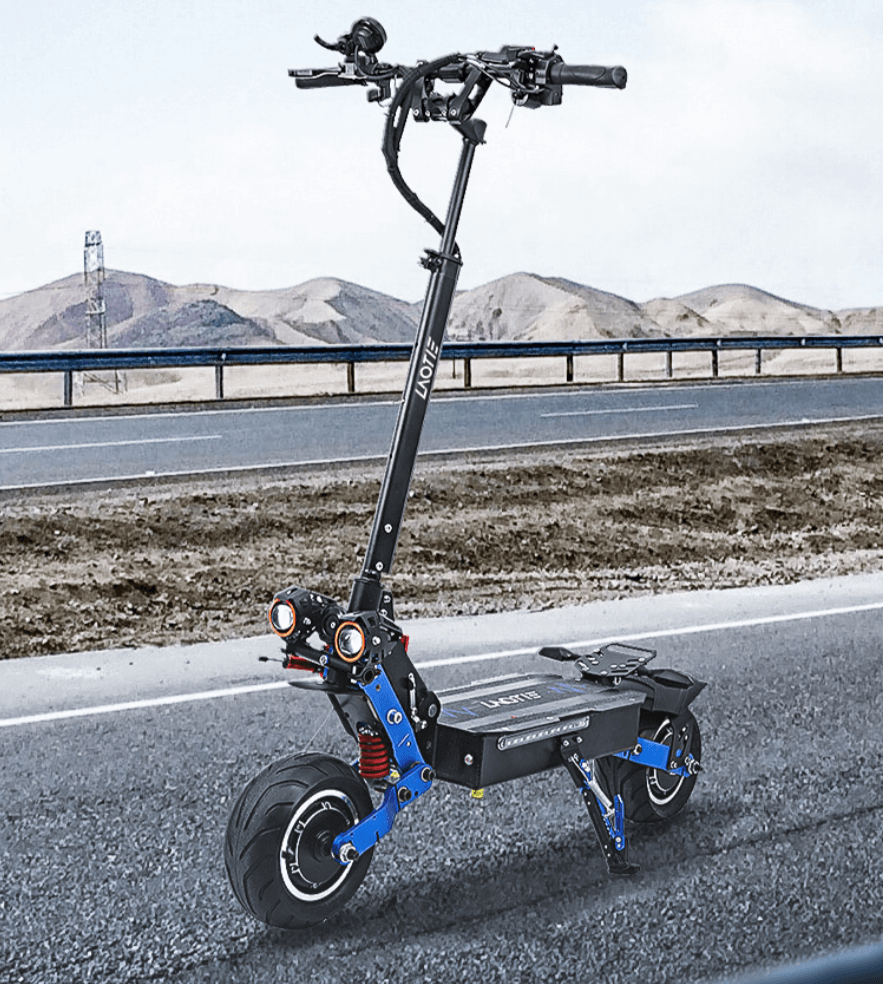 Thanks to the total power of up to 6000W, this electric scooter can handle a slope of up to 50 degrees. If this performance is too much for you, then look at this alternative in the form of Laotie ES10.
This battery is equipped with newer 18650 60V cells, which carry a total capacity of 38.4Ah. Under certain circumstances (rider weight approx. 70 kg, flat terrain and riding in ECO mode) the range of this scooter could be more than 135 km. And that's really great for a scooter with a price under $1500.
Thanks to the high quality construction of aluminum and metal, can this electric scooter kidnapped load up to 200 kg. Even when riding with a DUAL engine and with a heavier rider, this scooter will not do to give quality performance. A bonus is also the quality design of the folding mechanism as well as the folding of the handlebars. This will make the transport of the scooter much easier for you.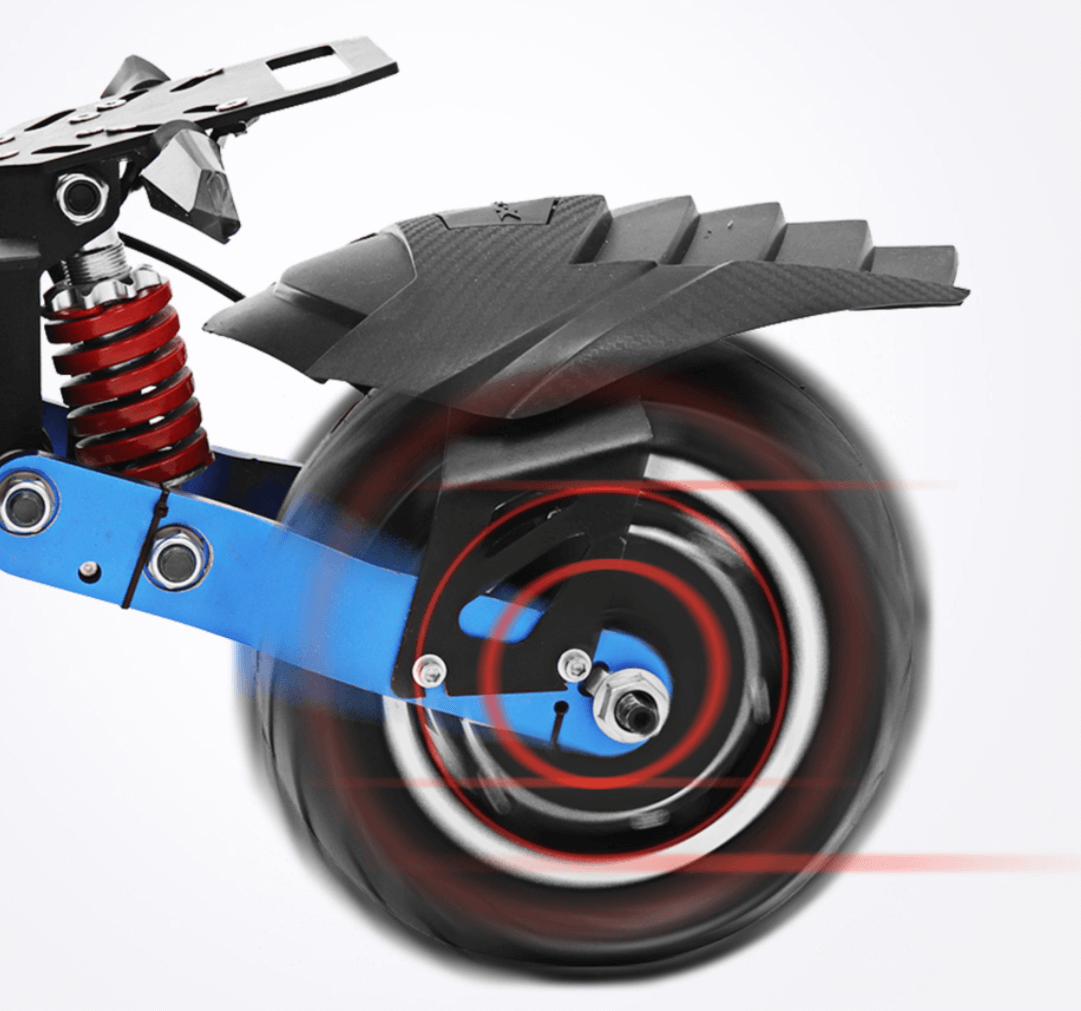 The advantage of this electric scooter is the adjustment of the front and rear shock absorber. Whether you prefer harder or softer suspension, you can easily adjust it. Another benefit for you may be that you can easily replace these shock absorbers with better or harder/softer ones.
What does that actually mean? First of all, the Laotie ES19 contains high-quality hydraulic brakes, which you will especially appreciate at higher speeds. You can also adjust the braking force very effectively. In addition to hydraulic brakes, we also have an electronic brake, where you can also set the intensity of braking.
The scooter has really high-quality headlights that can illuminate up to several hundred meters. In addition to them, you will certainly find important turn signals on the rear wheel, it is a pity that the manufacturer did not use them in the front. In addition to the turn signals, you will always find brake lights that glow red.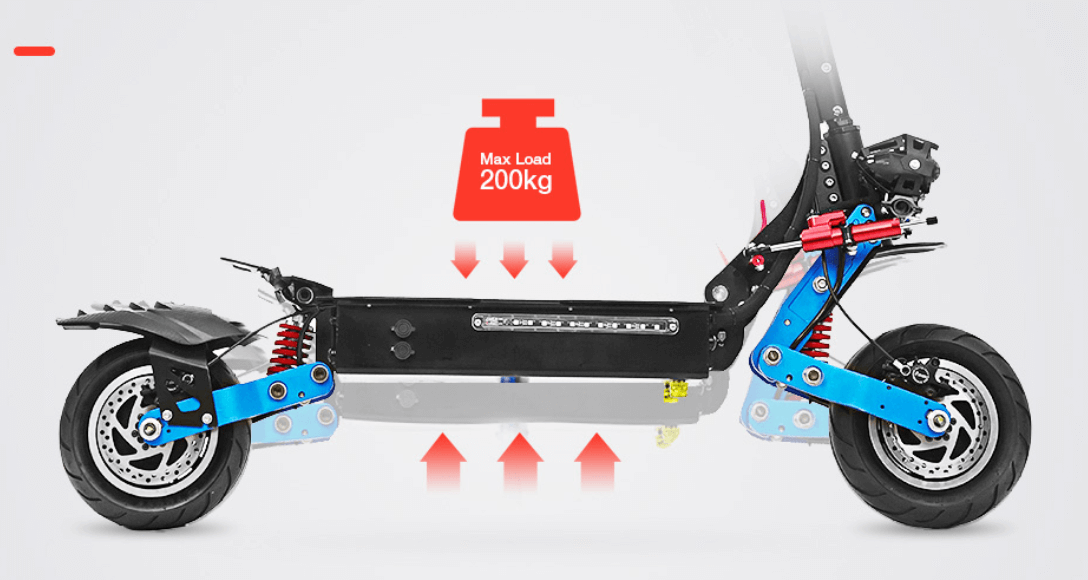 The display will show you, in addition to the speed, also how long your trip lasts, the actual kilometers traveled as well as the total distance traveled on the electric scooter. The display on the left (where the key is also inserted) shows the number of volts and thus the state of the battery, this is an important indication that the scooter discharges at approximately 60V. The display in the right part has another interesting function, that from the bottom it is possible to connect a USB cable and so you can charge your smartphone with a scooter.
You can currently buy LAOTIE ES19 for a great price at the verified Chinese e-shop Banggood. We bring you a unique coupon that will reduce the price of this scooter to $1359.99. Delivery of the scooter takes about 35-50 days, but you will definitely not pay customs duties, we have verified it many times.