LAOTIE T30 Roadster 52V 33.6Ah 21700 Battery 3200W Dual Motor Foldable Electric Scooter
The LAOTIE T30 is one of the newest electric scooters on offer from Banggood, which caught my eye because of its very good price/performance ratio. Moreover, another reason why I decided to write about it is because we can find it in stock in Europe, which means it will be delivered in just a few days, so we can enjoy it this season.
Technical specifications:
3200 Watt motor;
33.6Ah battery;
Front/side disc brake;
10-inch pneumatic wheels;
Weight 41 kilograms;
Supports up to 200 kilograms;
Front/rear suspension.
On the outside, the scooter adopts a similar design to that found on the Joyor X+, especially thanks to the LEDs on the side of the chassis. However, while on the Joyor X+ the LEDs on the board are used for directional signalling, here they are just for extra visibility in low light conditions. In terms of technical specifications, the Laotie L6 I think can be considered as the "Lite" version of the Langfeite L8. It seems to be the right scooter for those who want something more powerful, increased comfort and high range.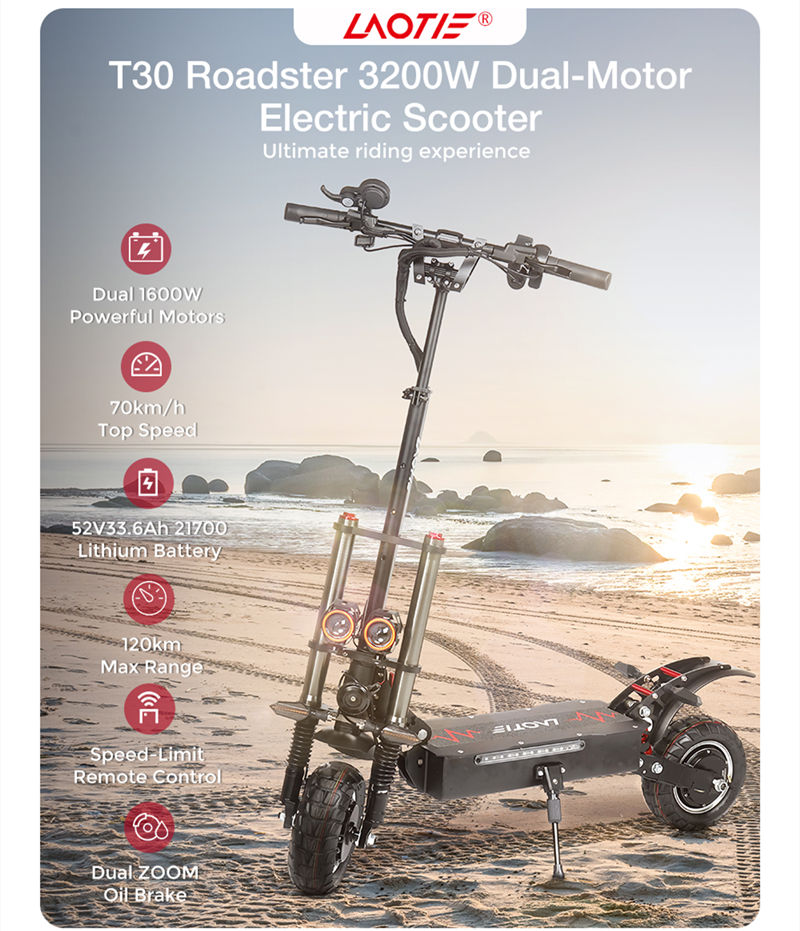 It reaches speeds of up to 70 km/h, with a range of up to 120 kilometres on a single charge. The battery has a capacity of 33.6Ah and fully charges in 8 hours. Range varies according to user weight, driving speed, gradient and road surface. They mention that the range given was achieved by a person weighing 200 kilograms.
It has front/rear suspension and disc brakes (ABS type). The wheels are 10-inch pneumatic for added ride comfort. Behind the accelerometer on the handlebars is a USB socket for charging other gadgets. Also on the handlebars is a small LCD display showing information on battery capacity, mode of use, real time speed and distance travelled.
Unfortunately, we can't have it all. The generous battery, suspension and 10-inch wheels make the scooter weigh 34 kilograms, so it's not a scooter you can carry around for long.