MeLE Fanless 4K Mini PC
13.1 cm wide, only 8.1 cm deep and 1.83 cm thick, the MeLE Quieter2 is a tiny PC that works completely passively. No fan, no mechanical storage, insensitive to shocks and dust, this 203-gram PC is both an ultraportable companion and a solution that can become completely invisible.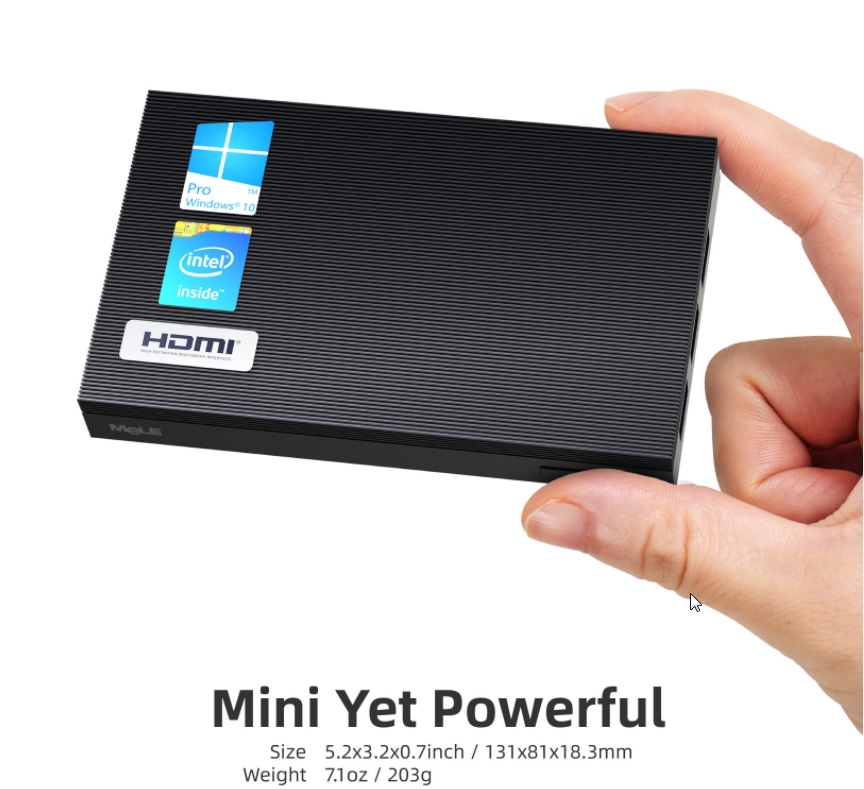 With a complete connectivity, a certain scalability and an exemplary finish, the MeLE Quieter2 is a good surprise. Its internal equipment is quite complete and it is powerful enough to take on most daily tasks.
The Celeron J4125 is a Gemini Lake Refresh chip that develops 4 cores running from 2 to 2.7 GHz with 4 MB cache and 10 watts of TDP. A chip that offers a UHD 600 graphics circuit with advanced capabilities with 12 EU, support for UltraHD displays and hardware decompression of the most demanding video formats. Here it is combined with 8GB of soldered LPDDR4 RAM and 128 or 256GB of basic eMMC storage also integrated into the motherboard.
This already solid base benefits from an upgrade possibility since the board offers an M2 2280 slot managing both SATA and PCIe NVMe. This means that you can add additional storage in a very fast SSD – and not too hot in operation – to the MeLE Quieter2 to get excellent performance. To be very clear, the proposed trio of Celeron J4125, memory and storage can handle all the classic office tasks required of a PC today. This machine will be able to play your UltraHD videos without fail, will be able to perform small image editing, will surf the web without worries and will even be able to drive several UltraHD displays. This device, as compact as it is, is capable of replacing an aging tower for traditional computing purposes. With much more comfort for the older ones, a much lower energy bill and a comfort without equivalent. Fixed on the back of a screen or placed on a table, the machine will be able to provide excellent services for a person only looking for a classic surfing, web and multimedia station.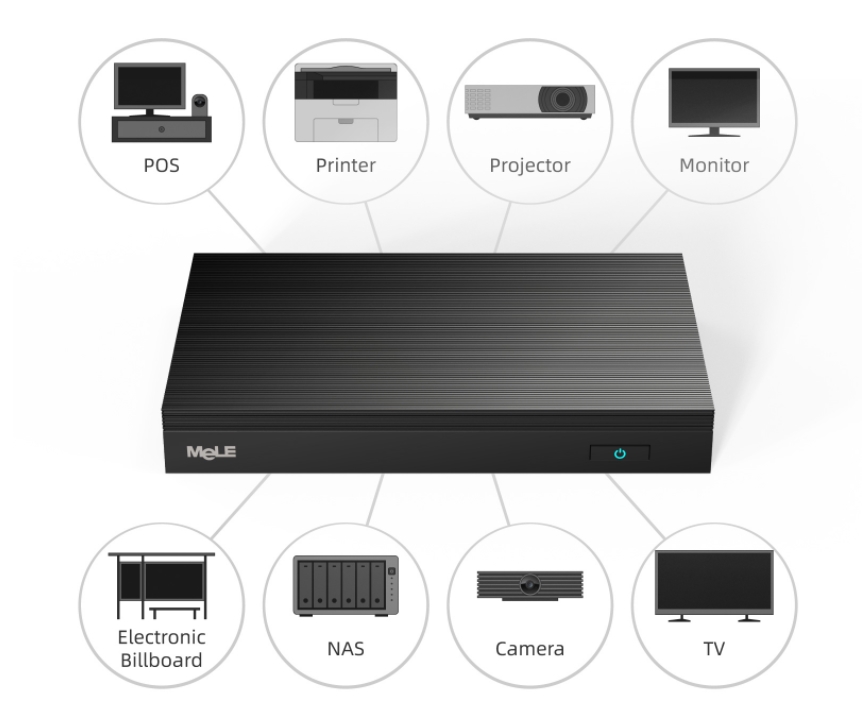 The connectivity is very impressive considering the size of the device: no less than four USB 3.0 type-A ports, two HDMI 2.0 outputs, an audio jack combining headphones and microphone, a MicroSDXC card reader to expand storage, a Gigabit Ethernet port to support the Wifi5 and Bluetooth 4.2 module and finally a USB Type-C port to power the whole thing via a power supply. I wonder if it is not possible to use a battery as an inverter for this kind of device.
The MeLE Quieter2 also offers a Kensington Lock anti-theft system to fix it to a piece of furniture in case of public use. It is typically the kind of device that can be used in a waiting room or on a screen for digital display. The BIOS also allows the Wake On Lan to turn on the PC remotely via the Ethernet network but also the restart after a power failure and a programmable alarm clock.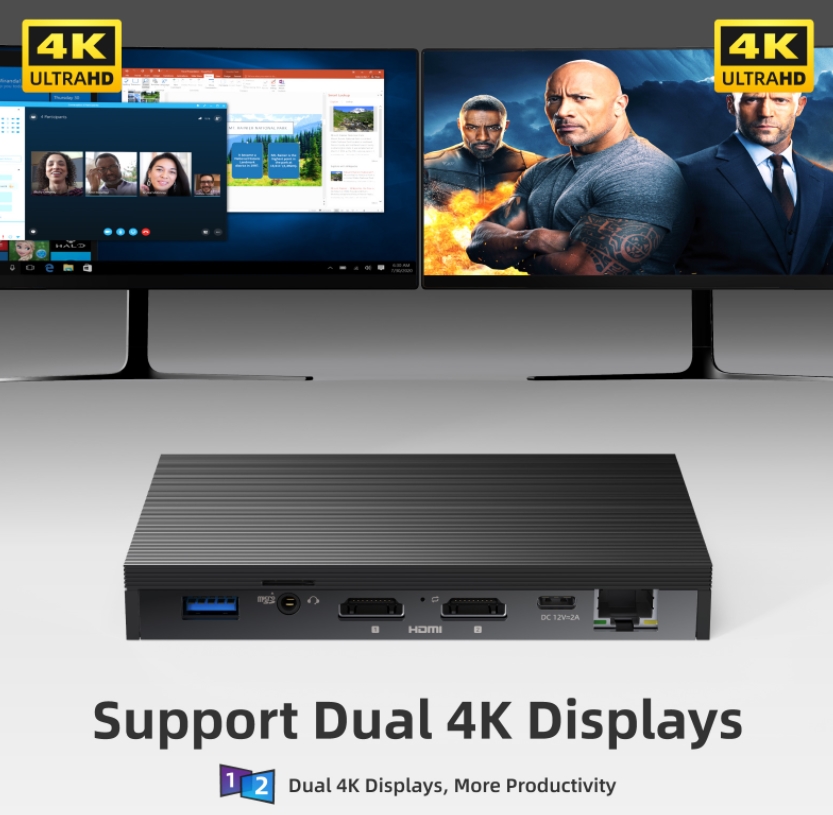 Even better, the MiniPC offers an automatic reset function that allows you to find a new operating system at each reboot… This is typically useful in public places. The machine will be able to turn on automatically in the morning, hold a user session all day, turn off at night and find the next day a clean system without any alteration. Perfect for public use.
The whole thing is enclosed in a compact, all-metal shell that can be easily disassembled by removing 4 screws to add an M.2 2280 SSD. The shell, pierced with 2 holes, is designed to be easily hung on a support. The device is finally preinstalled with Windows 10 Pro but will support Linux distributions without hindrance.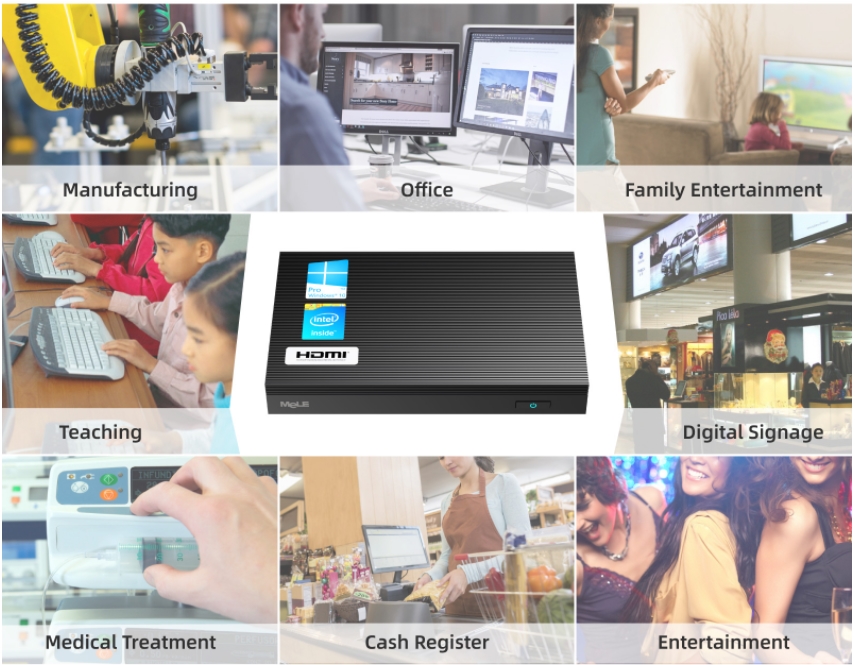 Offered at 215.70€ on AliExpress in the official store of the brand, the MeLE Quieter2 seems to be an excellent machine for multiple uses. From a simple and cheap office PC for complete basic uses from web to word processing or to become an automated workstation passing by digital display or even the piloting of a tool like a 3D printer… The perfect MiniPC to add to a video projector integrated in a ceiling or to hide behind a TV. It's also a great troubleshooting solution to carry with you to replace a set. My only concern comes from being able to properly dissipate the 10 watts of TDP of the Celeron J4125 processor without problems. If this "detail" is handled effectively, then this MiniPC will be definitely worth keeping an eye on for certain profiles. What more could you ask from a MiniPC than to be invisible, inaudible and suitable for everyday use?
If you are interested, please click on our purchase link to buy it!