Mercane WideWheel Pro Smart Electric Scooter
Introducing the exciting Mercane WideWheel Pro electric scooter, which has a total power of up to 1000 watts, 8″ tires and a maximum range of 70 km. The electric scooter season is here, and if you want to make the most of it, you shouldn't hesitate for long. Electric scooters are a highly sought after commodity at this time of the year.
The Mercane WideWheel Pro has a total power output of up to 1000 watts, which is handled by a pair of 500 watt motors. One is located at the front and the other at the rear. That kind of power will ensure that you won't have any problems even in hilly areas.
The maximum speed of the scooter is unfortunately limited to 25 km/h from the factory due to European legislation. Since the scooter has a power of 1000 W, you don't have to worry about it not going faster. The seller himself also sends instructions with the scooter on how to unlock the speed up to 45 km/h very easily.
In the middle of the handlebars you'll find a clear LED display that shows all the necessary riding data. The current speed dominates, but the display also gives you information on battery capacity and voltage, distance travelled and current mode.
There are also disc brakes front and rear and a folding mechanism. The process of folding the scooter is very simple and after folding it has dimensions of 109 x 41 x 22 cm.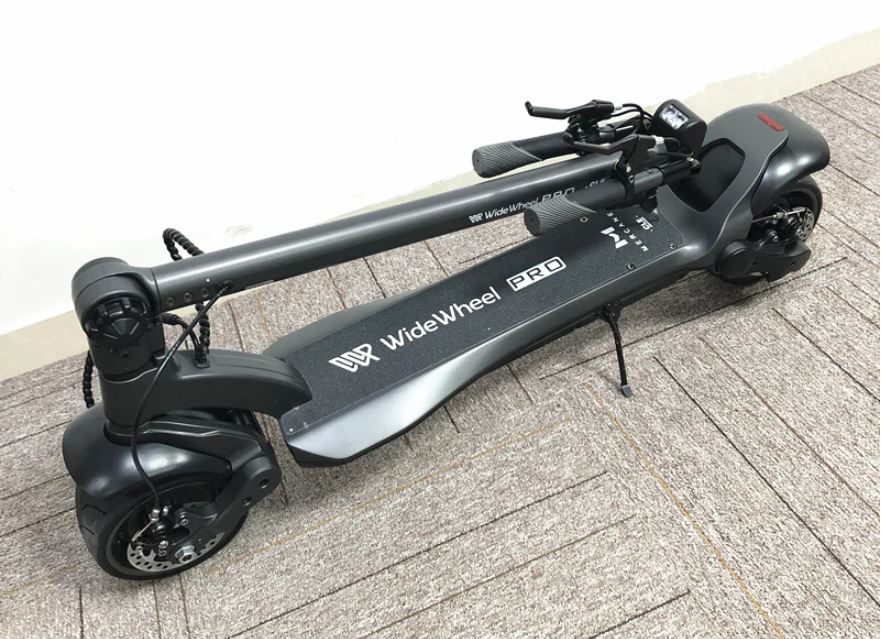 As far as the battery is concerned, you will find a 48 V 14.4 Ah battery that is sufficient for a range of 40 – 70 km. This of course depends on the rider's weight, riding style and the mode selected. Specifically, you'll find eco and power modes.
The maximum load capacity of the scooter is up to 100 kg. At first glance, it impresses with its unconventional design with 8″ wider tyres. But you don't have to worry about comfort during the ride. The scooter has dual suspension, so it can handle bumps. The latest version also has a key lock, so you can keep your scooter at least partially secure.