MINISFORUM B550 MINI PC
The Minisforum B550 is a code name, it is actually the chipset embedded in this strange machine. A machine that uses the MiniPC format but offers the possibility of adding an external graphics card.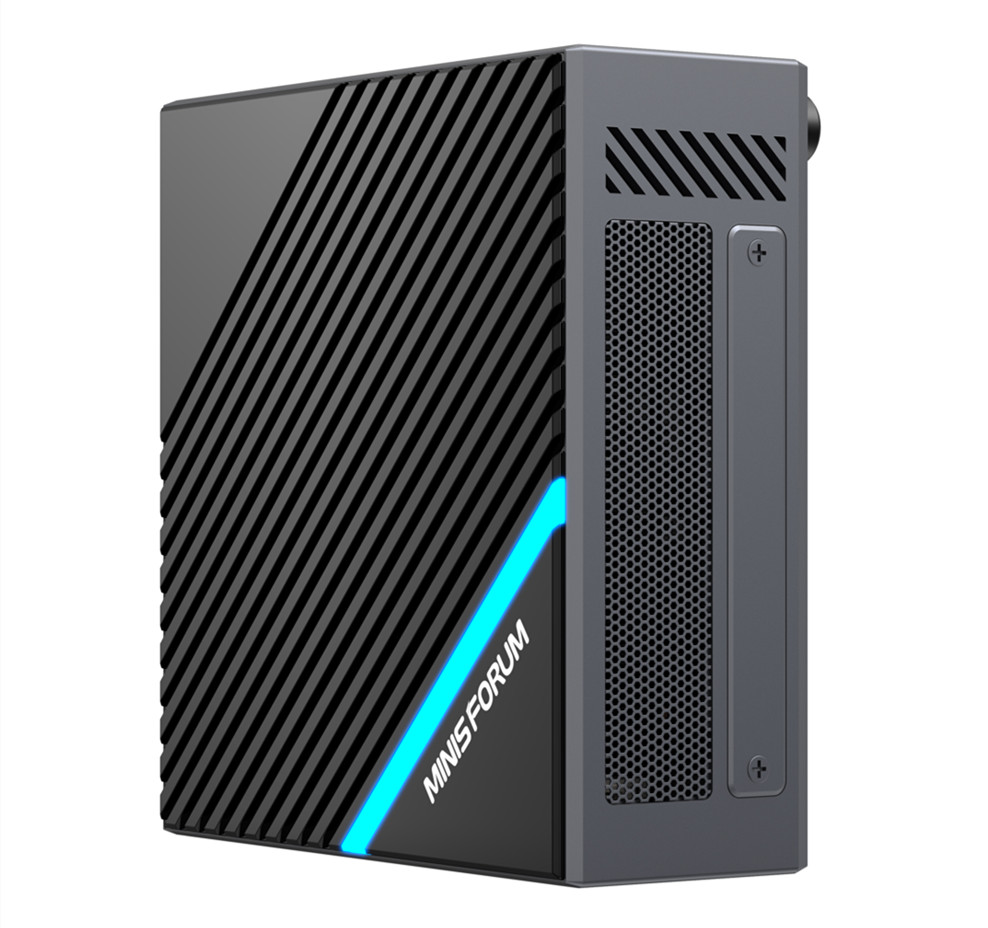 Under its classic appearance this MiniPC hides some nice surprises. The case is relatively standard with dimensions of 15.8 cm wide by 16.65 cm deep and 6.7 cm thick. This last measurement is thicker than usual and is explained by the use of a large ventilation system on top of the case. Minisforum has chosen to integrate a larger than usual fan to cool down the entrails of this device while making less noise.
The basic connectivity is also very complete with a 2.5 GB Ethernet port, four USB 3.0 Type-A ports, two USB Type-C ports, two HDMI ports, a DisplayPort video output and separate 3.5 mm headphone and microphone audio jacks. The front panel is perfectly neutral, the start button is visible on the back of the device with a raised button and illuminated by an LED. We notice the rather important openings on the sides of the chassis. So far, these choices are quite classic. It looks like a Zotac minimachine with excellent rear connectivity.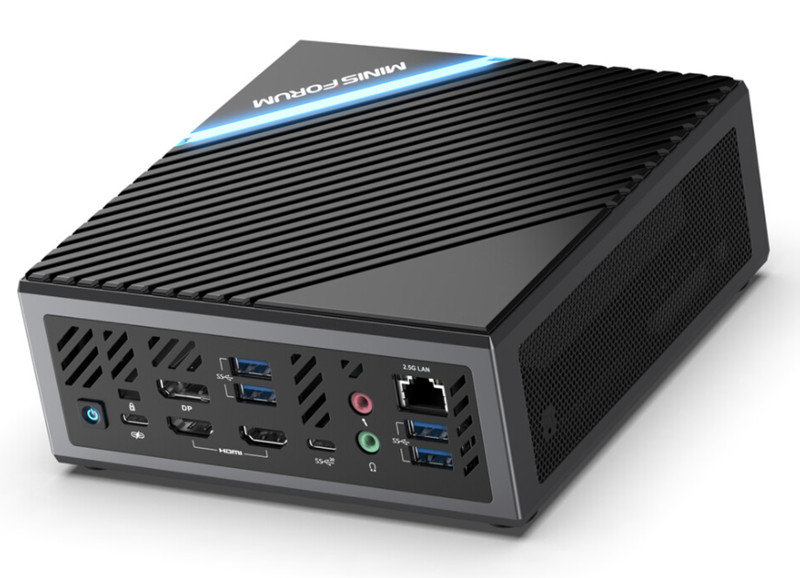 Where the Minisforum B550 starts to stand out is in the extensions it offers. The case can indeed be associated with a dock allowing to add a classic ATX power supply and an external graphics card! Minisforum's machine has a PCIe 3.0 X16 connector that can be accessed through a hatch on the side of the machine. Once the MiniPC is connected to its expansion bay, an external solution can be plugged on it and be driven like on a classic PC. Offering not the same wings to the AMD Ryzen 9 5900X circuit in terms of video processing. The external power supply will then only be used to drive the graphics card since the MiniPC itself is powered via a 120 watt GaN charger.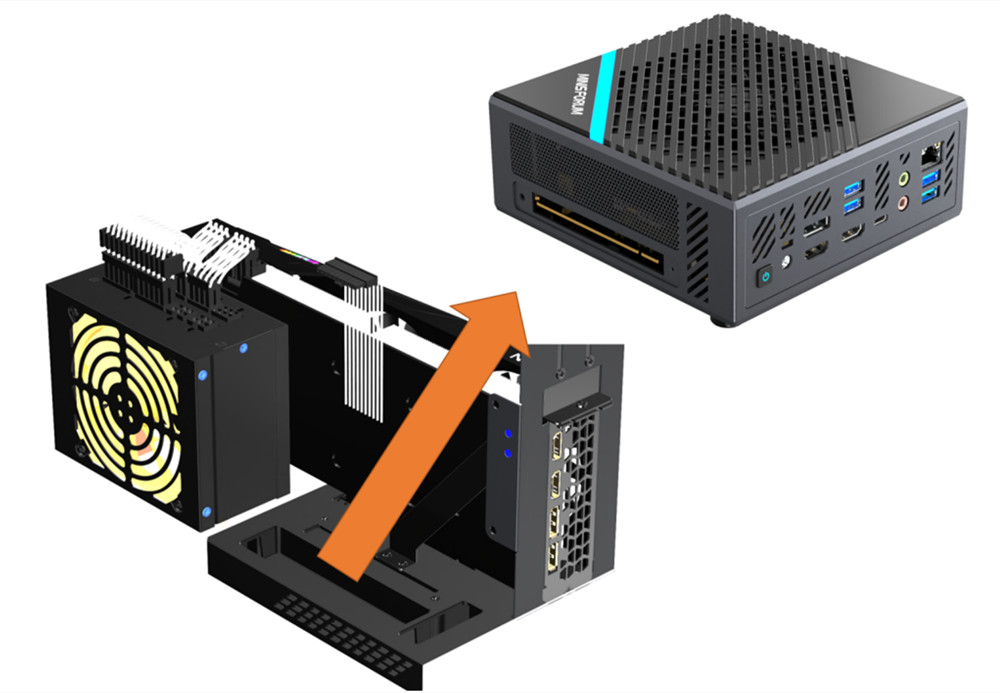 Once assembled with the dock, delivered with the Minisforum B550, the compactness of the whole takes a hit. We are far from the standard MiniPC layout with a much larger footprint and especially very deep. I'm also afraid that the solution is very noisy with a set of fans left in the open. Finally, I am not sure that the solution is very well protected against dust and the vagaries of the outside world… Minisforum should have thought of an external shell for the whole thing… But that would go against the basic idea of a compact MiniPC.
In the end I don't know what to think of this device… On the one hand there is an interesting scalable solution, especially since the chassis is able to handle high performance chips with a maximum TDP of 65 watts and it has two classic SoDIMM slots to add RAM as well as two M.2 2280 slots that are both NVMe and SATA compatible.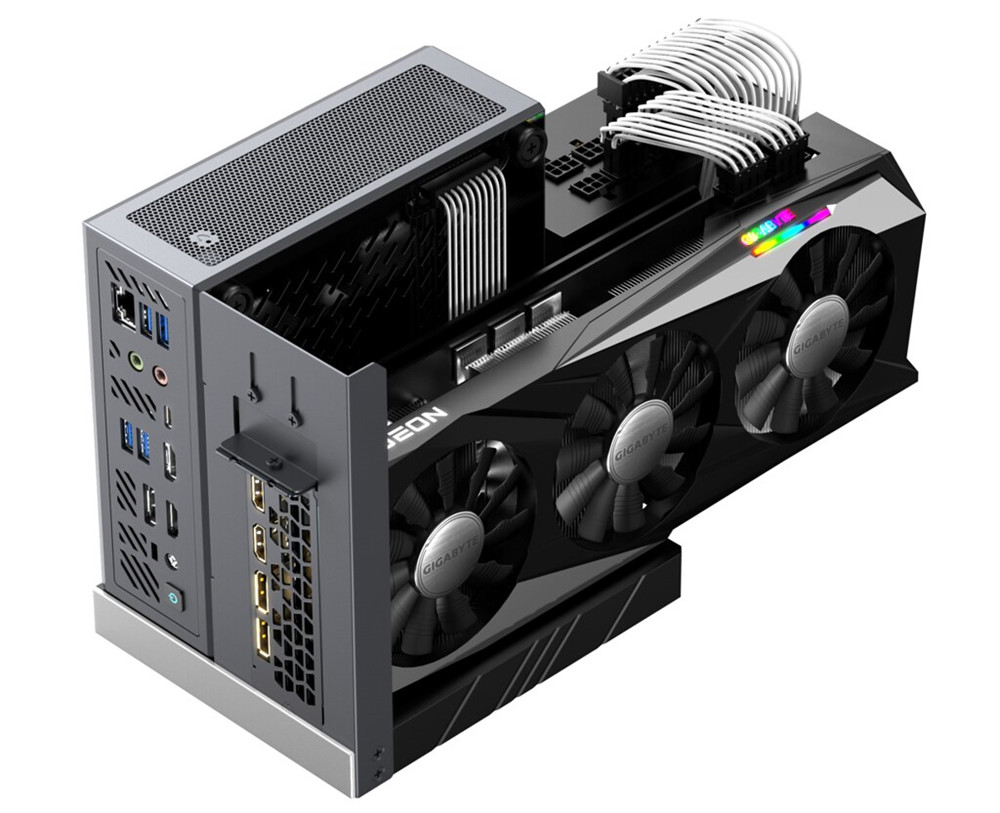 On the other hand, we have a device that is totally different from the concept of a simple and compact MiniPC. I don't really see the target here? At first I was thinking about users looking for a solution to test external graphics cards but a Mini-ITX motherboard solution will work just as well. This thing will use two power outlets where a standard MiniPC only needs one. And if you have to assemble a chassis around it to get a chassis that protects the components, it doesn't make much sense. A MiniITX solution will again be equivalent. So for whom? For what? I'm afraid that this Minisforum B550 is ultimately a false good idea, but maybe I'm missing something.