MINISFORUM EliteMini CR50 Windows 10 Pro MINI PC
With an AMD Ryzen 4700S on board, the Minisforum EliteMini CR50 should offer good computing performance, this chip without graphics circuitry is supported here by an AMD Radeon RX 550 circuit. All this in a chassis that remains very compact.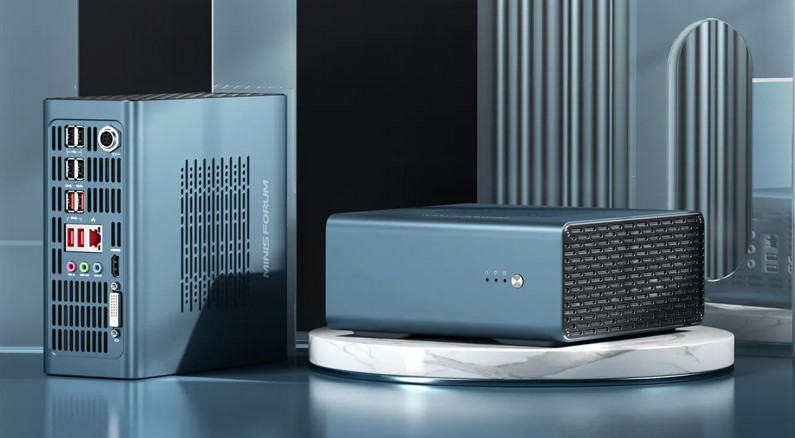 The Minisforum EliteMini CR50 embeds a rather special processor from AMD. We've already talked about it in the past, it's a recycled chip from the production lines for Sony's Playstation 5 solutions and adapted to the PC market through a custom platform. We could see a first PC in a pseudo-MiniITX format with a very classic PCIe external graphics card.
On this new MiniPC, the platform is much more compact. The AMD chip is placed on top of the motherboard and topped with a heatsink with fins and a double heat pipe. The whole thing is associated with a rather imposing fan. It must be said that this processor alone gives off 65 watts of TDP, which deserves some special attention. Above this cooling system, an AMD Radeon RX550 graphics solution is placed thanks to a PCIe riser. It is obviously ventilated as well.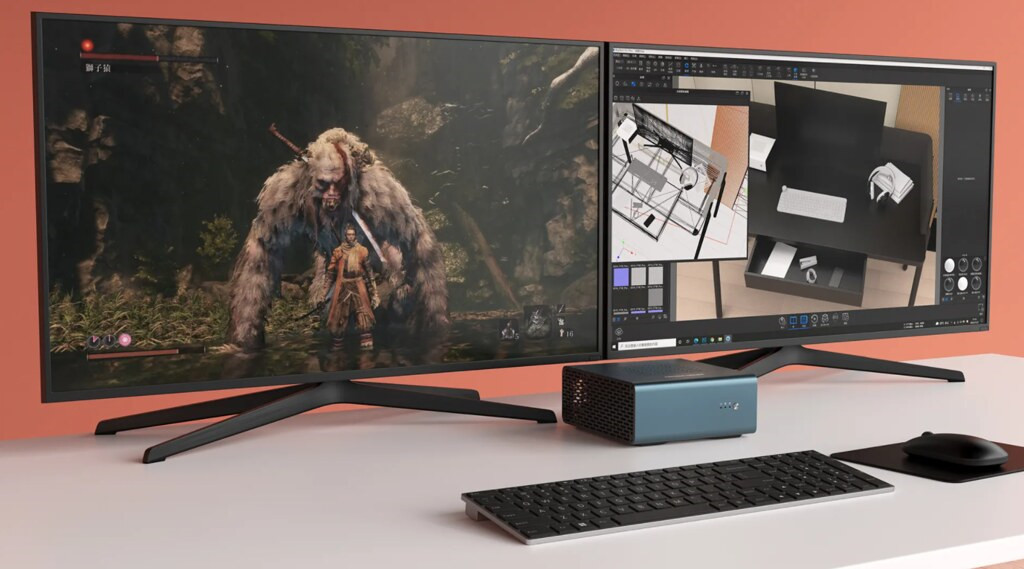 Under the card, we find the 16GB of GDDR6 memory adapted to the needs of the Ryzen 4700S processor. A specific memory and soldered on the motherboard in a non-evolving way. Associated with this set, a huge block seems to play the role of a heatsink largely covered by another heat pipe and decorated with a third fan!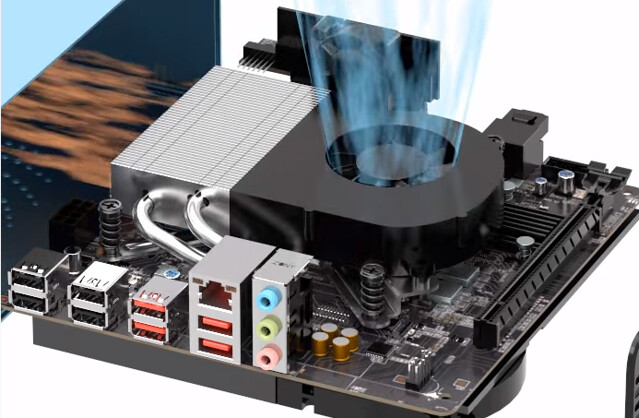 Finally, a 2.5″ expansion bay will add SATA 3 storage to the mix. No M.2 2280 PCIe NVMe port, we will have to make do with this very classic SATA 3.0 solution for this Minisforum EliteMini CR50. On the other hand, we will enjoy a more compact MiniPC with 19.2 cm wide by 20.57 cm deep and 8.63 cm thick, a device that benefits from an external power supply and components better integrated with the previous more traditional model.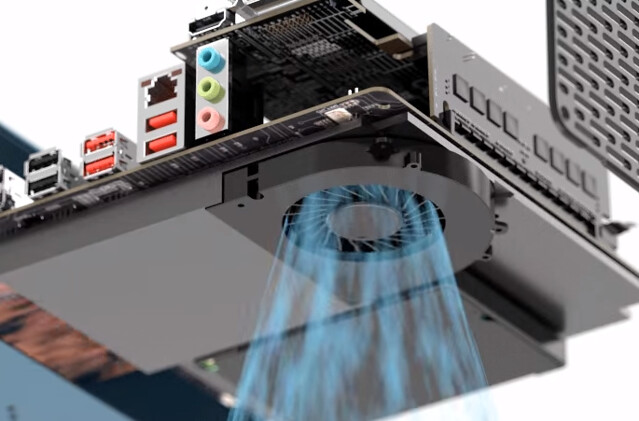 The connectivity is very interesting with two HDMI and DVI video outputs, a Gigabit Ethernet, 3 USB 3.2 Gen2 ports, a USB 3.2 Gen1, 4 USB 2.0 ports, and three very classic microphone, headphone and line jack ports. This is actually the same motherboard as the model we came across earlier, just adapted with a revised heatsink system to fit the needs of a narrower chassis.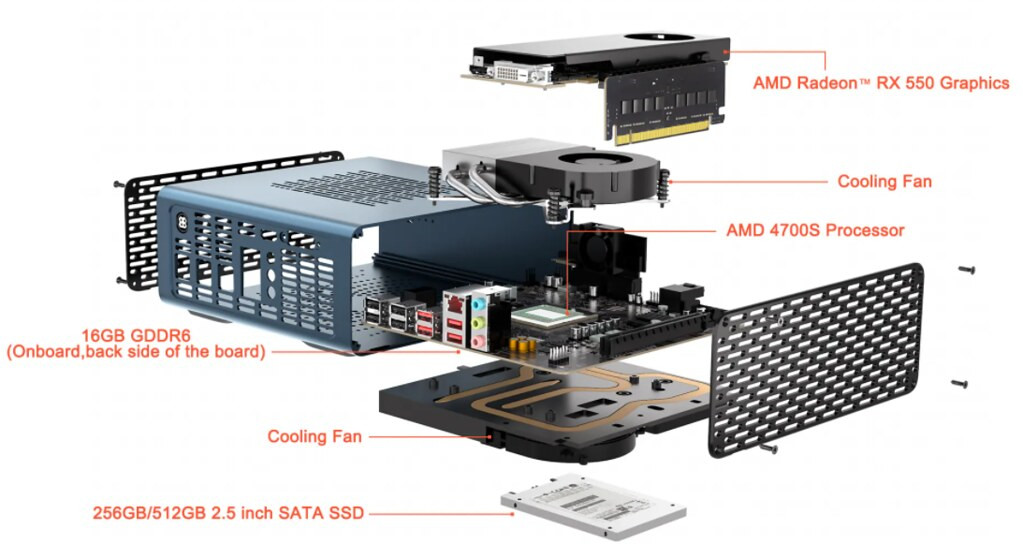 The case is very open with many openings on the rear part to extract hot air from the device and side openings to draw in fresh air. The upper and lower parts, which are also necessary for the air intake of the secondary fans, are also perforated. We note, moreover, the presence of screws to fix the Minisforum EliteMini CR50 on a support.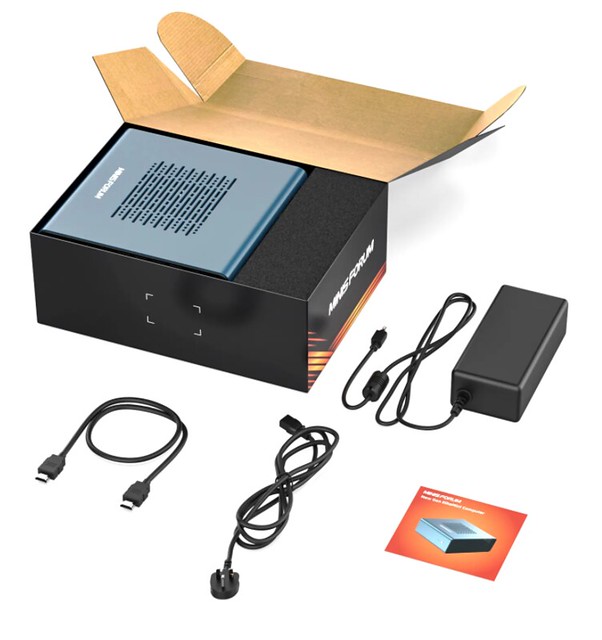 The big question is how this machine will work in practice, and whether the various cooling devices will be able to absorb the heat emitted by the machine's onboard components. And, if they manage to do so, to what extent they can do it without generating too much noise. It's one thing to offer a compact machine, it's another to offer a discreet machine. If this machine compensates for its small size with a permanent blower, it won't really be as discreet as it claims.