MINISFORUM UM350 is a new model of mini PC with RYZEN 5 3550H CPU
The Minisforum UM350 takes over from the UM340 as AMD's multimedia MiniPC. Instead of the Ryzen 5 3450U, we find a Ryzen 5 3550H. A change of chip that will sign a significant evolution of the machine's performance.
The Minisforum UM350 is a classic solution for the brand. The usual 12.7 cm square and 5.13 cm high case offers a certain scalability. The AMD Ryzen 5 3550H chip will obviously not move, it is a mobile world solution and therefore soldered to the motherboard. It offers 4 Zen 2 cores and 8 threads, frequencies ranging from 2.1 to 3.7 GHz with 4 MB of L3 cache. A 1.2 GHz Vega 8 graphics chip is integrated into this package and the whole thing operates at a TDP of 35 watts.
For the rest, the elements can evolve. Storage is entrusted to an M.2 2280 NVMe PCIe SSD and a 2.5″ SATA 3.0 expansion bay will also be accessible. The RAM is mounted on two SoDIMM DDR4 slots that will be able to accommodate 32GB of dual channel RTAM. The Wifi card supplied is a Wifi6 and Bluetooth 5.1 model also mounted on an M.2 2230 slot. All of these components will be easily accessible as the solution employs the brand's opening principle which consists of a top panel that can be easily removed to gain access to all of the components. Note that the SSD supplied is now covered by a heatsink.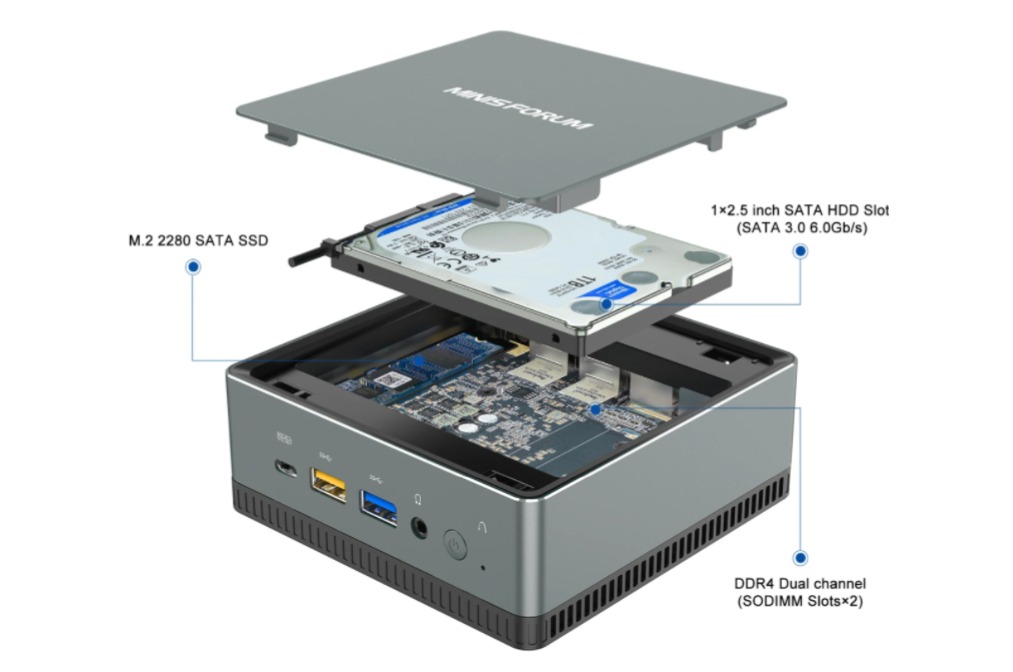 As for the rest, the connectivity is classic and this is where the difference with the first MiniPC model of the manufacturer released with this chip last year comes into play. The Minisforum DMAF5 looks very similar to the new Minisforum UM350 but differs in a number of ways. On the front, there is a USB Type-C port with DisplayPort support, a USB 3.1 Gen1 and a USB 3.1 Gen2 Type-A, an audio combo jack and the machine's start button.
On the back, two USB 3.1 Gen2 ports, an HDMI port, a DisplayPort, a 19-volt power supply and a Gigabit Ethernet port. The DMAF5 offered two Ethernet ports. There is also a Kensington Lock port.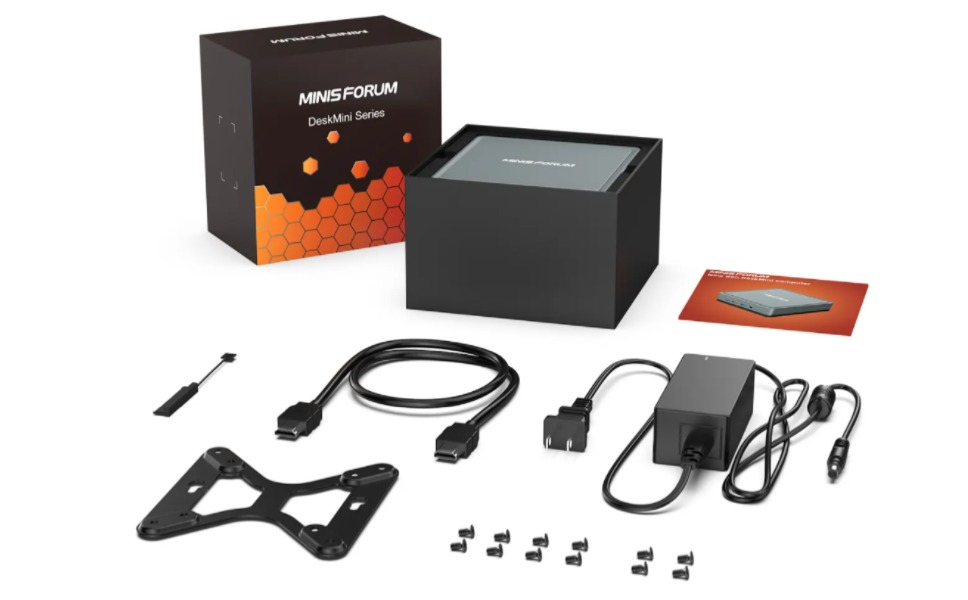 The machine advertises fairly good 2D and 3D capabilities with a fairly extensive list of compatible games. I don't think it's a machine for the hardcore gamer but it will be good enough to run games of not too 3D intensive titles from time to time. It is also a good multimedia and work PC for not too heavy or demanding tasks.
Real-time processing or heavy rendering is out of the question. It can be a good PC to put in a living room for multimedia use, an excellent MiniPC for a high school student, a family machine sufficient for all classic office tasks, browsing, homework and photo processing. The only unknown is the management of the ventilation of the whole, the processor is a mobile solution but we must anticipate its 35 watts of TDP. An active fan has been added, but it is difficult to know how it will behave in use. Will decoding a film in UltraHD trigger a sound fan? Will launching a busy web page or opening large office documents trigger a sound fan? For the moment, it's hard to judge.