Minisforum EliteMini HX90 – A high performance mini PC with Ryzen 9 5900HX is now available. It's highly expandable and the chassis is carbon fiber!
Minisforum, a Chinese mini PC manufacturer that we have reviewed several times in the past on Wintaub, has started selling its latest model, the EliteMini HX90, for pre-order. The size is a bit large (it will be treated as a mini PC in this article), but the CPU performance is very high, making it a very attractive product as a main PC for home or office use.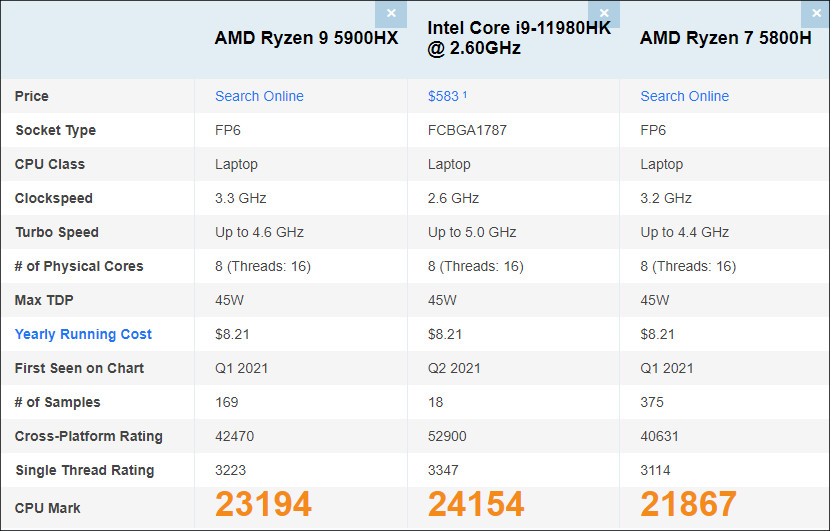 Variation model
Barebone (without OS/RAM/SSD)
RAM16GB/256GB SSD
RAM16GB/512GB SSD
RAM32GB/512GB SSD
The EliteMini HX90 is also available as a barebone model without OS/RAM/storage, but I will explain the "finished product" here: the OS is the Pro version, and the CPU is the Ryzen 9 5900HX, a high-end mobile CPU based on the Zen 3 architecture. The OS is Pro version and the CPU is Ryzen 9 5900HX, a high-end mobile CPU that uses Zen 3 architecture. The "HX" at the end of the model number means that it can be overclocked. The HX at the end of the model number means that it can be overclocked. This is a top class model number in the Zen 3 Ryzen lineup, which offers extremely high performance.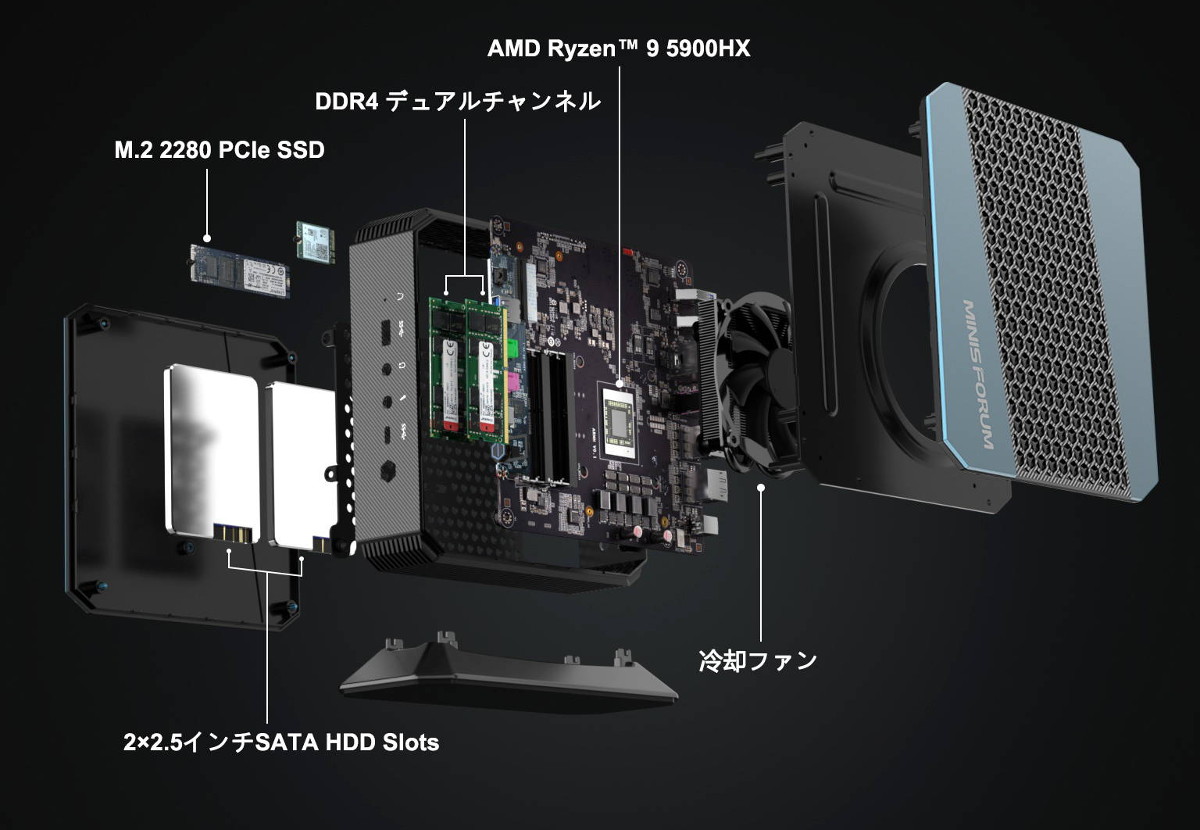 This is the benchmark score published by Passmark. To begin with, "over 20,000 points" can be said to be ultra-high performance for a notebook CPU, and although the score is slightly lower than that of the top model of the 11th generation (Tiger Lake-H), Core i9-11980HK, it is an unquestionable figure.
So, "What about an external GPU? But unfortunately, it doesn't have an external GPU. But unfortunately, it doesn't have an external GPU. From the perspective of gamers and creators, it's a bit of a shame.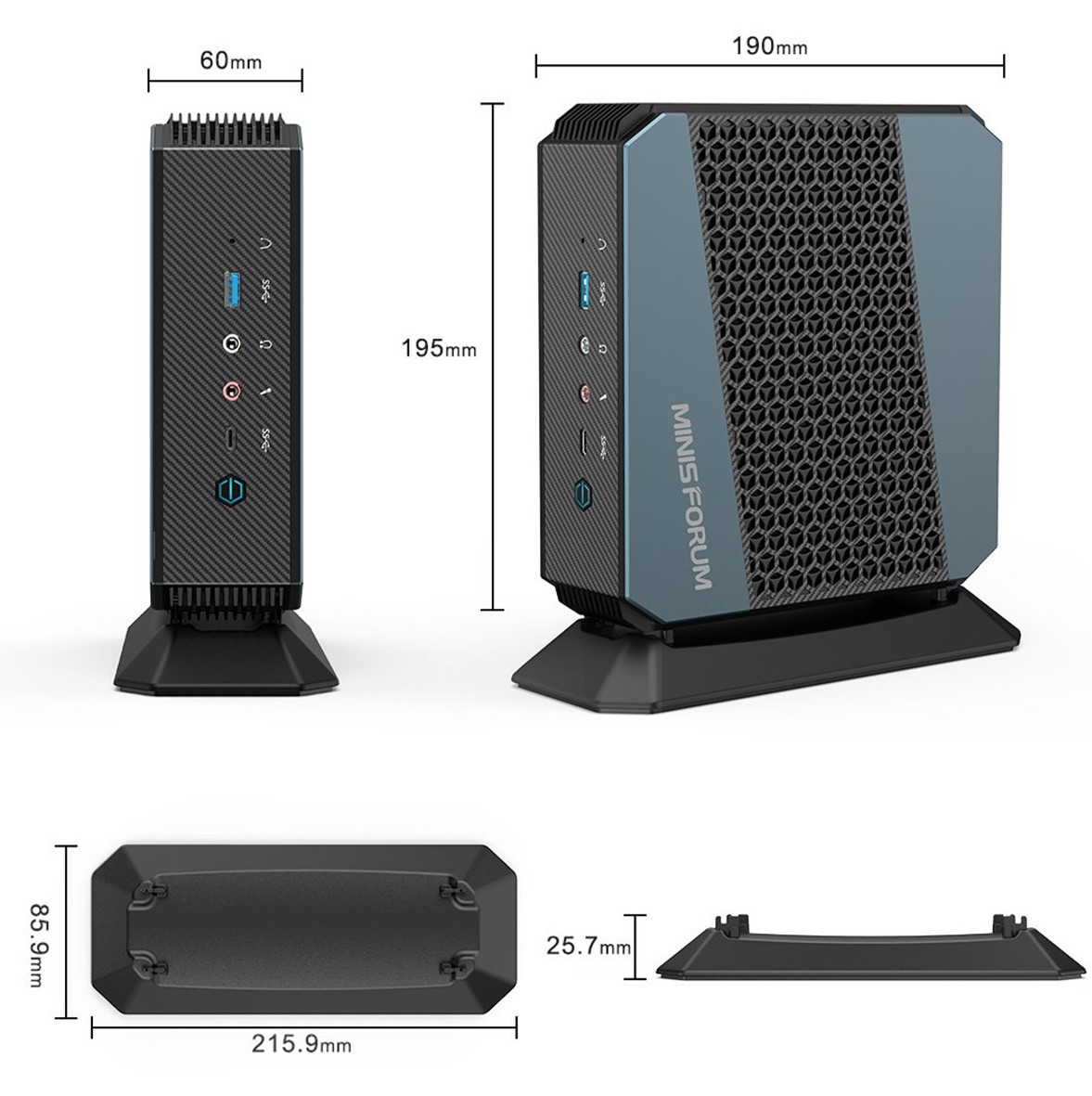 The RAM is dual channel, with the 16GB model having 8GB x 2 and the 32GB model having 16GB x 2 (no space available). Also, the maximum installed capacity is 32GB x 2 for 64GB. Storage is provided by an M.2 PCIe SSD, and while there is only one M.2 slot (no space available), up to two 2.5″ SATA HDD/SSD can be added.
In terms of communication, there is Wi-Fi6 support, a total of six USB input/output ports, and two each of HDMI and DP. In this area, we can say that it is much more complete than the existing Minisforum mini PCs.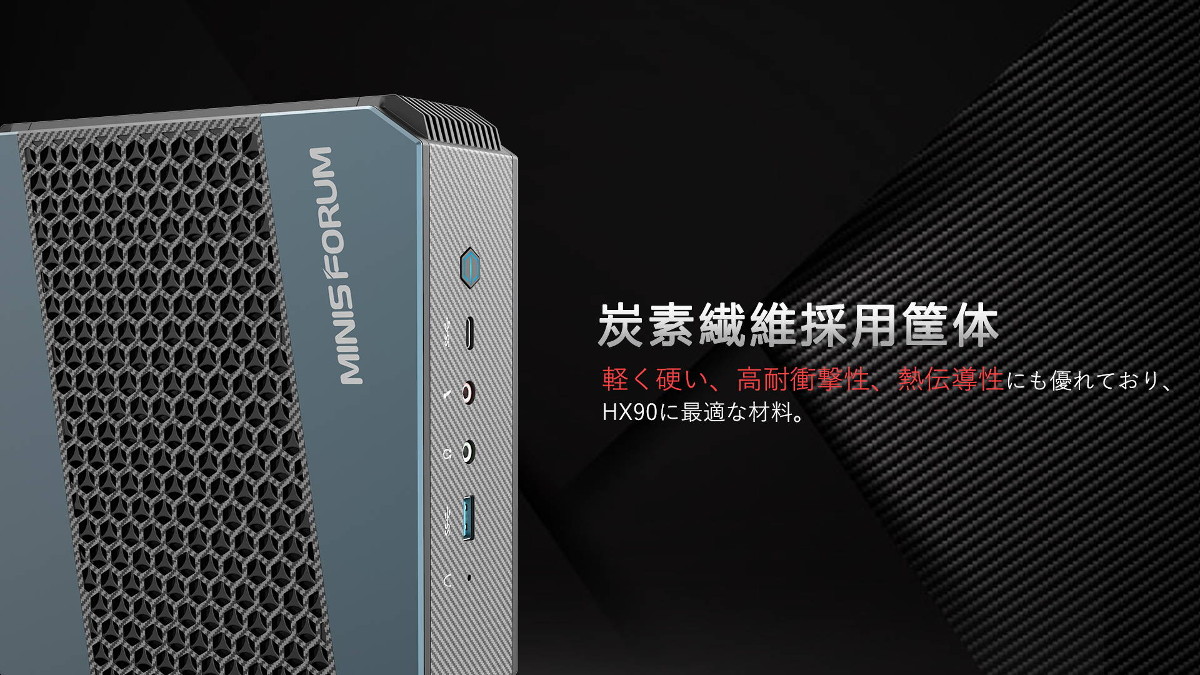 The size is rather large for a mini PC. However, both the height and depth (when placed vertically) are less than 20 cm (with the stand included, the height is less than 23 cm), so you won't have any trouble finding a good place to put it. It also comes with a VESA bracket, so you can mount it on the back of your display.
The stand shown in the image is also included. This product can be placed both vertically and horizontally, but for cooling efficiency, vertical placement may be better.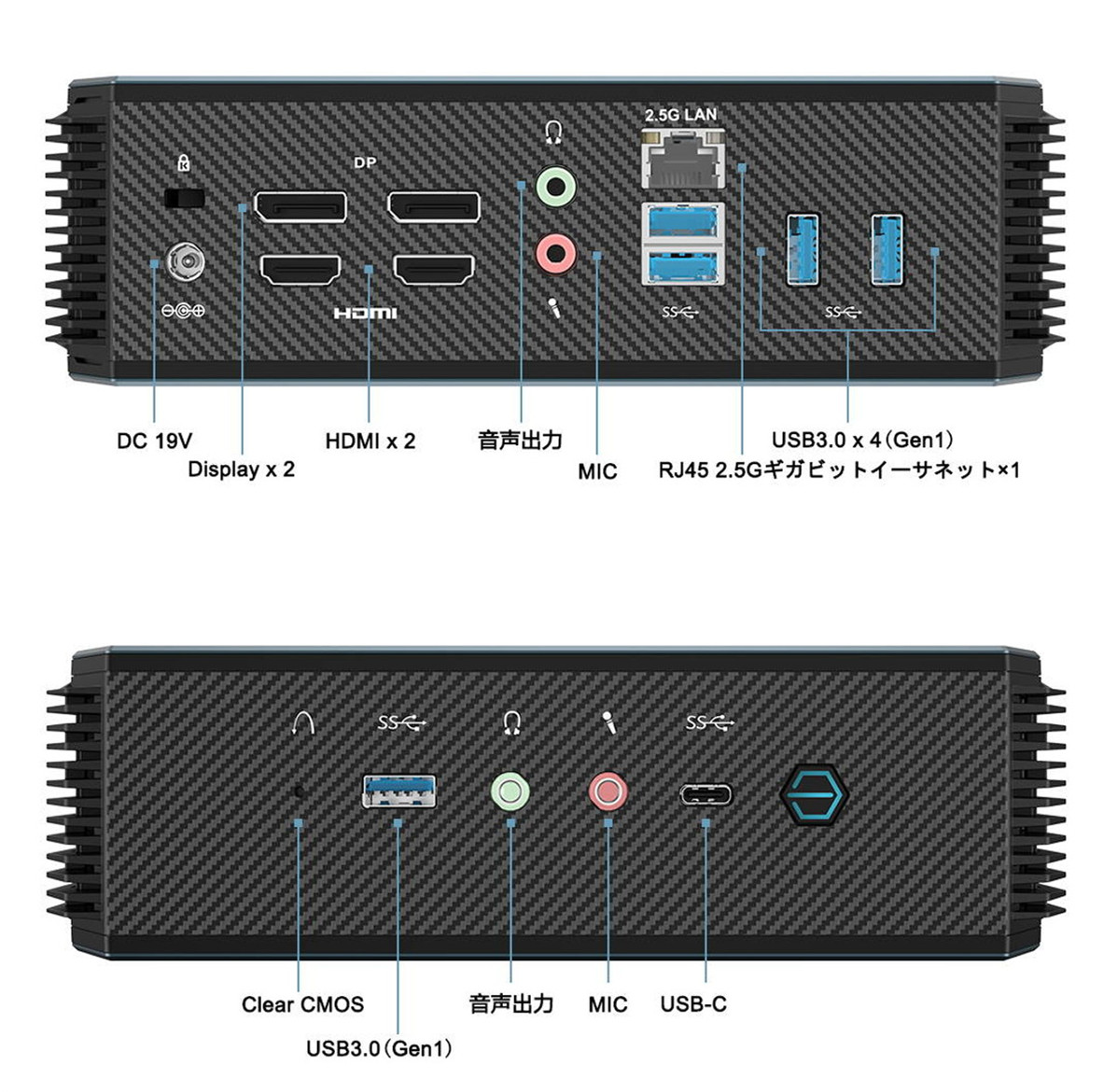 The chassis is made of carbon fiber material. Hmm? Carbon fiber? I had to think about it for a moment, but it's "carbon fiber," isn't it?
This is the input/output port configuration for the front (bottom image) and back (top image). With this many ports, it should be possible to connect the necessary peripherals without any problems. Also, it seems to be easy to operate multiple monitors (up to four screens).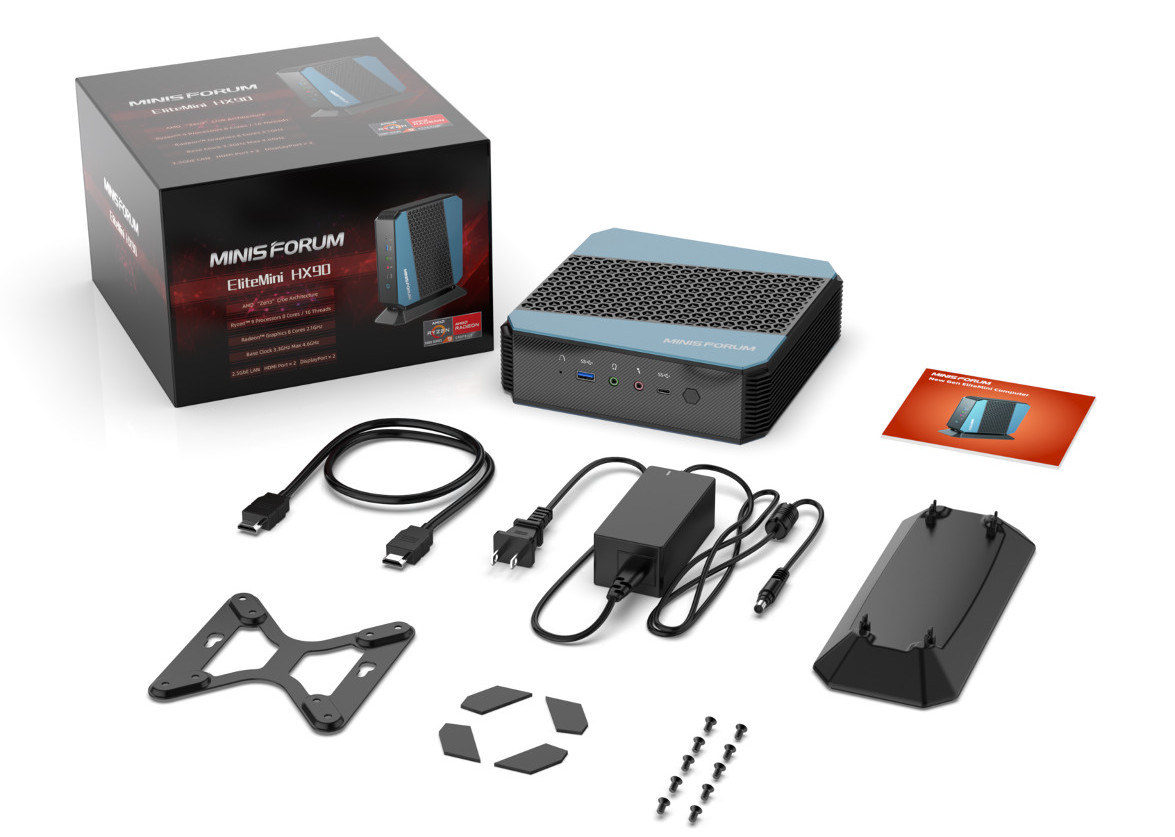 Here's what's included. "The power adapter (DC 19V), HDMI cable, vertical stand, and VESA mount are all included, so you don't have to worry about buying those cables. However, you will need to prepare a "proper" monitor, keyboard, and mouse.