MOTINI Nano Mini Portable Electric Bike
The Mini Portable Electric Bike do not always require unusual specifications or a design that innovates with respect to the models of the old days, so for those who are satisfied with a good performance may want to analyze in detail what it has to offer the MOTINI Nano.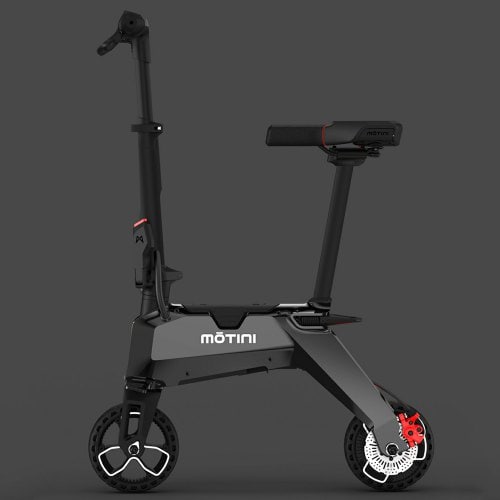 The MOTINI Nano is a small-range electric bike that includes everything you need for a good driving experience, whether it's maximum speed, battery life or a foldable design that helps save space at home.
As can be seen in the images, this product comes in a black color throughout its entire structure, only with a white detail for the brand name. With a weight of 11 kilograms and classic aesthetic lines, there is not much to stand out from conventional bicycles.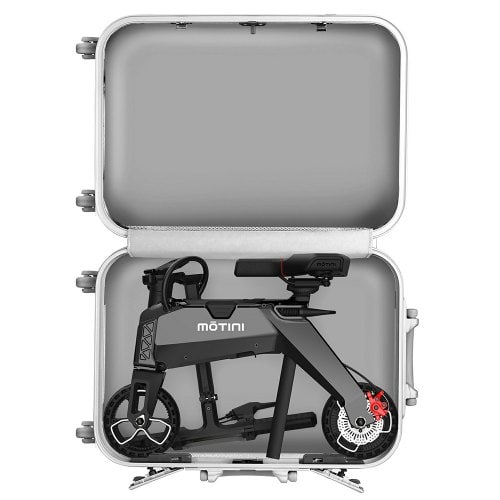 Although the presence of its cable in the exterior takes away spectacularity to its aesthetics, it must be made clear that there are no problems to use this model in any climatic condition, even under the rain. Compatibility is also appreciated for modifying the height of the saddle and handlebars, so that each person finds the perfect position for use.
Another negative point that can be mentioned in the design of MOTINI Nano is the absence of rear LED lights, although there is a front light to see the road during night-time driving, although the positive is in its three-step folding system, which makes it possible to lower the handlebars to the floor and fold its structure in half to occupy very little space at home, in the trunk of the car or in the office.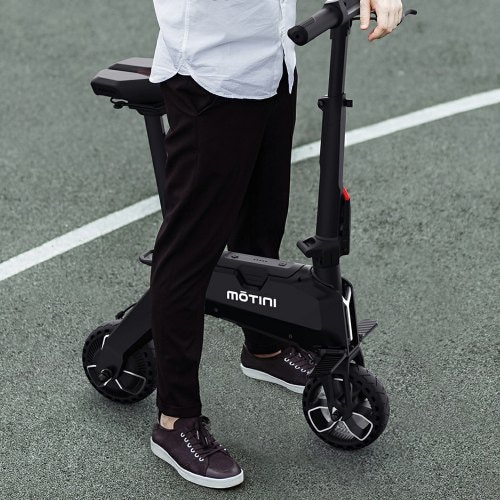 On the one hand it is mentioned that the model above with a 250W motor power that provides the maximum speed of 25 km/h and a maximum gradient of 25 degrees so that there are no displacement problems, even if the surface is not exactly smooth. Its 7 inch Tire also promise a good grip on the ground to move around the city without risk.
Logically there are three modes of use for MOTINI Nano that correspond to the type of effort that the user is willing to make, one completely manual to use it as a classic bicycle, another hybrid to have to pedal less while moving at good speed and finally a pure electric that requires no activity.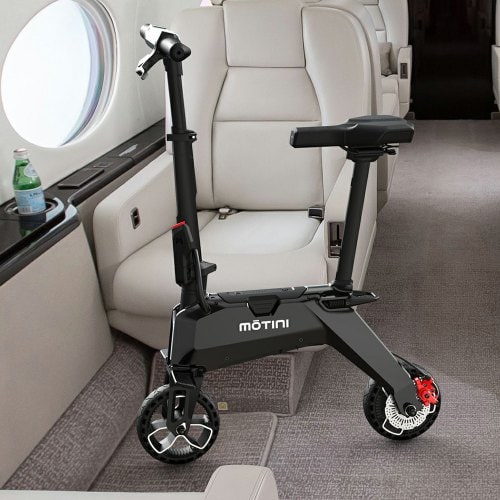 It is worth noting that the construction of the vehicle with an alloy steel and carbon housing provides a maximum payload of 90 kilograms, meaning that people with significant problems of overweight can also use it without risk of damage.
As expected, the integrated Lithium-Ion unit in the MOTINI Nano is also within what can be expected from a mid-range device, more precisely with a capacity of 2.6Ah and 130Wh (included in the product) that helps to travel 10 kilometres with the pure electric active mode.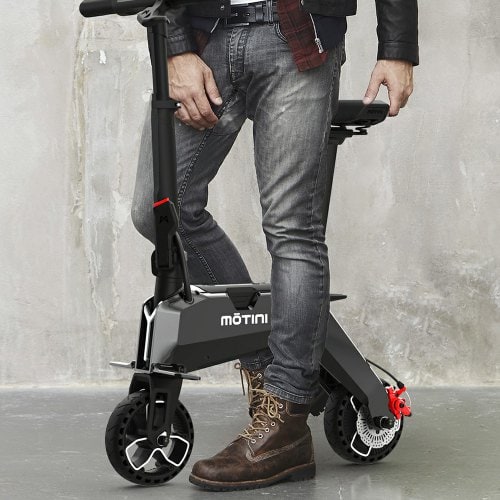 In general, it is possible to highlight a more than acceptable use for teenagers as well as for adults who need a more ecological alternative to go to work, study or simply move around the city with greater physical comfort. In any case, the MOTINI Nano is a folding bike that can be taken on an airplane and is worth a try.