DT NO.1 IP01 Outdoor Walkie Talkie, Powerbank & iPhone Case
The NO.1 IP01 is equal to several gadgets in one. The main function is that of a walkie talkie, with the peculiarity that it also serves as a case for your iPhone. In addition, it serves as a power bank, via which the battery of the smartphone can be charged. This turns the iPhone into an outdoor mobile phone. Is there a sufficiently large target group for this?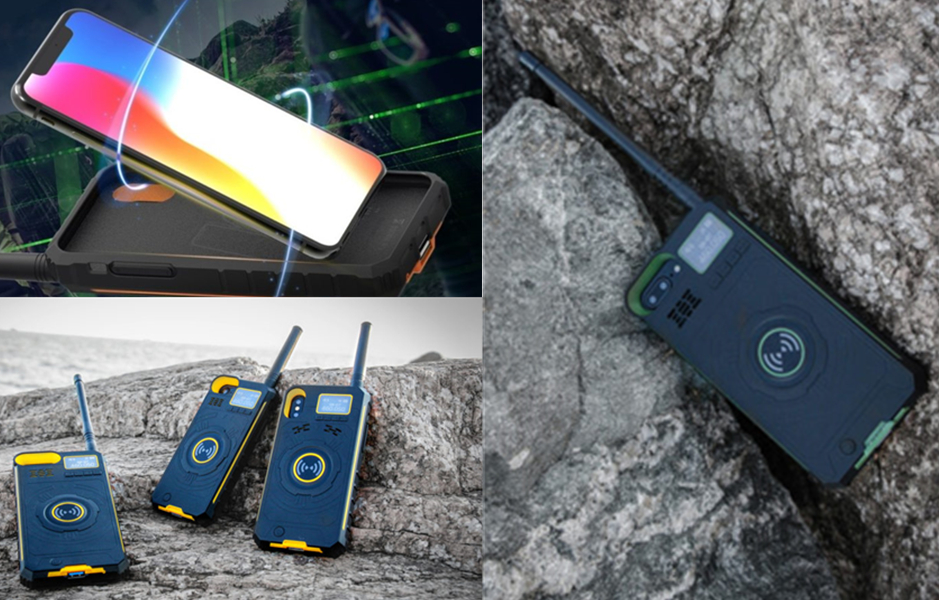 Apart from the obvious way of working, few details of the IP01 are known so far. The manufacturer DT NO.1 is currently promoting it with a giveaway to the launch, where you can win one of a total of five devices. But you can not buy or pre-order the walkie talkie, and hardly any has been published on specific data on material and features.
As a walkie talkie, the IP01 also works independently, without a smartphone. On the back there is a small display and below it four buttons, with which the device is operated. A total of 16 channels can be stored; the exact frequency spectrum is not yet known in the still-developing walkie talkie.
Mainly you should use the IP01 but of course with the iPhone. To the mobile phones with the apple one is usually particularly worried, a broken display in the 1000 € iPhone hurts more than in the 200€ Ulefone. Therefore, iPhones are not particularly well-known for outdoor use (although waterproof). This should change with this case, which protects the phone to all sides; apart from the display, of course. The cover consists of two layers, which prevent damage and should of course also protect against scratches.
Lastly, the IP01 is a power bank with a capacity of 3500 mAh. This could be an iPhone once fully charged . With all the benefits that such an iPhone may offer – the battery capacity is far below the average of other major manufacturers in all models. One could argue that the problem areas of the iPhone are specifically addressed here: the case makes it more robust and ensures a longer battery life; both would certainly be helpful in nature.
The gadget is 100% designed for use in nature  (you might say "in the wild"). A cell phone case with walkie talkie makes sense only if you have no network otherwise. In the city (and even in rural areas with mobile connectivity), I could easily, I do not know, use my iPhone to make calls? Of course, I also need at least a second device for my companion, of course, must also have an iPhone for it.
Overall, all this sounds like a very special case. Of course, if you're an iPhone owner, like hiking or camping in the wild and have friends who both share this hobby and also have an iPhone, THEN it's the right gadget for you. The case is expected to be available for iPhone 7, 8 and X. Opinions?