OUKITEL W1 Smart Watch 150 Days Long Standby Time
OUKITEL is back with a new device, but strangely it is not a smartphone like the U18. This time it comes back with a sports watch called OUKITEL W1. This is a device that relies on beat frequency drive technology and can quantify your pulse to monitor your well-being. A dynamic 24-hour heart rate recording encourages you to get to know your body better. It also comes with different types of modes, which are functional characteristics for day-to-day activities. While the waiting time of 150 days surpasses similar device. If you want to know more about it, we invite you to read on.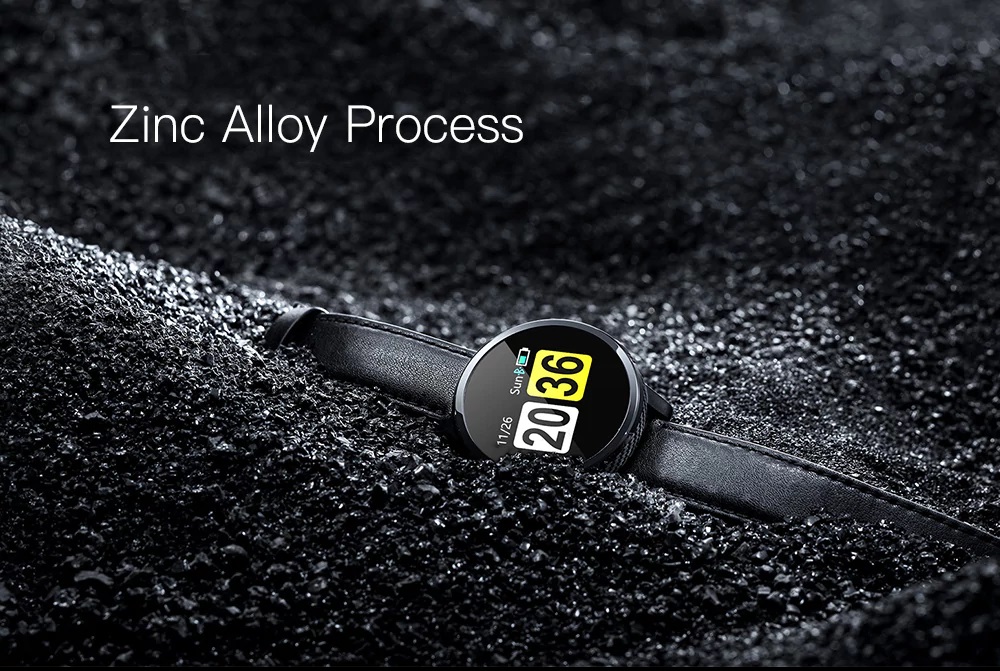 OUKITEL offers you an affordable fitness tracker, hidden inside a traditional premium-looking watch. The W1 smartwatch consists of classic texturing and a laser engraving process. It is also a watch that features a special high-hardness, cast stainless steel zinc alloy case, which is machined with a smooth finish to showcase a luxurious appearance for business. The watch face can be changed as desired. The OUKITEL W1 comes in 5 models to choose from, which offer slightly different colors. In addition to stainless steel, calfskin leather has been used to create a sophisticated strap.
It is quite thin, only 10.1 mm thick. However, the rest of its dimensions are not bad at all. In general, the watch is 26 cm long x 3.9 cm wide. But if you need to detail it, the dial is 3.9 x 3.9 x 1.01cm and the strap has 13.8cm to the side of the holes to adjust and 8.5cm at the end of the lock. In terms of weight, it has a total of 40g.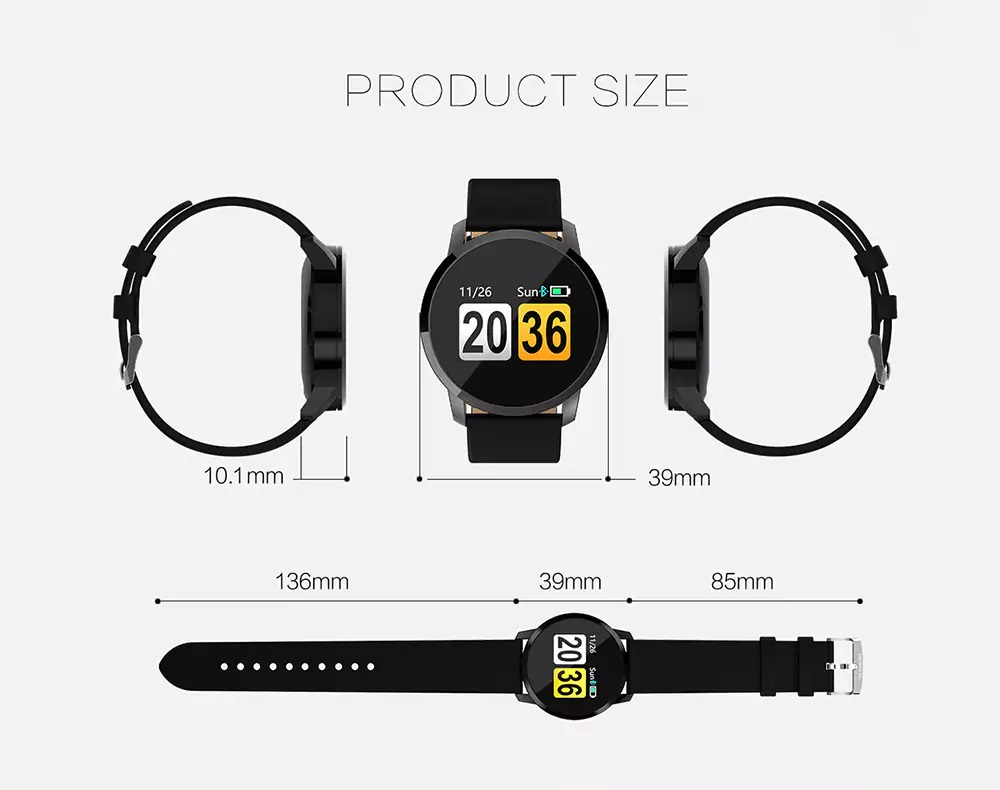 In addition to its undisputed beauty, it also comes with great strength with an IP67 certificate. This gives it impermeability and resistance to dust. You can use it for any everyday activity that includes water: exercise and sweating, washing your hands and face, even walking in light rain, professional protection to enjoy your intelligent life!
As for the panel, it offers a completely round screen that is implemented diagonally and is tactile, very responsive and easy to operate. It has a size of 0.95 inches and a resolution of 96 x 64 pixels which, among its large assets, has OLED technology to provide greater viewing angles. No matter how bright the light is, you can clearly see the data and information on the screen. For convenience, to see the time and other parameters on the screen, just lift your wrist.
The new OUKITEL W1 will not require large internal components to perform its many functions. And with this in mind, the company has chosen to integrate the energy-efficient Nordic NRF52832 microchip.
The additional functionality that the OUKITEL W1 has over a traditional watch is that it can offer many features: monitor your sleep, track your daily movements, alert you to call after receiving notifications of messages, notifications of missed calls, reminders of sedentariness, among others. This allows you to track your fitness/movement levels over time, which motivates us all to be a little more active.
Heart rate monitoring: equipped with an optical sensor, it detects the dynamic heart rate and lets you know your heart rate. The measured result is the same as other smart monitors, which will help you control your exercise intensity level.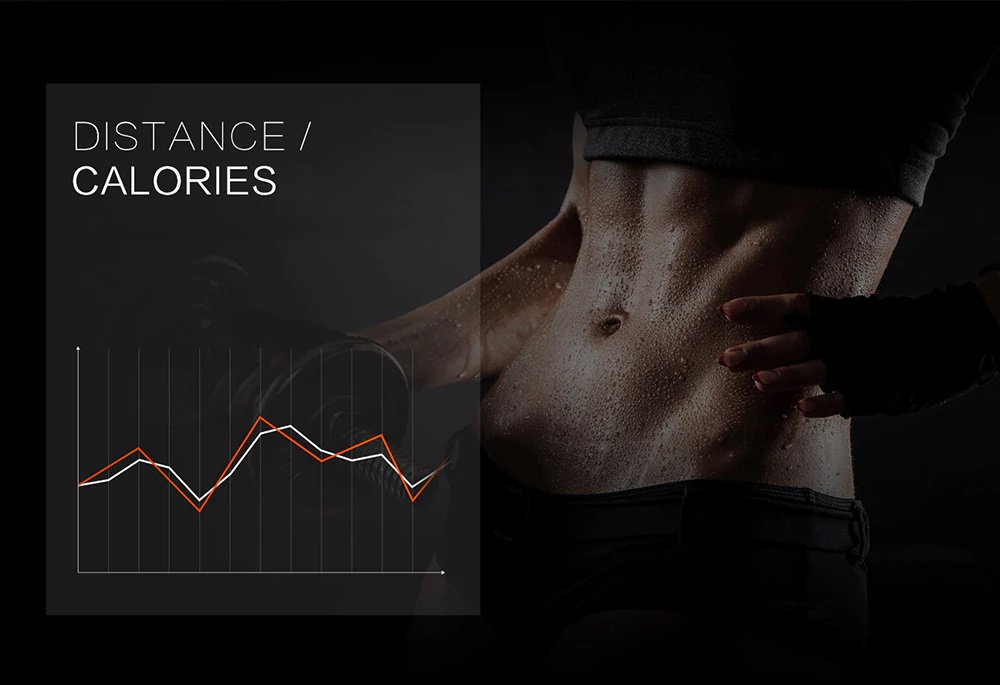 Sport and step registration: the system performance has been optimized by 35% and the precise increase of the pedometer by 20%. This will allow you to record your daily steps and maintain a healthier life. If you want more information, you can also calculate your calories and the distance you've traveled, find out your sports data and adjust your exercise program!
Call reminder and messaging: it will be perfect for informing you of incoming calls to your smartphone so you don't miss any important events again. You can also receive Bluetooth notifications from SMS, Facebook, Line, QQ, Skype, Twitter, WeChat, Whatsapp.
Oxygen and blood pressure monitor – Stay in shape with this convenient feature. Also, save all the data recorded by the watch for an intensive check of your condition anytime, anywhere.
Sleep Monitor: Real-time recording of sleep status helps you develop good habits. Remember that sleep is very important, and having a healthy night's sleep is essential to your daily routine. So, thanks to the W1, you will know your sleep quality, adjust it and make changes if necessary.
Reminder to stay sedentary and drink water: After a long sitting or lying session, the smartwatch will remind you to take a break from that position and stretch. What's more, hard work makes you forget easily when you have to stop. With this function you only have to set the time you want to rest and it will remind you daily. It will also remind you to drink some water after an estimated time without it.
Remote Camera: Control your smartphone to take pictures, it's easy to use and allows image syncing (When using it with an iPhone, you need to turn the camera on your mobile before using this feature).
The watch is paired with a complementary application on your mobile device phone using Bluetooth 4.0. The rest of the Oukitel W1's connectivity can be summed up in its compatibility with Android 4.4 and iOS 8.0 mobile devices or higher versions of each. So it is possible to synchronize the data obtained by the health sensors and store them on your mobile phone, after downloading the dedicated application called HeyBand.
It has a lithium polymer battery with a capacity of 170mAh, which has a charge time of approximately 2 hours. According to the manufacturer, he'll offer you 150 days of waiting time. But the reality is that if you keep the screen on a little bit, it will still consume a little battery power, so don't assume you're going to have 150 days.