RadioMaster TX12 16ch OpenTX Multi-Module Compatible Digital Proportional Radio System Transmitter for RC Drone
This radio control looks like déjà vu? It's normal, it's an evolution of the T12 Jumper (see the test here). The base remains the same: it is a small (17 x 15.9 x 10.8 cm) and rather light (363 grams) radio control, running OpenTX firmware.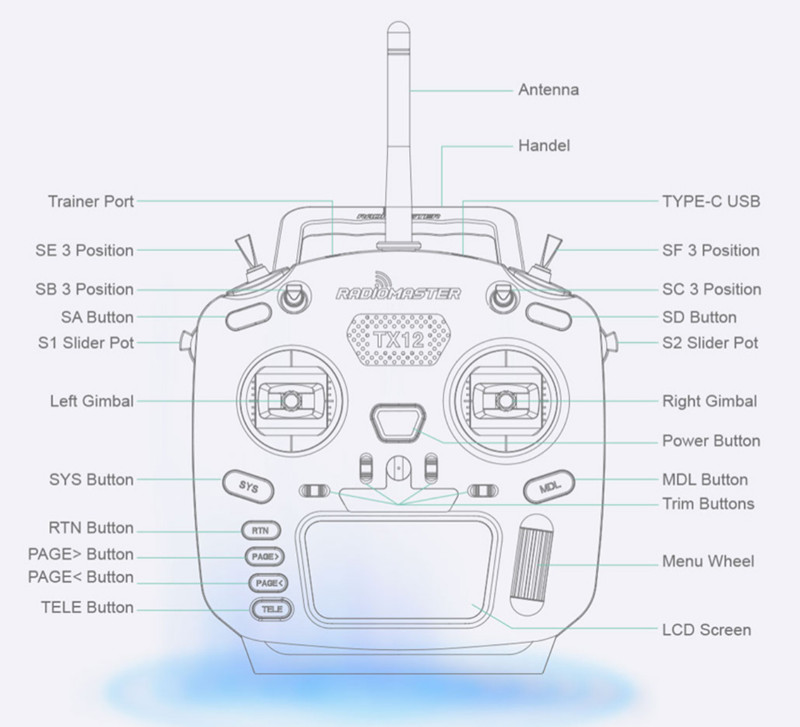 The TX12 is equipped with an internal multiprotocol module compatible with FrSky, Flysky, Spektrum, Futaba, Hubsan, Walkera, Syma, Graupner Hott, RadioLink, etc. receivers. It is capable of accommodating another radio transmission module in an external JR format bay. For example a Crossfire module from TBS… The antenna is removable. The handle at the back folds up for transport. The connector for connection to a computer, for example to drive a simulator, is a USB-C. The 3 position switches A and D are replaced by on/off buttons. Losing possibilities? Certainly, but the 2 position switches E and F are now 3 positions.
To control the OpenTX firmware interface, the TX12 offers a metal thumbwheel and several buttons. The battery compartment can accommodate two 18650 Li-Ion batteries or a Lipo 2S. The USB-C connector allows the battery to be recharged without having to remove them from the radio! The price? The TX12 radio control is proposed at $69.99 at Banggood.