Skydroid T12 2.4GHz 12CH Intergrated Control Video and Telemtry System 20km Range Transmitter for RC Drone
One of the dreams of immersion pilots is to fly long distances! In countries where it is allowed, of course – let us remember that in France the practice of FPV is limited to direct sight by an observer. The Skydroid T12 remote control combines a radio link for driving and a video link for real-time screen feedback. What she promises? Nothing less than a radio and video range of 20 kilometers! With a transmission power of 100 mW, moreover, and an autonomy of 24 hours.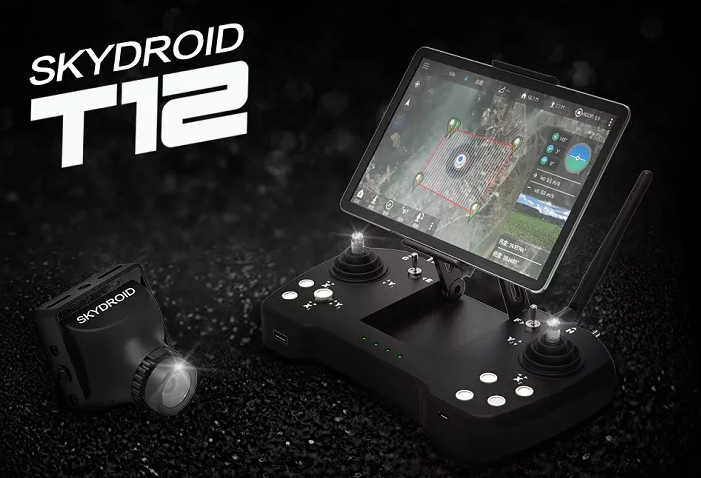 The remote control is a large format model of 22.5 x 12.3 x 3.5 cm that weighs 530 grams with its 4000 mAh battery. It is charged via a microUSB connector. It operates in 2.4 GHz, both for radio and video, with a Diversity module and two antennas. The image feedback is provided by an Android smartphone, via an OTG cable. This may surprise and raise fears of high latency. There will be no question of piloting a racer, at least not in Acro mode without stabilization: this remote control is intended for stabilized aircraft. Skydroid does not give any indication of latency….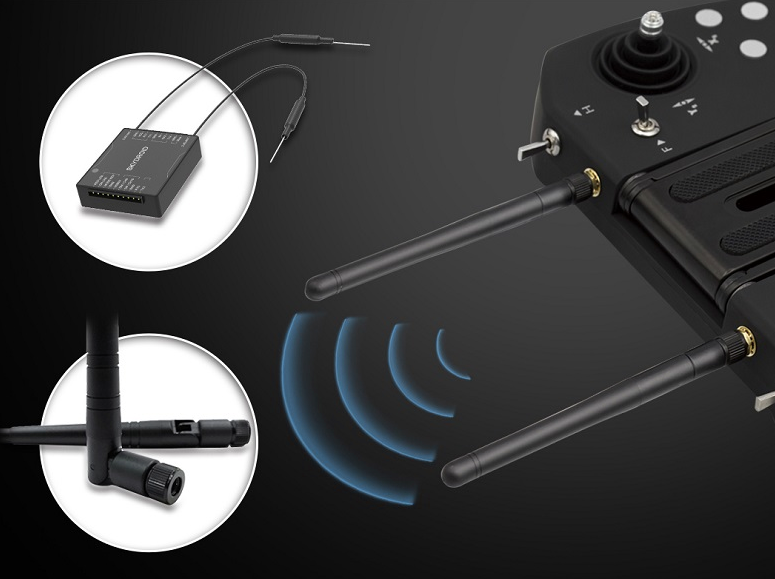 Called R12, the receiver measures 4.1 x 4.1 x 1.3 cm and weighs 14 grams. It is to be connected to an SBUS connector, or with a Pixhawk system, and supplied with 4.5 to 5.5 V with a consumption of 140 mA. It is associated with a camera that measures 3.22 x 2.98 x 2.68 cm and weighs 15.6 grams. It must be supplied with 5 V and consumes 180 mA.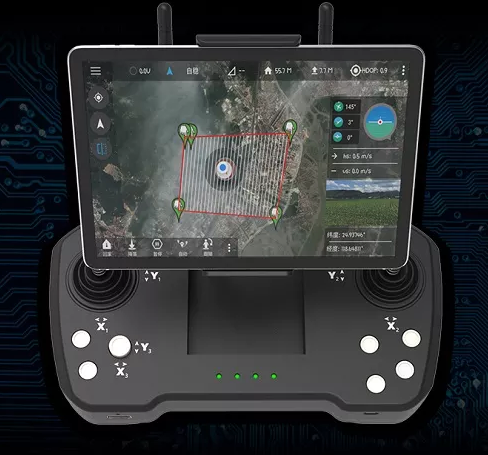 There is reason to doubt this strongly. But of course we are only asking to be surprised! The system probably allows you to reach 5 km without too much trouble. Skydroid also offers a demonstration video with a flight over 4 km away with a video without parasites. The manufacturer ensures that its LORA technology and redundancy algorithms allow long distances to be reached with limited transmission power. The manufacturer adds that the radio control box is designed to withstand a harsh environment. The price? The Skydroid T12 with the R12 receiver and camera are positioned at $299.99 at Banggood.