Teclast F6H 13.3 inch Intel Apollo Lake N3450 6G RAM 128GB SSD Laptop
The catalogue of the Chinese company Teclast is full of surprises. One of the latest models we have come across is the Teclast F6H. It is an elegant and economical ultrabook that will not disappoint you. You may also remember that last year the F series had a very good product: F6 Pro.
The design of this laptop has a fabulous finish, with a very minimalist aesthetic that does not go unnoticed. The gray metallic chassis gives it a very high quality appearance. This computer is super thin and light, which evidences a thickness of only 13 millimeters and a weight that barely reaches 1.2 kilos. These figures make it quite portable. This means you can carry it in a backpack without hardly noticing it. For its part, the island keyboard, but without the letter N (although this will not be a problem), will give you the opportunity to work with the necessary comfort.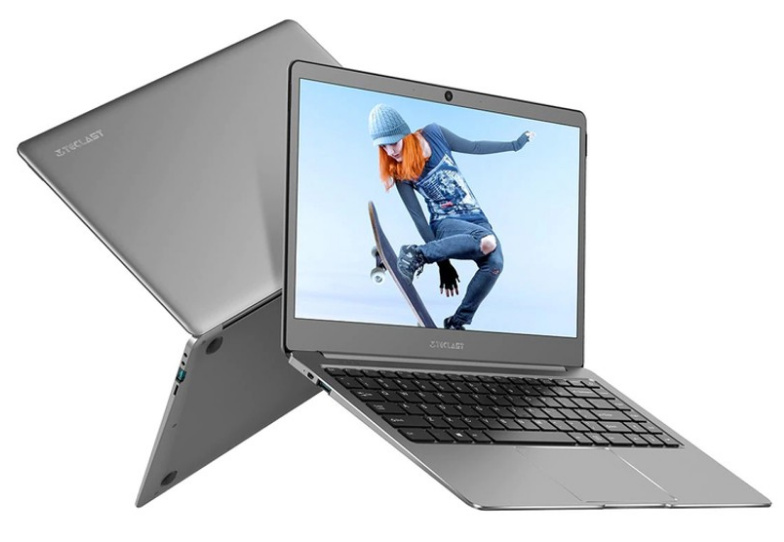 The screen of the Teclast F6H is 13.3 inches and has an aspect ratio of 16:9. This panel is equipped with LED backlight technology and Full HD resolution (1920 x 1080p). With these features you can enjoy your favorite movies or videos on YouTube with great quality. The fact that the screen incorporates IPS (In-Plane Switching) technology, ensures an excellent viewing experience from any angle. The top frame features a 2 MP webcam escorted by two digital microphones, so you can capture memorable moments or chat with friends.
As we enter the hardware, we find an Intel Celeron N3450, which is a 4-core microchip that belongs to the Apollo Lake family. This processor reaches a clock speed ranging from 1.1 to 2.2 GHz. This CPU is supported by a 6 GB DDR3L RAM. It must be said that this ultrabook does not have a dedicated graphics card. Instead it uses a GPU Intel HD Graphics 500 to 700 MHz, which will be enough to play multimedia content, and edit photos and videos at amateur level. As for games, you can have a good time with titles that are not very demanding at the graphic level. For storage, you'll have a 128GB SSD, which can start Widows 10 Home in less than half the time of an HDD.
The connectivity of this Teclast F6H laptop includes a pair of USB 3.0 ports, a Micro-HDMI video output, the typical 3.5 mm headphone jack and a microSD card reader. For wireless connections we have Bluetooth version 4.0 to wirelessly transfer files from the computer to other devices, and WiFi under the 802.11ac standard, which ensures a much faster and more stable web browsing speed. The autonomy is provided by a lithium polymer battery with a capacity of 5,000 mAh, which provides up to 10 hours of mixed use. While if we start to play videos continuously, it would last up to 6 hours.
If you prefer a larger computer, you can opt for the Teclast F15. This is one of the thinnest laptops on the market. It comes with a 15″ screen with FHD resolution, backlit keyboard and a 256 GB SSD drive.