Teclast X98 Plus II 2 in 1 Tablet PC
Teclast has proven to be a tablet maker that has come to stay. Their devices combine high performance hardware with very competitive prices. One of its most successful ranges has been the X98, iPad-style tablets with all the power of Windows and Android. Today we are talking about its latest addition, the Teclast X98 Plus II.
Design and materials of the Teclast X98 Plus II – We have always valued the own designs, since they give a distinctive mark to a product, nevertheless, many manufacturers decide to sacrifice this section in order to save costs and maintain an affordable price. In Teclast X98 Plus II we see that Teclast prefers to bet on a design that works and is well known to risk with a design of its own. That's why this Teclast X98 Plus II has the same body as an iPad . That is to say, of aluminum for the most part, a very positive factor that adds enough robustness to the Teclast X98 Plus II.
This Teclast decision is not surprising since it is the one that has been taking for all tablets in the range X98 that has been launching this brand in recent months. As usual, this tablet has more connections than the iPad, which only features the Jack 3.5mm and Lightning . On the other hand, the Teclast X98 Plus II does not have a button on the front panel, not even a capacitive with the Windows logo as is common in this type of tablets.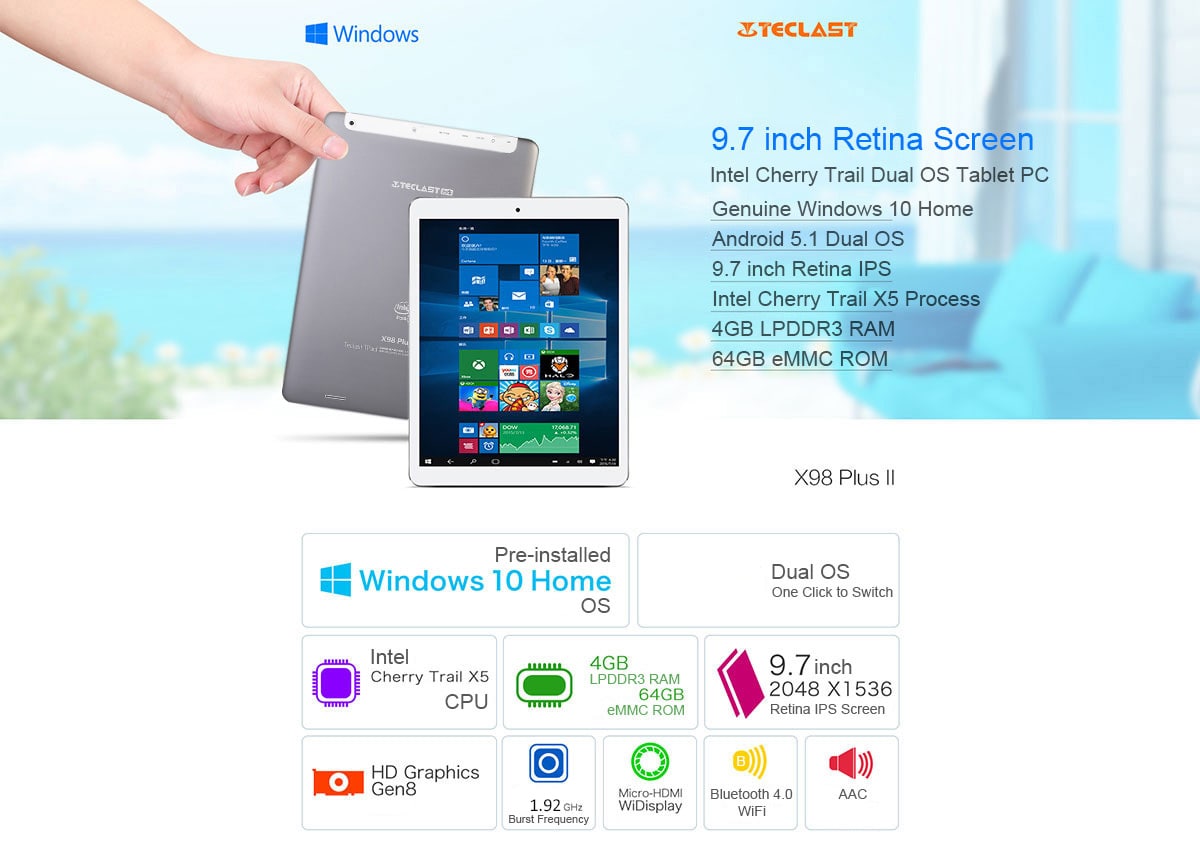 As for weight, the Teclast X98 Plus II stays at just over half a kilo, about 100 grams more than the iPad Air and a little less than the original iPad, so the experience in the hands will be quite similar to the one we would have with the tablet of Apple, since it counts with only 8.9mm of thickness.
The hardware of the Teclast X98 Plus II complies with the standards of the tablets of 2016. So, let's go to see a little in depth their different areas, some bring surprise.
We start with the SoC that mounts this device. The Teclast X98 Plus II carries the usual Intel Atom X5-Z8300 (also known as Z8300), the most affordable of the Cherry Trail range. For those who do not know it is a Quad-Core 64 bits at 1.44GHz, which rises to 1.84GHz in Turbo. In the graphic section this SoC has an Intel HD Graphics 8th Generation, we will not be able to run great games, but others like Hearthstone and practically any game before 2007 will work without any problem (the later will depend on your graphic requirement).
And speaking of graphics we move to one of the main attractions of this tablet, its 9.7-inch retina display gives us a resolution of 2048 × 1536. Those accustomed to move between resolutions will have noticed that the proportion of the screen of the Tecalst X98 Plus II is 4: 3, that is to say, not panoramic, so, as in the iPad, most of the multimedia content (especially videos and movies) will be seen with black borders , or with great distortion. On the other hand, this ratio is comfortable for office work. Also highlight the 10 simultaneous pressure points supported by this screen.
As for memory, 4GB of RAM, more than enough to enjoy smooth multitasking in Windows and to forget about the lag on Android. Moving on to storage the Teclast X98 Plus II comes with 64GB flash memory which are not bad at all, let alone if we add up to 128 with a MicroSD. If you look at the connections we find a good assortment , a proprietary charge port at 2.5 Amperes, a MicroUSB to connect devices via OTG, a MicroHDMI and finally the Headset Jack.
We finished the hardware with the battery that approves with note, 8000mAh that will give us for several hours of intensive use (8 according to the manufacturer), such as video games or video streaming. However, it is the least we can ask for when we are not offered a standard charging port that allows us to use powerbanks or car chargers.
Windows 10 and Android 5.1 – These are the two systems that we encounter in Teclast X98 Plus I I, one focused on productivity and another on entertainment. Dual boot, the option that leaves everyone happy and that will allow us not to have to choose, now, everything that offers Android also have it in Windows, but not the other way around.