TwoTrees TS2 Laser Engraving Machine
Desktop diode laser engravers are set to explode this year, with many brands launching their 10W models, and TwoTrees is no exception. Recently, they introduced the TwoTrees TS2, a new product that includes many highlights.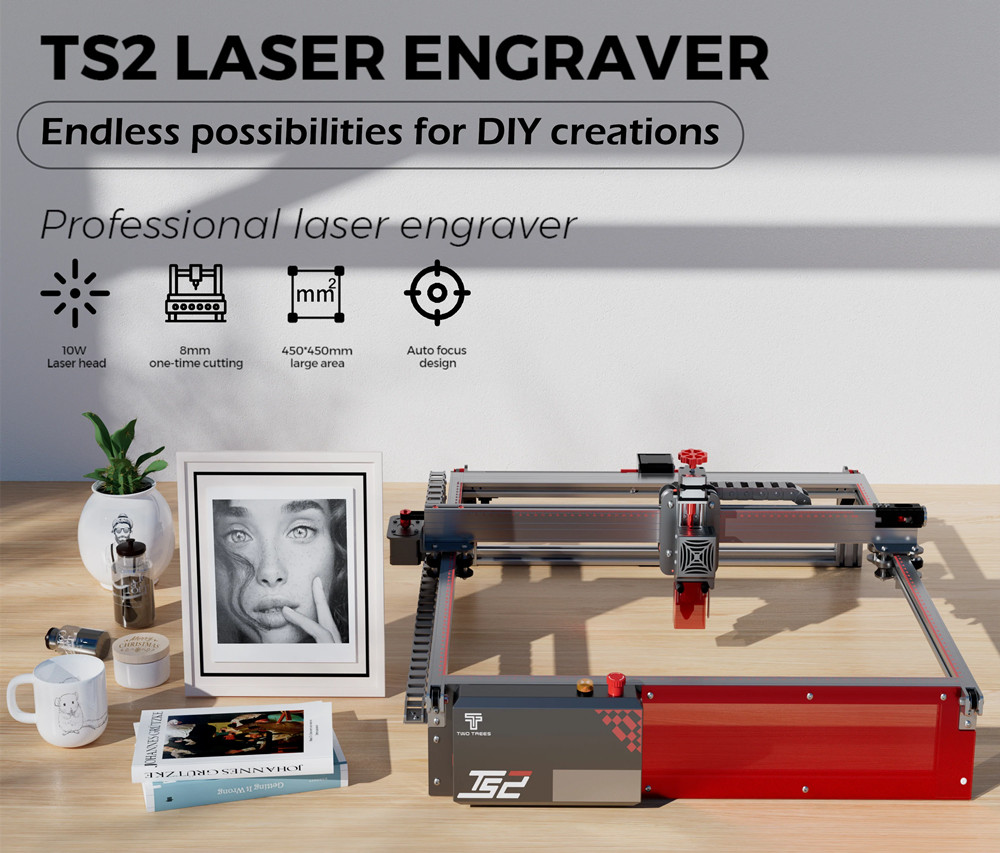 Faster engraving speed
For the first time, the TwoTrees TS2 incorporates the ESP32-DOWD-V3 chipset with a 32-bit LX6 microprocessor, which allows it to engrave at a speed of 10,000mm/min, which is a relatively normal level. Like most other manufacturers, 10W refers to the laser output, while this unit has an electrical power output of 96W and can cut 8mm pine boards.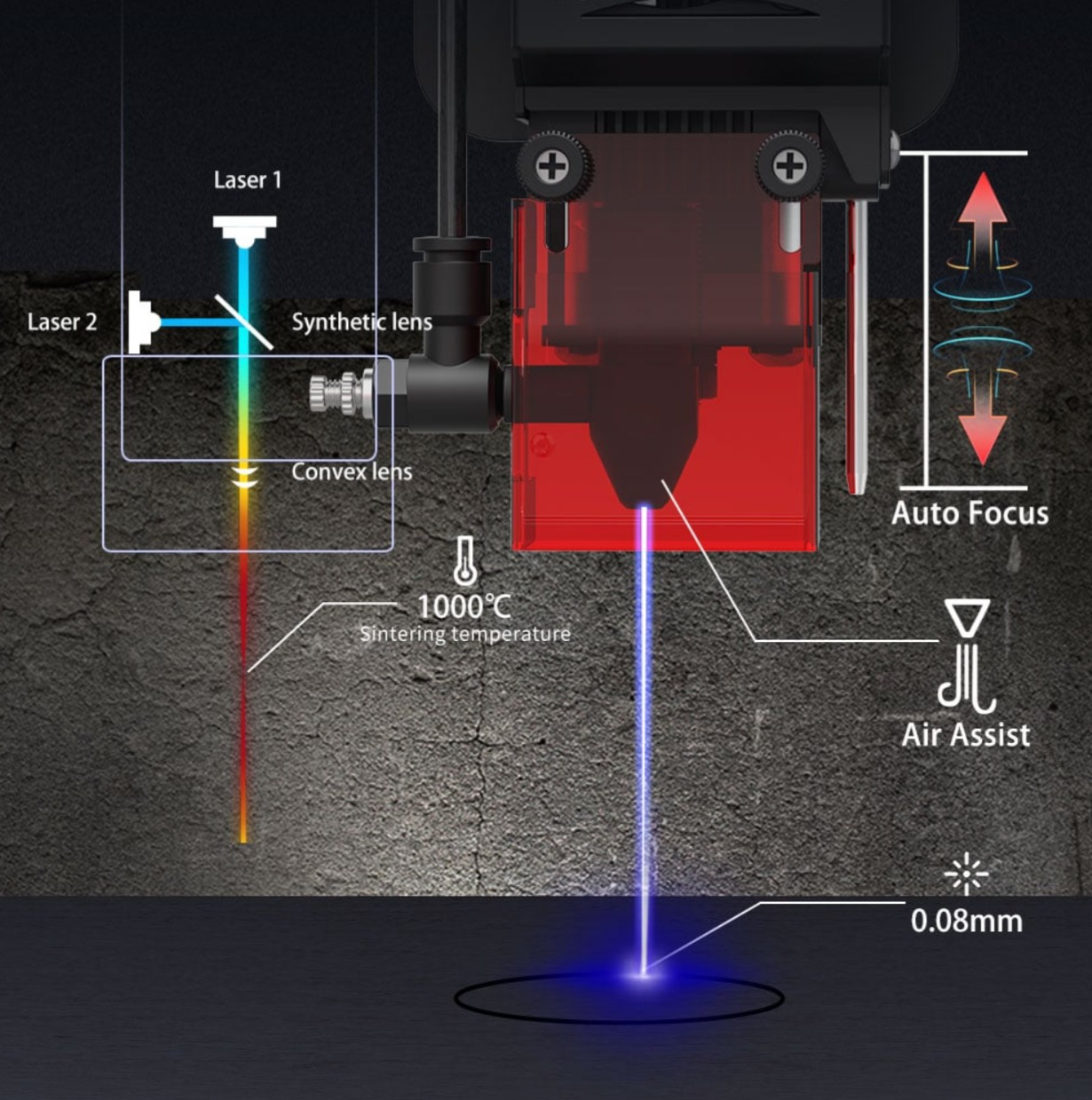 The laser module uses compressed spot technology to achieve an accuracy of 0.08mm. As we know, the smaller the laser spot, the higher the engraving PPI, which is the same as cell phone screen pixels.
Multiple Security Guarantees
As a laser device, there is no doubt about the importance of safety. Thankfully, this time their engineers have equipped the TwoTrees TS2 with a flame detector. When the machine is working, if infrared light with a wavelength of 760 to 1000 nanometers is detected, the machine will immediately stop working and send an alarm through a buzzer.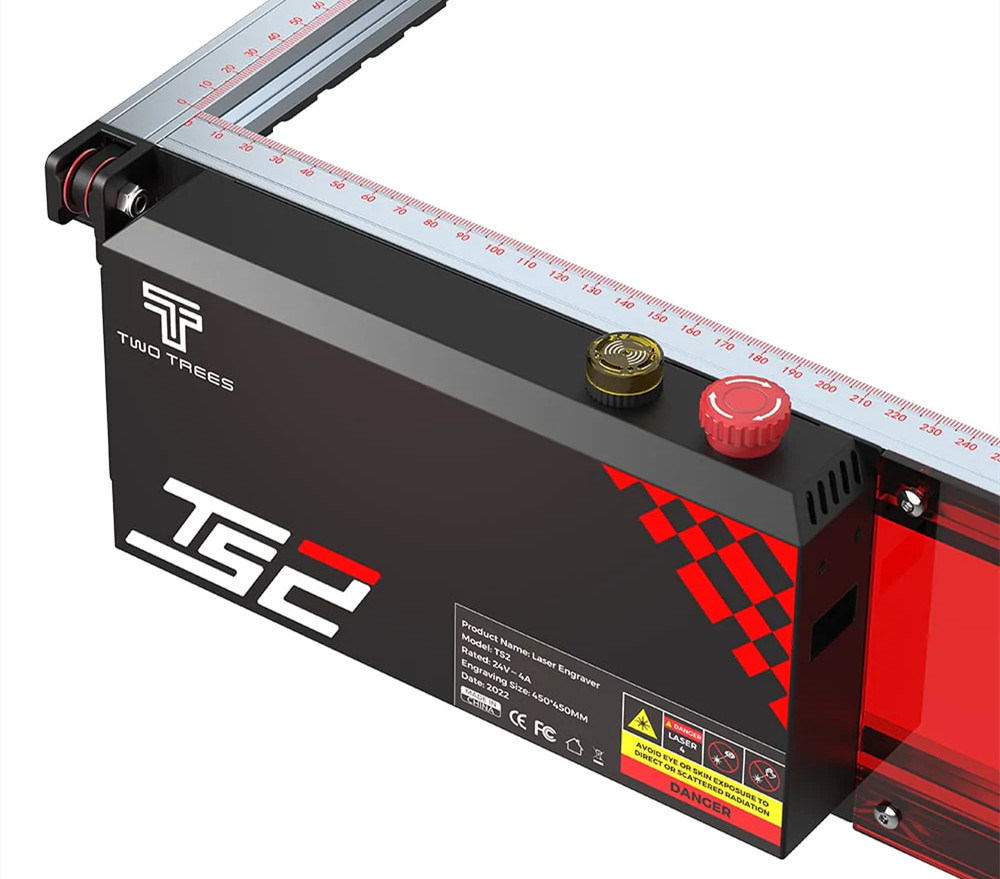 In addition, the device is also equipped with a gyroscope, when the machine tilt angle of more than 15°, the laser head automatically stop glowing. And we can also see a red emergency stop button, which means that you can always let it stop working.
Rich accessories ecology
TwoTrees claims that their TS2 has the largest working area of any 10W machine, at 450*450mm. So I checked other models, such as the Atomstack X7 Pro with a working area of 410*400mm and the xTool D1 with a working area of 432*406mm. Many manufacturers also offer extension kits to increase the working area of the engraver, so consumers can purchase them according to their needs.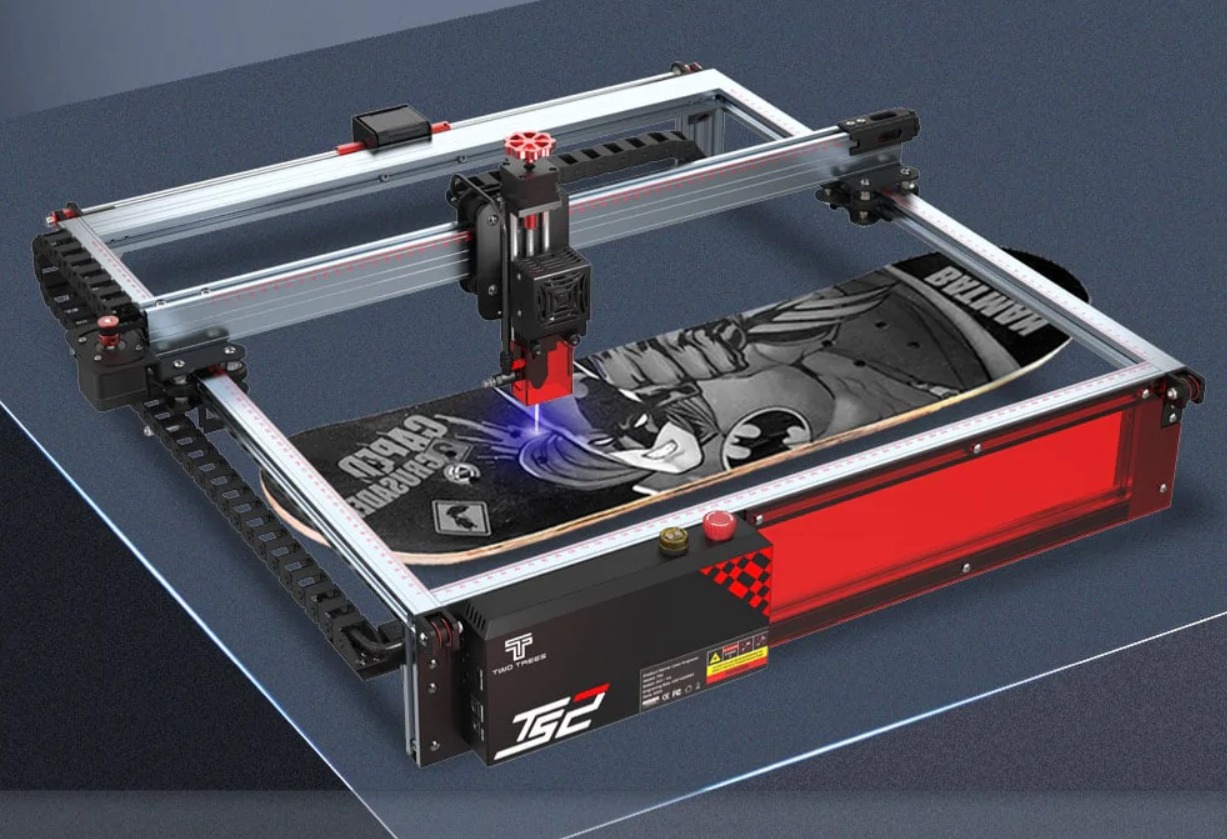 In addition, a great air assist is also necessary to reduce the adhesion of smoke particles generated during the engraving or cutting process, making the cut and engraving lines cleaner. If you want to engrave on cylindrical surfaces again, then a proper roller kit is a must.
Special function
Honestly, I love the Z-axis auto focus up and down, and the TwoTrees TS2 has just the right capability. It eliminates the need to adjust the focus manually. In terms of intelligence, this device supports APP control on the cell phone, and I think APP control will be very friendly when doing some simple graphic engraving. If you want to do some more complex projects, then I still recommend using software like Lightburn or LaserGRBL.
Summary
TwoTrees has always advocated and created a completely free design lifestyle. Their mission is to bring safe 3D printing and laser engraving technology and products to every person, every home and every organization, making the world of creativity possible. If you are interested in their new product TwoTrees TS2, then I have some discount information for you:
Buy 1 Get 3 code:

GCW6CSGN9XE9

$30 off code:

TS2

$200 off for orders over $1500 code:

6WZV4DGG2KPF
Include Rotary Attachment + Material Pack + SVG Files, Please add the Rotary Attachment and Material Pack to cart at the same time then apply the discount code.