Weichensi DQ20 15.6 inch IPS Portable Monitor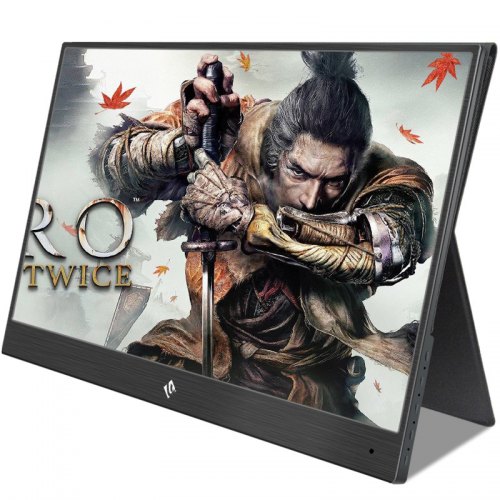 The Weichensi DQ20 is a 9mm thick ultra-thin screen that combines mobility with a laptop to work on a dual-screen. Of course, he can also support a game console, a smartphone, associate with a MiniPC or other conventional device. We can even imagine to fix it to the wall to benefit from a really ultra-thin and tactile screen. With 35.7 cm wide and 23 cm high, the Weichensi DQ20 weighs only 950 grams and allows a fairly complete connection to various devices. It can be connected in HDMI or USB type-C to the selected display source. The 15.6 inch IPS display displays vertical and horizontal angles of 178° at 3840*2160 pixels with attractive features. The screen announces UltraHD + HDR compatibility, a refresh rate of 60 Hz, a response time of 3 ms and a 100% Adobe RGB panel for true color control.
This secondary display can, therefore, become an interesting ally for any type of use: image editing, video editing, and 2D or 3D creation of course. Combined with classic portable mobility it doubles the display area and allows to keep a free screen to work leaving tools and other elements e interface on the screen of its main machine. It is also a great leisure tool with the ability to connect a mobile console or use it as a portable cinema even if the $190 requested by the brand is obviously a brake more important than for a professional purchase. It is, finally, a pleasant interface for all the traditional uses: A combination MiniPC and Weichensi DQ20 allows to discover a computer that will take almost no place to use and no more once folded and stored in a drawer or in a library. Associated with a smartphone, the UltraHD display will allow you to follow a video anywhere without worries.
From a more technical point of view, the frame of the screen is cut in a block of aluminum for more solidity, it offers a Micro USB port to feed directly with an AC adapter. It comes with a complete set of cables (HDMI, USB Type-C) and even offers stereo speakers as well as a standard 3.5mm audio jack. A USB Type-A port is also present, the machine seems to take advantage of this interface to drive the machine connected USB Type-C, it would be possible to connect a keyboard or mouse on it. Finally, the Weichensi DQ20 comes with a screen protector that allows both to prevent scratches and dust on its surface but also to position it at multiple angles.